Eastport Kitchen is generating lots of happy talk among area residents who welcome this newest addition to the local restaurant scene. With his wife Celia, Eastport resident and avid sailor Tony Moynagh opened this casual neighborhood hangout after an illustrious career with Clyde's Restaurant Group.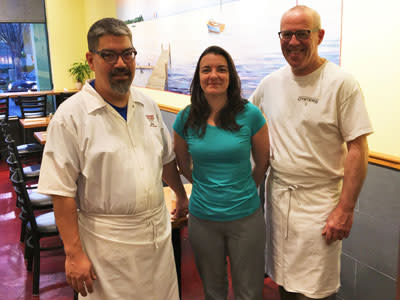 From left to right Chris Gosnell, head chef; Celia Moynagh, owner; and Tony Moynagh, owner
Moynagh started his career in the food business while a student at Georgetown, working as a server for the original Clyde's on M Street in Washington DC to help pay his tuition. Upon graduation, he remained on Clyde's payroll for the next 35 years, during which the company opened ten different locations in the DC region. He retired in 2012 as general manager of Clyde's of Chevy Chase, a 600-seat restaurant in Montgomery County.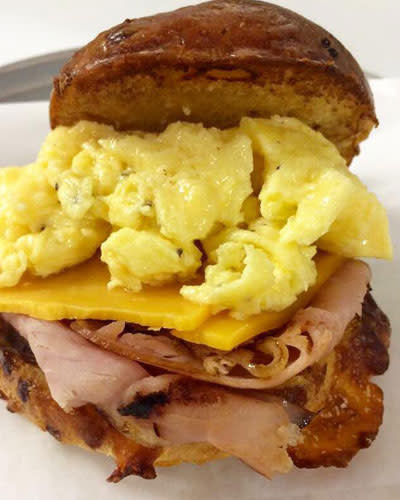 Breakfast Bomb
An avid sailor with a waterfront home in Annapolis, he soon became restless and decided to open his own restaurant in space long occupied by a deli. That location required a complete overhaul, which included installing an open kitchen, a reconfiguration of the space to provide seating for 43 and a compelling mural by Eastport artist Lucy Fletcher-Holden. Finally, on September 14, the doors opened to a unique breakfast and lunch destination – creating fans with morning specials such as its "Breakfast Bomb" (a homemade brioche bun piled high with scrambled eggs, Cavemaster ham and melted cheddar) and sandwiches featuring generous amounts of roast beef and turkey (roasted and hand-carved by Chef Chris Gosnell, another Clyde's alum).
The formula for a friendly place with a menu that included comfort foods as well as salads and vegetarian selections worked from the get-go. After two months, and by popular demand, Moynagh began serving dinner Thursday through Saturday in mid-November. "We opened for dinner very quietly," says Tony. "Now that we have our feet wet, we're working on getting the word out."
In addition to the regular menu (except for breakfast items), dinner guests choose from a card that includes two appetizers, three entrees and two desserts. Main courses will be rotated, according to the season. Some examples are cider-braised brisket, Atlantic salmon over a white bean cassoulet, pork chop with roasted root vegetables, chicken and biscuits and Portuguese mussels – the owner's "personal favorite."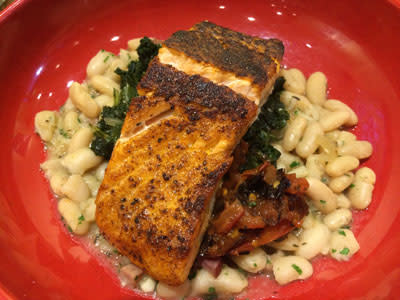 Atlantic Salmon
Moynagh put the restaurant's wine and beer list together, based on compatibility with the menu as well as value. Wine selections include a South African Rhone Blend called "Goats do Roam" and "Friends," a blend of sauvignon Blanc and Gewürztraminer from Sonoma. On the beer side there are boutique brews that include a Maryland "Loose Cannon".
Moynagh, an affable and charming host who likes to take breaks from his kitchen duties to get feedback from his guests, admits to being amazed at the popularity of his restaurant. "The experience I gained working for Clyde's was invaluable – and just about everything I learned along the way is in practice here in the Eastport Kitchen," he says.
If you are a visitor to our area and would like to "go local", I recommend you go to Eastport Kitchen for breakfast, lunch, or dinner. Tony Moynagh would love to meet you.
Eastport Kitchen, 923 Chesapeake Ave, Eastport section of Annapolis. Open 7:30 am-3 pm Mon-Wed; 7:30 am-10 pm Thurs-Fri; 8 am-10 pm Sat; 8 am-2 pm Sun. 410-990-0000. www.eastportkitchen.com