Annapolis is a special place for many reasons. Take a stroll down the block of West Street between Church Circle and Calvert Street and you'll notice a common theme start to emerge. There's a rich history surrounding the Chesapeake Bay, the Naval Academy, and the city itself. There's the iconic Maryland blue crab seen in window displays and on menus everywhere you go. And for a little while longer there's Dinner Under the Stars—and I'm here for Luna Blu.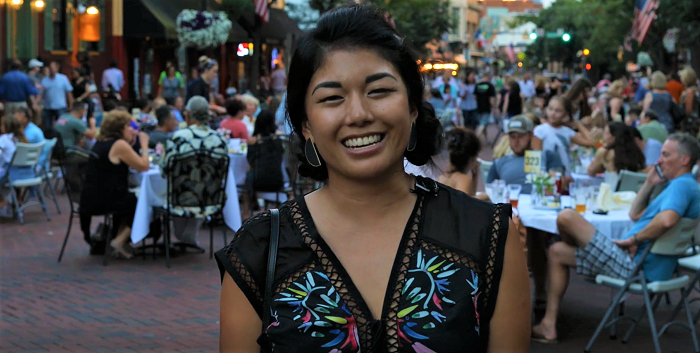 Every Wednesday night from July through September this section of West Street is blocked off and businesses open up and out onto the street for an evening of alfresco dining beneath twinkling lights and starry skies. There are so many choices for an enjoyable meal on a night like this, but on my particular visit I chose to go the Italian route with pasta and wine at Luna Blu Ristorante.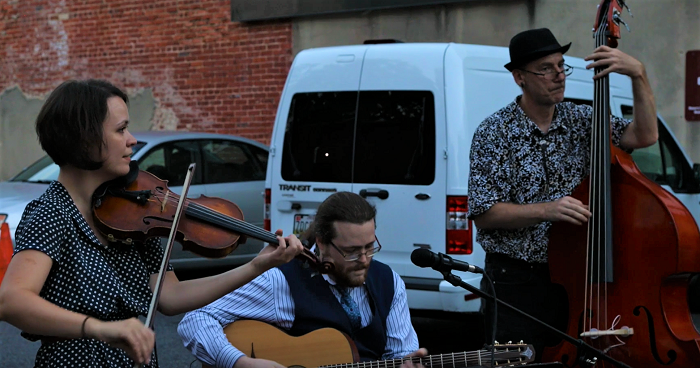 After watching a spectacular sunset fade into the horizon Erin Dryden, owner of Luna Blu, started things off in what I would call traditional fashion –– with wine of course. It just so happens that wine is buy one get one half off every Wednesday, so my large dinner group and I took full advantage. Before long, bottles of rosé, cabernet, and pinot grigio joined our ranks. Glasses were filled and clinked with a resounding cheers to a beautiful evening.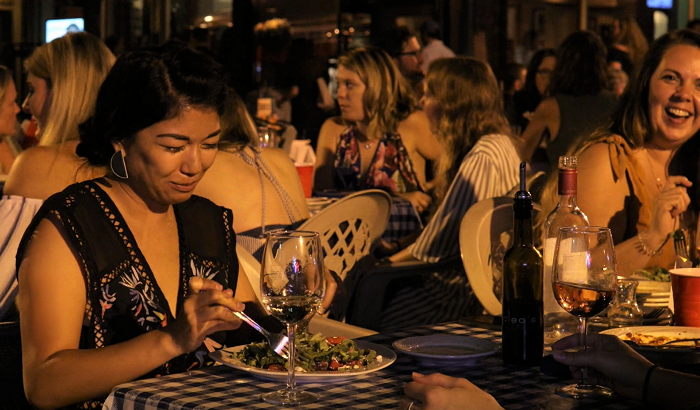 Since I already knew what I was going to eat per Erin's recommendation I opted for a glass of Le Fontanelle pinot grigio. Erin's favorite dish is the Barramundi Caprese and it might just be mine now, too. She's loved this fish since the first time she had it and created an entire dish around it. Fettuccine sauteéd with basil, tomatoes, mozzarella, garlic, and extra virgin olive oil was the backdrop for an exquisitely mild and tender sea bass. It was the perfect light fare for a warm summer evening.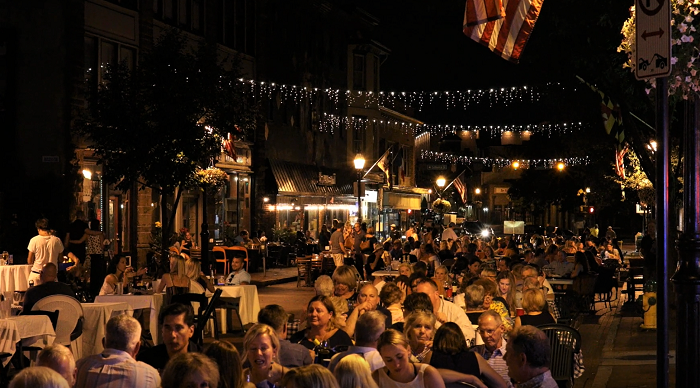 If I was a little hungrier I might have gone for the four course tasting that Luna Blu offers every night. It includes an appetizer, salad, entree and dessert for just $38. Luna Blu makes their desserts in-house daily so that deal is all the more sweet. The Zabaglione (egg custard with berries) and Strudel de Miele (apple strudel) are two of my absolute favorites. Fortunately for me, some of my friends were that hungry so I got to partake in just a bit of their desserts.
Dinner Under the Stars goes from six to ten and reservations are strongly encouraged. There's live music, dancing and even dance lessons, and you might catch a special art demonstration. It's a fun and lively fusion of the culinary and fine arts all wrapped up in a romantic setting. More importantly, it's a great way to enjoy the company of friends and family while supporting local businesses. There's only a few more weeks of this great event left so be sure to treat yourself before the summer's over!
Videography and photos courtesy of Patrick McNamara of Drawn to the Image