Although it hasn't exactly felt like it, spring has arrived! If you haven't broken out of your cocoon of cabin fever yet, it's time to get back out to some of the local eateries that help make Annapolis great. In need of inspiration? Look no further! Follow me to some of my favorite spring spots around Annapolis.
Rutabaga (116 Annapolis Street) is one of my favorite places to grab a quick, healthy bite. Who doesn't love a liquid diet? Especially one that comes in so many flavors and is totally guilt-free. I had my go-to juice; the No. 5 [zest] made of orange, carrot, apple, grapefruit, ginger, lemon, and turmeric. It's like drinking a garden in a cup, I love it. With the coming dog days in mind I also got a blend, the No. 55 [tropical]; coconut milk, orange, mango, pineapple, strawberry, coconut oil. Endless summer, baby.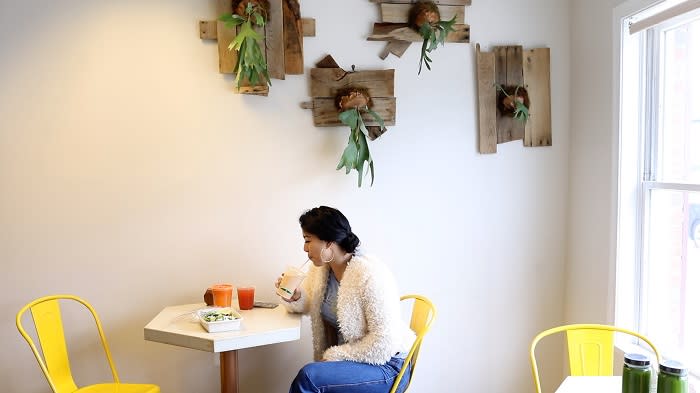 There's plenty of yummy options in the solid foods department too, like the Green Goddess salad I munched on with my juice. I look for this salad every time I stop in – it's that darn good. Along with salads you can find acai bowls, vegan chocolate mousse, and the like in the reach-in refrigerator. I always have to try whatever new delicious flavor of kombucha on tap. It's local and organic like many of the ingredients Rutabaga sources. There's something for everyone here, even local art!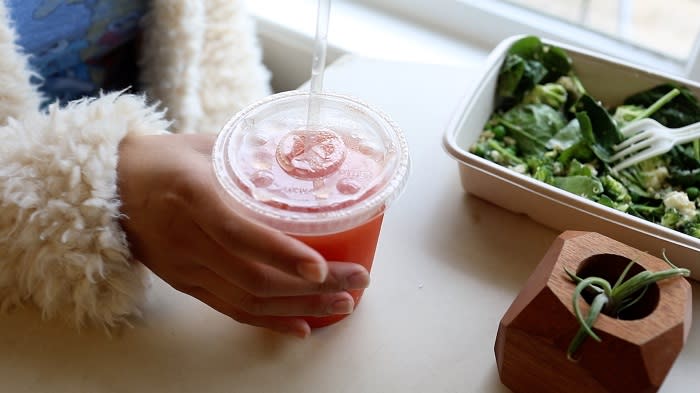 In perhaps the greatest show of "balance" displayed by any foodie ever, I took a trip Ann's Dari-Creme (7918 Ritchie Highway) after my stop at Rutabaga. Ann's is classic old school, as evidenced by the 60-plus years they've been in operation – quintessential American. As they say, "when in Rome." I did as Annapolitans do and ordered a footlong and a cheesesteak with everything. Everything here means mustard, onions, and chili for the footlong and mustard, onion, chili, pickles, and relish on the cheesesteak. The chili is an original recipe and distinguishes Ann's apart from other chains. Of course, you can't get a hot dog and sub without a shake. I adore a good cookies and cream shake, and Ann's does it right.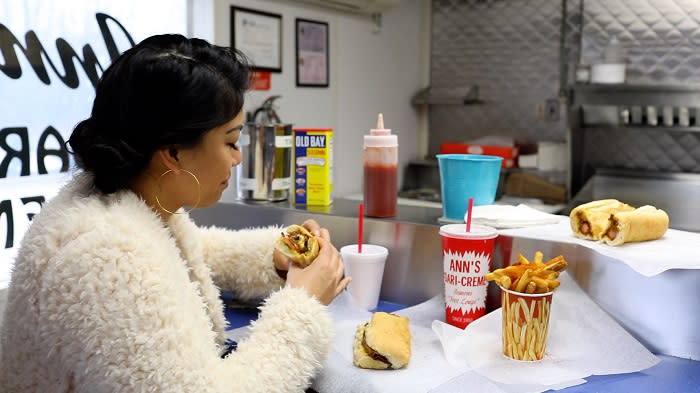 If you still haven't satisfied your sweet tooth at this point, or if you're like me and just want to really pile it on, you can get Ann's hot fudge sundae with "wet walnuts" (a.k.a. walnuts covered in syrup). It's as sinful as it sounds. As someone who is extremely food motivated, I will travel for food, and Ann's is always worth the trip. I love coming here for some good ol' vitamin G (grease). Or if you really want to confuse and bewilder your senses go to Ann's right after your trip to the juice shop…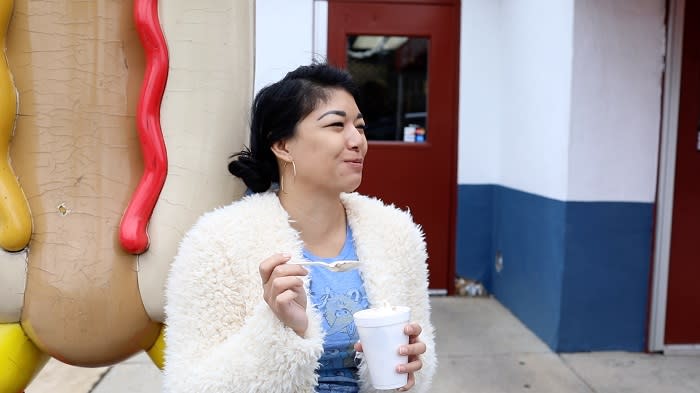 Vin 909 (909 Bay Ridge Avenue in Eastport) will always have a place in my heart (and tummy) because of their pizza and wine. It's a classic combo that I can never get enough of. During my last visit I had the Broc street pizza paired with a glass of St. Cosme Cotes du Rhone Blanc Franc, a Viognier/Sauvignon blanc. I got the sliders as always, along with the blood orange tuna tartar. The only thing missing was Moroccan skirt steak and fresh pulled mozzarella. On this particular visit, though, the pizza had priority. Broccoli roasted garlic sauce, fontina, parmesan, bacon, pistachio oil, and red pepper flakes. It absolutely hit the spot. (Check out my blog devoted to their Wild Pig Pizza, and Leslie Howard-Goddard's piece for more on their tasty food.)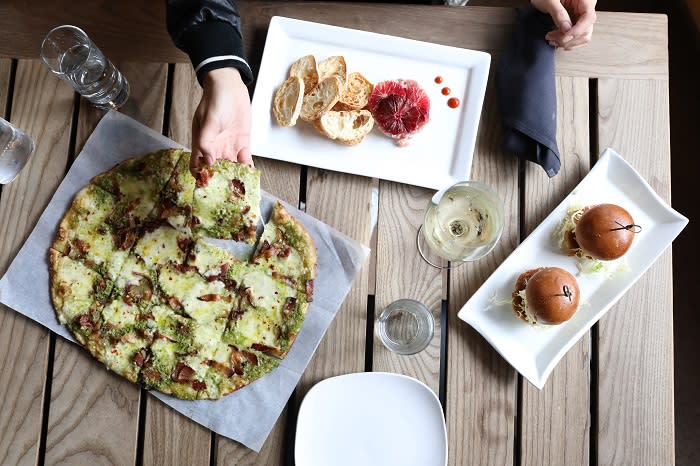 When it comes to their wine, Vin offers their selection the way it should be: straightforward and unpretentious. Listed categorically by price range, it immediately dispels any wine snobbery and sets the tone for the rest of your experience here. Beyond the consistently tasty food that brings you back over and over again, I love the casual atmosphere that makes it an easy go-to for any mood. It's the perfect spring spot!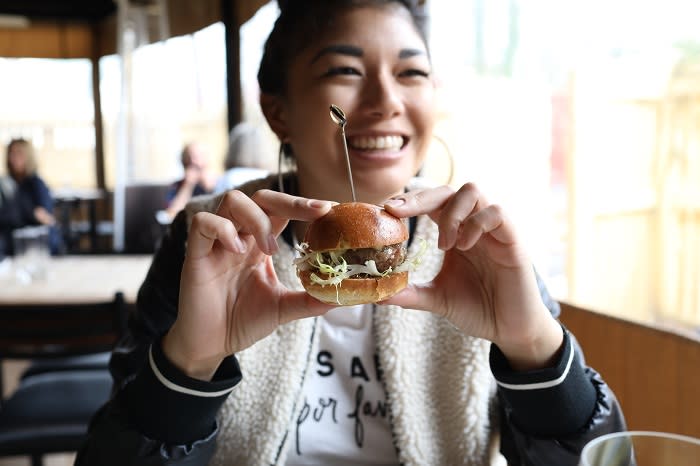 Sailor Oyster Bar (196 West Street in the Annapolis Arts District) is one of my go-to stops for taking care of my seafood fix. I absolutely love seafood; I am a Maryland girl after all. Sailor has the freshest and widest variety of oysters around. This time, however, the oysters took somewhat of a backseat to a fantastic feast. The food at Sailor is not only delicious, but visually stunning. They're edible works of art hand-prepared behind the bar. The Chef's selection poke was the Mona Lisa of poke. The base was a column of salmon, yellowtail, and avocado topped with yuzu caviar, blood orange slices, and an avocado rose on the side.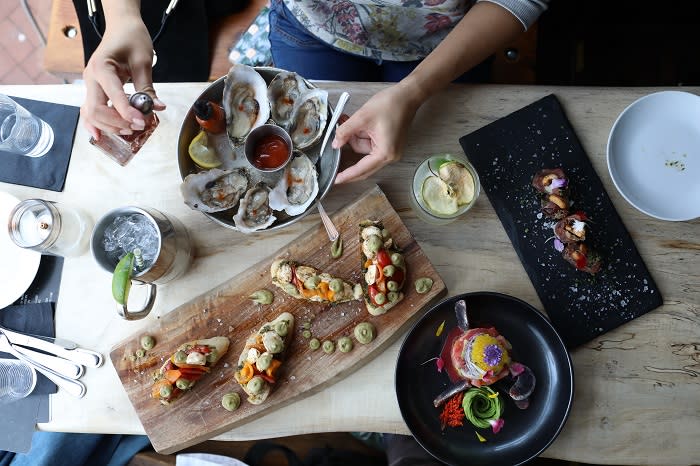 Next were the Medjool dates. If you haven't had these yet, do yourself a favor and get two orders the next time you stop in to Sailor. They're stuffed with gorgonzola, wrapped in prosciutto, and drizzled with honey, sea salt, and cashews; pure heaven. I can eat an order to myself. The octopus is also an automatic when I come here. It's phenomenal no matter the set up and did not disappoint this time around. Last, but not least, was the avocado toast. The avocado puree is always so flavorful, and I find the dish itself to be surprisingly light for something that uses toast as one of its main ingredients. Throw in some fresh mozzarella and tomatoes and you can't go wrong. (Be sure to try their crudos and Merchant Marine Sammy as well.)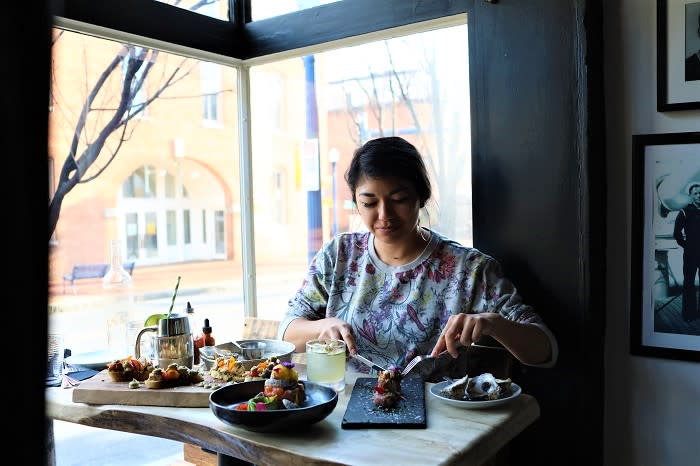 I hope I've given you some inspiration – and motivation – on your next spring spot to dine. Until next time, happy eating!
Photos and video courtesy of Patrick McNamara of Drawn to the Image