Galway Bay has long been a beloved spot in the downtown area for its Irish fare and hospitality. They have cultivated a one-of-a-kind vibe that started over twenty years ago and continues to grow with every shot of Jameson, pint of Guinness, and plate of Fish and Chips.
A chilly winter day was the perfect setting to experience the kind of world-class comfort Galway offers; this time, in the form of Corned Beef Poppers, Killarney Cabbage Wraps, and Irish All Day Breakfast. The Corned Beef Poppers are a no-brainer every time I come to Galway Bay and I was glad for the introduction the other two.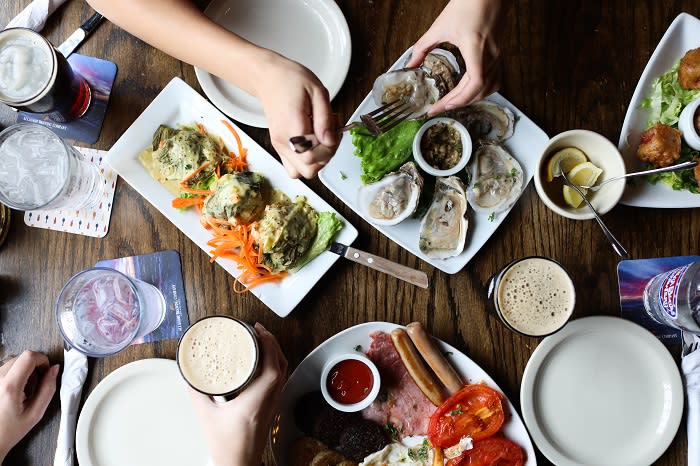 The Killarney Cabbage Wraps were a delightful twist on one of my favorite things (corned beef) with the addition of potato and whole grain mustard; while the Irish All Day Breakfast was basically a meat lover's dream with all manner of rashers and sausages that you'd expect from meaty Irish meal.
Most notably, however, were the plate of fresh, local oysters, something Galway started offering on their menu only about a year ago. These beautiful oysters were an unexpected treat and added an Irish style surf-and-turf element to our little luncheon. Be sure to come in on a Thursday night when they set up an oyster station right in the bar. A local shucker doles out riches taken from the Bay (in the Kent Island area) that day.
At this point Gary Brown, Galway's Assistant General Manager, was kind enough to impart some very handy inside information. There's a special hot sauce kept under the counter for those who know to ask. Apparently, it's worth the trek to one particular surf shop that carries it and pairs well with fresh lemon juice. I can't wait to find out for myself.
The bartender Sean served our crew pints of Naptown Brown Ale, a locally made brew by RAR just for Galway Bay. With a 4.4% ABV it's designed to be light on the finish and can be enjoyed during the day or night. It's so good they even put it in their mignonette sauce along with garlic, shallots, and seasoning.
Rest assured, you can slurp up Galway's oysters with even more satisfaction. Last year they planted 260,000 oysters in the bay, which is a whopping 52 bushels, with the Oyster Recovery Program. Gary says they hope to double that this year, possibly getting to half a million!
For dessert, Gary treated us to a Jameson flight that included their Black Barrel, Caskmates Stout, and their recently released Caskmates IPA whiskey. There's a handy guide underneath that explains the nose, taste, and finish of each one. For example, the Caskmates IPA had the taste of, "Hops and light citrus with sweet herbal notes and delicate spicy tones" which was a spot on description and mighty tasty.
I'm not a big whiskey drinker and I enjoyed this flight immensely. When asked how much Jameson and Guinness Galway goes through Gary responded, "that's confidential," adding, "I try to skip that delivery day."
On Wednesday nights and Sunday afternoons, Galway hosts live music – known as "trad" in Scotland and Ireland – where local musicians play fiddles, drums, and various guitars. "It's the closest thing to an authentic Irish experience," Gary says. As a former Irish native, I'm going to trust him on this one.
St. Patrick's Day is right around the corner and there's something fun going on practically every day in March (just check out their 'St. Patrick's Month' calendar online or onsite to see). Everyone have a safe and happy holiday. Slainte!
Photos and video courtesy of Patrick McNamara of Drawn to the Image