This month, I had the pleasure of sampling some of the coastal cuisine found at Lures Bar & Grille (1397 Generals Highway, Crownsville, MD 21032). Once you step into the building you have been successfully "lured", and the restaurant lets you know it. The very definition of their namesake greets you at the entrance: "Lure (V.) to attract, entice, tempt or allure; (N.) a live or artificial bait used in fishing."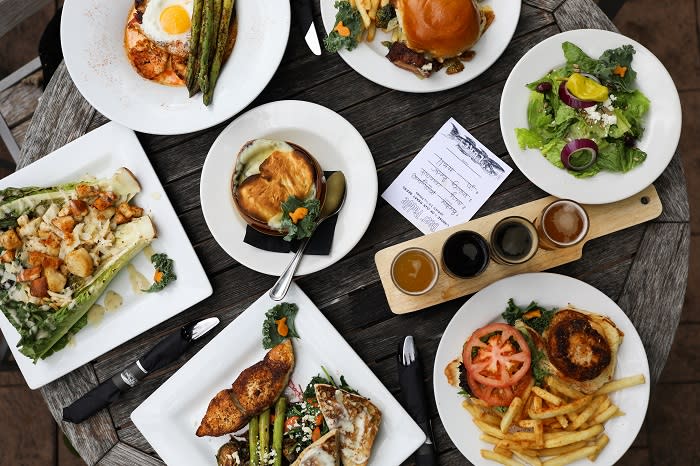 What a spread!
It's a fun, relaxed atmosphere with that homey feel of a local's bar. I met with owner Chuck Soja and we discussed beer options they feature heavily here, many of them local and craft brews. The best way to explore the beer at Lures Bar & Grille is with one of their beer paddles: Four five-ounce pours from 27 draft beer choices. (They also have an extensive list of bottled and canned beer).
We decided to go with a fruity theme of sorts: Peachy Bones from Firestone Walker Brewing Company; Coconut Porter from Avery Brewing Company; Totalitarian Imperial Stout from Stone Brewing Company (fluffy chocolate consistency with dark fruits and chocolate); and my favorite of the four, Orchard Wit from Bruery Terreux (tart wheat beer brewed with orange and coriander).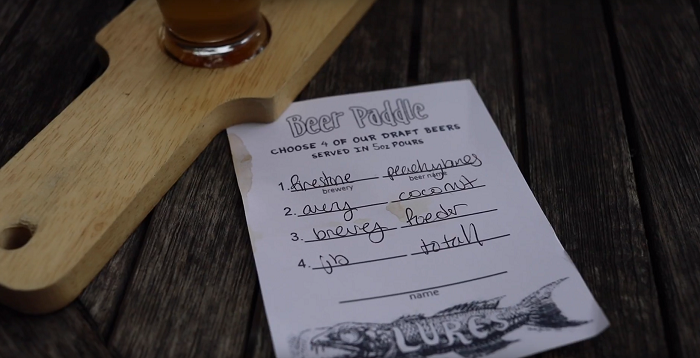 Beer Paddle
Beyond the draft, canned, and bottled beer choices, one more option remains for those feeling adventurous. If you sit at the bar on the right side of the restaurant you might notice an odd looking contraption. It's a beer infuser that Chuck and General Manager Nick Ellick built and use to infuse everything from different fruits to candy. That particular day they had Allagash White soaking with allspice liqueur-soaked orange slices and cloves.
I saved my adventurous appetite for the food menu – we had a considerable amount in store for us.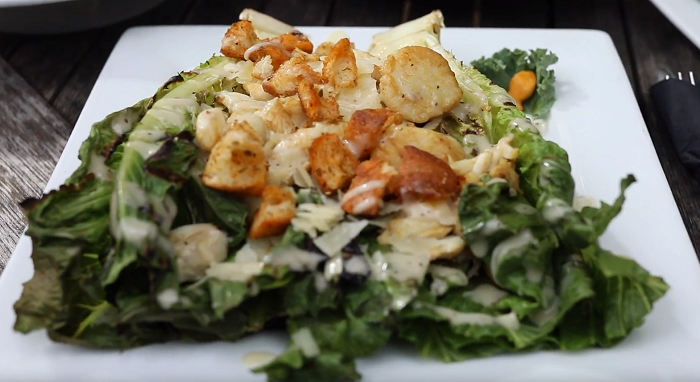 Scallop & Jumbo Lump Brown Butter Grilled Caesar
I tackled the Scallop & Jumbo Lump Brown Butter Grilled Caesar first – I'm a sucker for seafood after all. You might assume that a salad dish would only be enough to take the edge off your hunger, but you'd be wrong at Lures. Two giant grilled hearts of romaine make a bed for mounds of buttery crab meat and scallops topped with melted parmesan. It's like the best of both worlds (seafood and salad) in one meal, and is more than enough to share.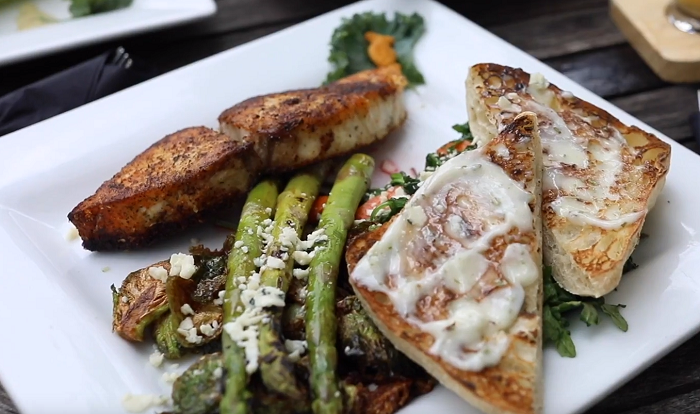 The Hipster
This next dish caught my eye on the menu because of its cheeky name: The Hipster. If you eat kale like it's going out of style, this dish is for you. There's a bounty of vegetables to enjoy; grilled asparagus, shaved carrots, salt and pepper fried Brussels sprouts, roasted beets, and baby kale, of course, all topped with crumbled blue cheese. A piece of blackened rockfish rounds out the dish and a couple pieces of tarragon buttered crostini provides the perfect finishing touch.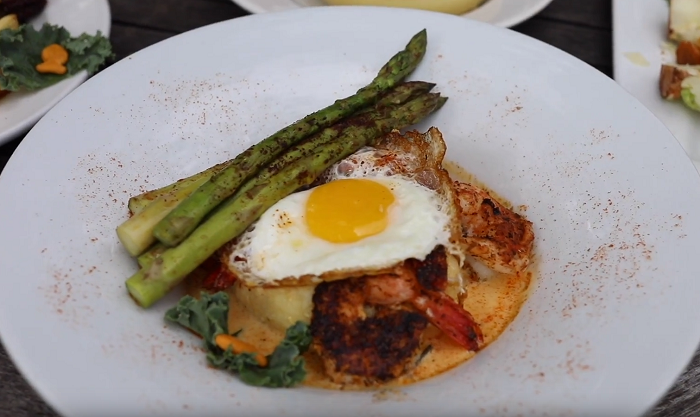 Shrimp & Grits
I went for the Jumbo Shrimp & Grits next and was not disappointed. A jalapeno and bacon cream sauce provides a rich, slightly spicy backdrop for cheesy grits and blackened Gulf shrimp. Lures throws in some asparagus for good measure and even a sunny side egg – something I haven't seen with this dish before. The egg yolk worked magically with the creaminess of the base, and I am now a believer in the combo.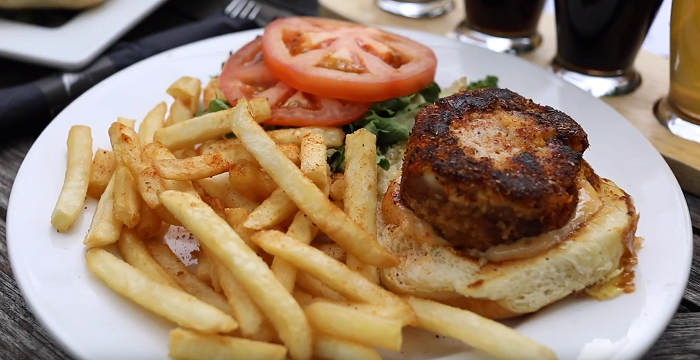 Sushi Burger
Continuing on with seafood, I tried the Sushi Burger next. Diced sushi-grade tuna blended with sweet chili, sea salt, and panko bread crumbs gets blackened and seared rare. It's served on a Kaiser roll with spring mix, tomato, and sweet chili mayonnaise with fries on the side. If I didn't eat meat this would be the next best thing. The flavor is phenomenal, most likely because Lures Bar & Grille goes the extra mile to blend the tuna into their own patty instead of simply putting a piece of cooked tuna on bread.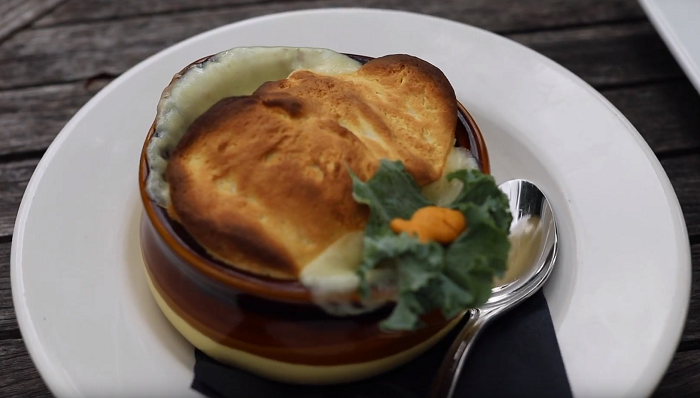 Loaded Baked Potato Pot Pie
Next came the Loaded Baked Potato Pot Pie with and a side salad. I was looking forward to this dish for many reasons, but mainly because I love short rib and absolutely adore pot pies. It was presented in a crock with a big buttermilk biscuit sitting on top. What lay underneath was a treasure trove of tender angus beef short ribs, Yukon gold potato bisque, scallions, cheddar cheese, and smoked pork belly crisps. It was the perfect comfort food on a chilly, windy day.
Last but not least was the burger. Lures Bar & Grille claims to have the best burger ever, and, well, they made a believer out of me. They grind and form their black Angus beef burgers by hand, and they guarantee that "there's nothing dry or overcooked about this burger." You can come up with your own combo or try one of theirs: Chuck, Nico, Loco, and BBQ.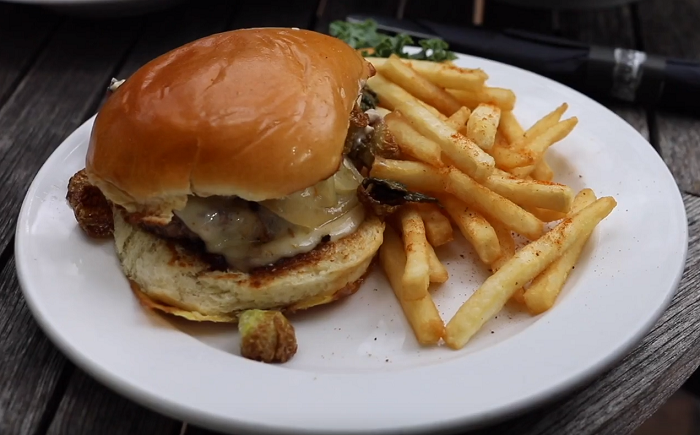 THE Burger
I ended up getting a combo of the Chuck and the Loco, which gave me little trepidation at the mention of ghost pepper cheese in the description of the latter, but it was the perfect amount of heat without being overwhelming. This burger was stacked with thick pieces of Applewood-smoked bacon, caramelized onions, and an Applewood-smoked bacon burger sauce. It was simply sublime. I can't wait to go back and try their other burger additions, most notably the sauerkraut & pierogi, the fried pickles, and the sweet pickled red onion & cucumber salad.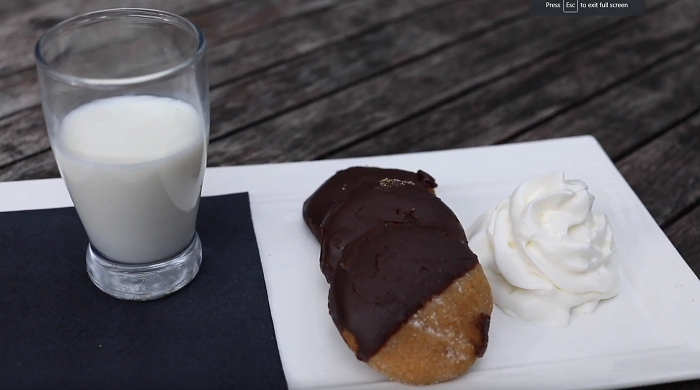 Jill's Chocolate Dipped Peanut Butter Cookies
Despite being stuffed beyond my limits, we finished everything off with Jill's Chocolate Dipped Peanut Butter Cookies.  Jill is Chuck's wife, and these tasty treats are of her own design.  Served with a shot of whole milk, they are gluten free and sinfully good. They have the perfect soft, chewy consistency, which we all know can get tricky with peanut butter. I couldn't stop myself from eating every last bite.
I would be remiss if I didn't mention the little goldfish that sits on every dish. It's my favorite example of how this family-owned and -operated business cares about the little things and fosters that "home away from home" environment. The food and drink will get you here, but the people will keep you coming back. As it says on Lures Bar & Grille's website, "Lured once. Hooked for life."
Videography and photos courtesy of Patrick McNamara of Drawn to the Image.