After a lovely drive through the back roads of Southern Anne Arundel County (known as South County to locals) I arrived at an idyllic spot right on the water in Deale, MD. This little haven is really just a hop, skip, and a jump away from Annapolis, but much to my chagrin, I had never made the quick trek down before. Don't be discouraged by the 40-min ETA; it's an easy, breezy trip that feels more like a joyride than a commute. Plus, you'll soon see why Skipper's Pier Restaurant & Dock Bar is more than worth the drive.
After my delightful time here I can't wait to come back, and I only wish I had known about this little slice of paradise sooner. Mother Nature was being especially amenable that day and I couldn't help but drink in the view, the sunshine, and one of Skipper's famous orange crushes.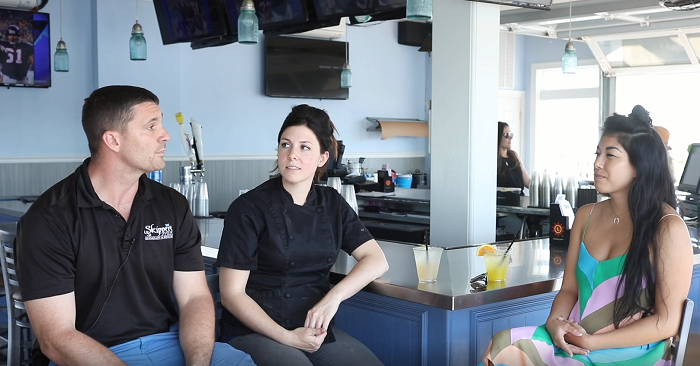 Dave and Jessica Rossage
I learned that South County is famous for their orange crushes and if the one (or two) that I had are any indicator then it's easy to see why. After plunking myself down at the bar with a tasty cupful of this dangerous beverage, I had a chance to get to know Dave and Jessica Rossage – a husband and wife duo who have run Skipper's Pier for over six years.
Dave handles the business side of things while Jessica handles the food. Jessica also coordinates the parties and even makes the desserts. In fact, pretty much everything at Skipper's is made from scratch, aside from the fries and hush puppies. Yes, that means every sauce, every dressing, and even every crab ball and cake.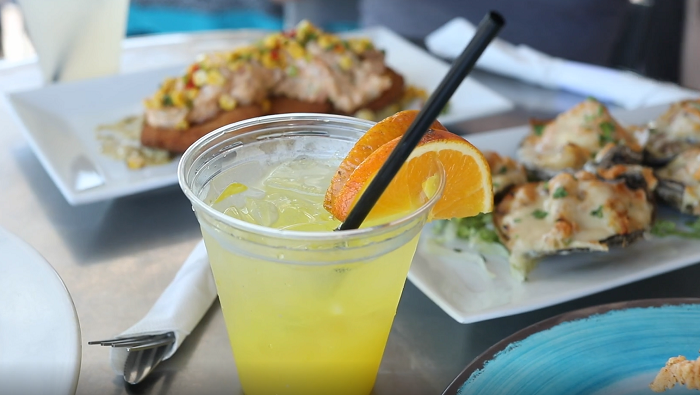 Jessica changes the menu every spring, and my visit was timed quite fortuitously just a few weeks after the release of their most recent revision. The main focus of this menu was sustainable seafood, including the switch to a local shrimp. There are tasty options for seafood land food lovers alike, as well as gluten-free and vegetarian diners.
After enjoying a stroll around Skipper's beautiful indoor and outdoor space, orange crush in hand, the highly anticipated seafood feast comprised of some of Skipper's most popular dishes arrived: The "Award Winning" Crab Crusted Oysters; Skipjack's Crab Stack; and one of their newer items, the Orange Crush Tuna Bowl.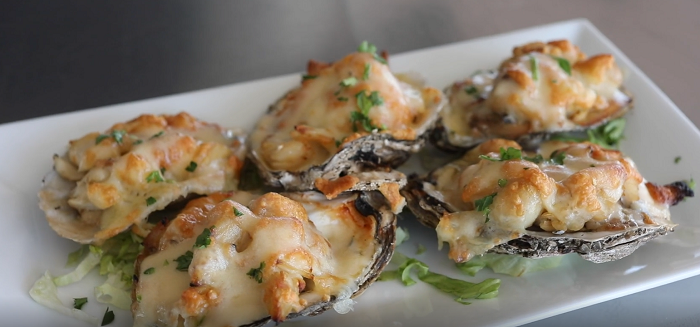 The Crab Crusted Oysters
The oysters, topped with a dynamite combo of crab meat, beurre blanc, bacon, and parmesan, won all the awards in my book. The Crab Stack was a dynamic looking dish that's big enough to share and allows the main players – a crab cake and soft shell crab – to speak for themselves. The tuna bowl was packed with flavor and blew me away with its variety of healthful ingredients like avocado, watermelon radish, toasted chickpeas, and a bed of garlic quinoa and brown rice.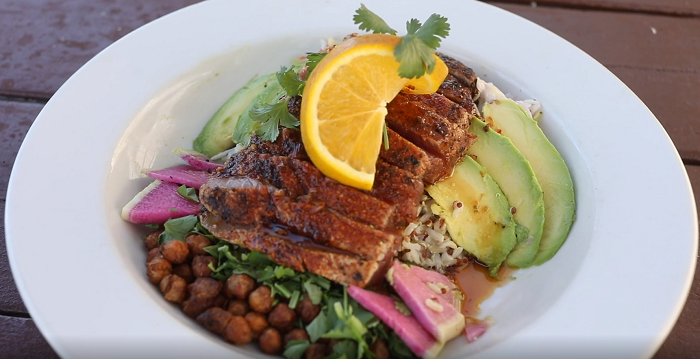 The Tuna Bowl
I was duly impressed by the obvious care and attention to detail put into every dish – really, every element of Skipper's menu. To finish it all off, we were inundated with chocolate; ten sinful layers of chocolate cake and chocolate mousse to be exact. Let's not forget the caramel ice cream on the side. And, the Double Chocolate Smith Island Cake is everything your sweet tooth could want and then some.
If you're looking for a fun, new spot this summer for a taste of the Chesapeake, Skipper's Pier is the perfect choice. It doesn't matter if you come by land or by boat, I absolutely recommend that you come here and enjoy all that summer has to offer.
Photos and video courtesy of Patrick McNamara of Drawn to the Image