There are just oh so many reasons to go to Carpaccio Tuscan Kitchen and Wine Bar in Annapolis' Art & Entertainment District. It's invitingly cozy with all the comfort food (read: pasta, pasta, pasta!) you could want during the cold winter months. Alternatively, there's the beautiful, outdoor dining plaza with a breezy, European feel for the warmer months. (Insert a cold, crisp glass of Pinot Grigio and the Mediterranean Salad with shrimp here.) Of course, there's the pizza (and wine) for everything in between.
It's probably obvious that I am no stranger to Carpaccio's menu, but somehow the pasta dishes had previously eluded my palate. I guess I just never got past the pizza. Or the gnocchi. Or the meatballs. I could go on, but let's just say I was very much looking forward to a whole new experience at one of my favorite eateries in town. The star of the show was the Linguine Michelangelo and the director was Executive Chef Ernesto Ventura.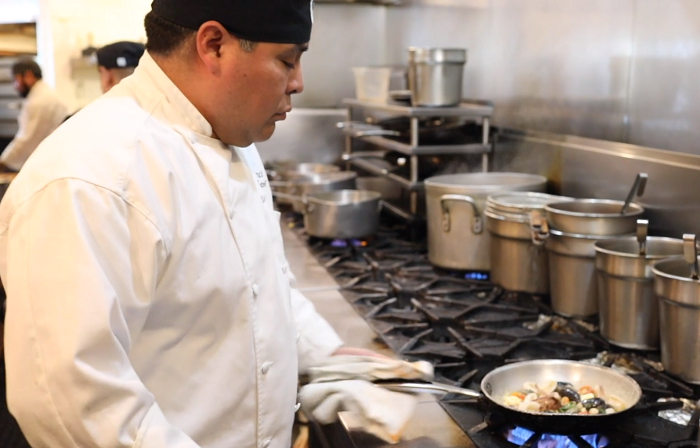 Executive Chef Ernesto Ventura at work
For me, the difference between a mediocre pasta and a great pasta is all in the noodles. If the flavor falls flat after a bite or two that's probably because time wasn't taken to infuse the flavor into the pasta itself. You can tell there are no shortcuts taken with the Linguine Michelangelo at Carpaccio. You can actually taste the multitude of flavors from start to finish, as opposed to some pastas that rely on the sauce to do all the heavy lifting.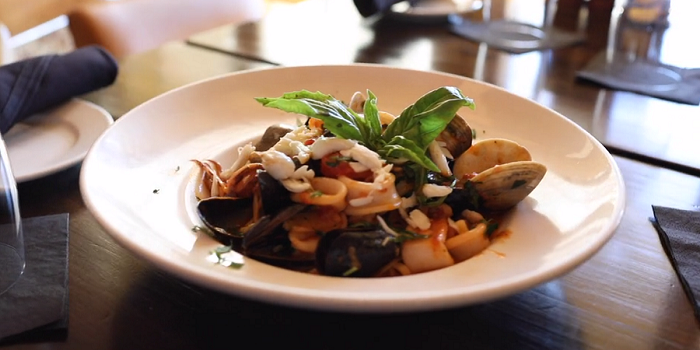 Linguine Michelangelo
Ernesto explained that all the flavor comes from the garlic which gets browned in a little olive oil right at the start of the cooking process. A few more savory ingredients joined the party including butter, basil, white wine, marinara, a little chicken stock, and a heap of arugula, and it all just simmers to perfection. Finally, it all gets topped off with crab meat, parsley, and basil. It's certainly not a complicated process, but that's usually the case with the use of fresh, housemade ingredients that can speak for themselves.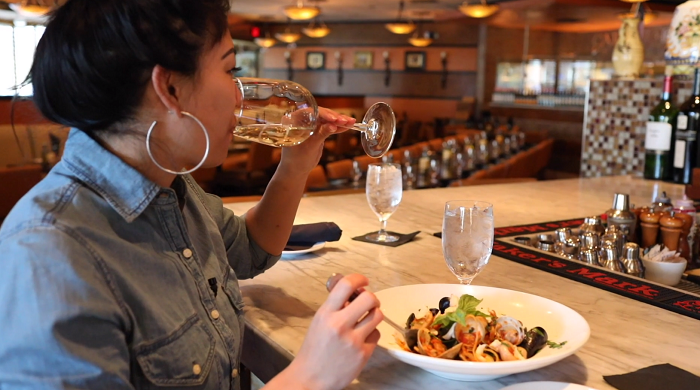 I couldn't help but admire how smoothly Carpaccio's kitchen ran during our visit. Ernesto deftly whipped up a wealth of seafood right before my eyes with the ease of someone who had done it a thousand times (and presumably has). The other line chefs continued on their business, mirroring each other in expert maneuvering, one cutting the rind off an orange at an incredible speed. It was the steady and practiced flow of a kitchen that knows how to plate a dish within "15 to 20 minutes of ordering" according to Ernesto.
Once I got seated with plates of food that had been beckoning to me for what seemed like an eternity while finishing up the vlog, head bartender and part-time manager John Can Koryak made one of Carpaccio's signature drinks, the Cosmo Italiano – your traditional cosmo kicked up a notch with Limoncello liqueur straight from Italy.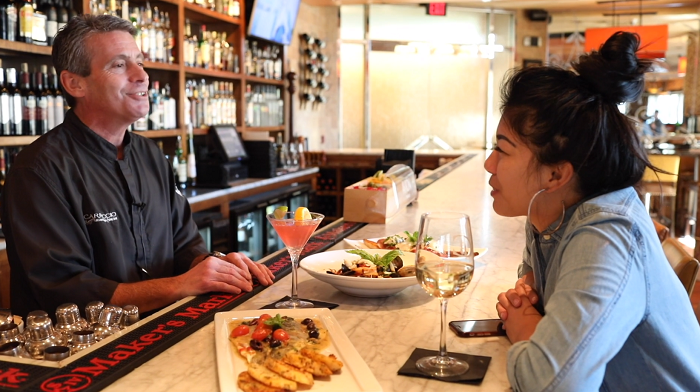 John Can Koryak
I, of course, dove right into the food. It was hard to put the fork down when eating the Linguine Michelangelo, there's just so much happening in every bite. As a seafood addict, I'm normally one to go straight for the good stuff, but I found myself devouring every part of this dish with gleeful abandon.
In addition, the Branzino Pizzaiola and a beautiful plate of burrata were there to further boost this Italian feast. Branzino is such a treat for me as I don't get to eat it very often, let alone when it's pure Mediterranean heaven with the capers and the olives and the oven-roasted tomatoes. It was all marinating in a sublime pool of buttery white wine sauce that would go a long way with a choice piece of bread.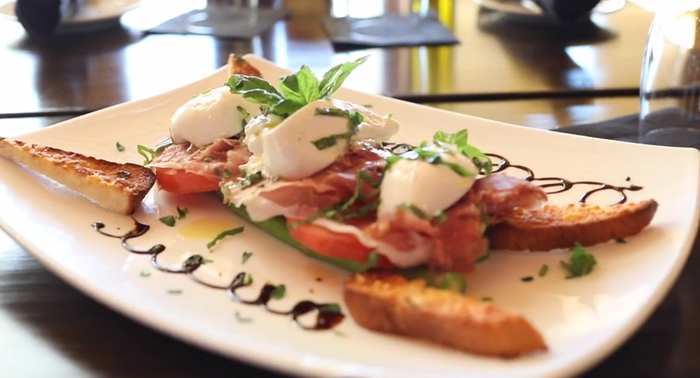 Burrata Plate
The burrata was exactly what you'd hope for and then some: pure velvety, cheesy goodness and complemented perfectly with a little salt from prosciutto, a little sweet from balsamic, and tender asparagus to round it all out.
Branzino Pizzaiola
If I've done my job, by now your tummy is rumbling for some Italian cuisine. Annapolis Restaurant Week is coming up soon (February 25 - March 3), which is the perfect opportunity to grab a two-course breakfast, lunch, or dinner at bargain price. If nothing else, get a bottle of wine and some of Carpaccio's fabulous complimentary pizza bread, but odds are you won't be able to stop there.
Videography and Photography courtesy of Patrick McNamara of Drawn to the Image