West Annapolis is a cozy little part of town that has been up-and-coming with fresh new places like Evelyn's, who opened their doors this past March. They're a laid-back little joint offering tasty breakfast, brunch, and lunch options with all the friendly comfort of your very own mother's kitchen. Not only is the food and staff welcoming, but so is Evelyn's interior—simple with an open air feel. Ample sunshine streams through the windows that line the front of the building and help to literally put the spotlight on the food.
Evelyn's is locally owned by Brandon Stalker who was born practically 100 yards from the building. (You may notice an homage to Brandon's birthplace, The Weem's Creek, on the breakfast menu). Perhaps in keeping with this tradition much of the food is sourced locally as well. Some of it as close as the front yard where Evelyn's keeps a little organic herb garden, which also happens to be irrigated with rain water. The artwork that hangs on the restaurant walls are made by local artists rotating about every three months.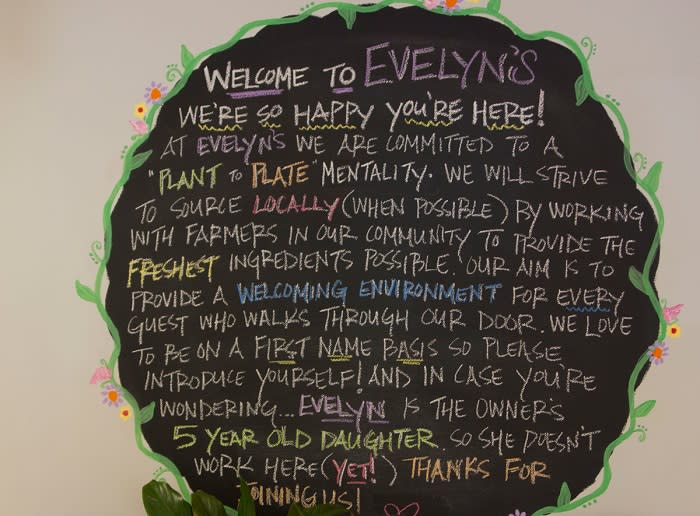 Some of Evelyn's other items are also sourced nearby (just not quite as close-at-hand as the herbs) like their sausage from Encore, a company based out of Baltimore, or their eggs which are from Sauder's, a company based out of Hampstead, Maryland. There are goods for sale like locally made jam from Agriberry, a company based out of Virginia. Even the gorgeous marble countertop that greets you upon entering is from a local supplier AU Granite and Marble.
While there's clearly a heavy emphasis on keeping things local at Evelyn's, there's also an emphasis on practicing sustainability. Sourcing their food locally aids sustainability, but they also recycle (as much as possible), give food scraps to local chicken farmers, and at the time of my visit were about to enroll in a composting program with Annapolis Compost. You can find grass-fed beef and wild salmon on the menu, which is both a rarity these days and also a more sustainable source.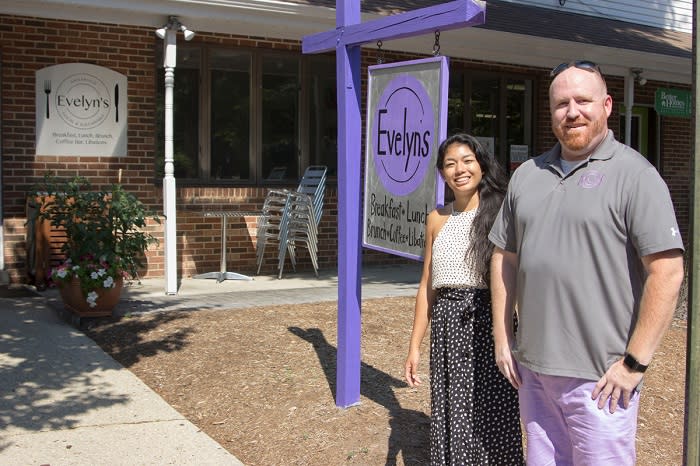 Head Chef Pepe Lucrucio
It's easy to support businesses like Evelyn's who strive to uphold environmentally-friendly ideals, but even more so when their classic American cuisine keeps you coming back. On a beautiful Friday afternoon, I had the pleasure of trying three of Evelyn's best-selling items: The Rachel, the Feed the Navy, and one of their salad specials. Head Chef Pepe Lucrucio started with their Feed the Navy omelet, which has just about all the ingredients to do just that!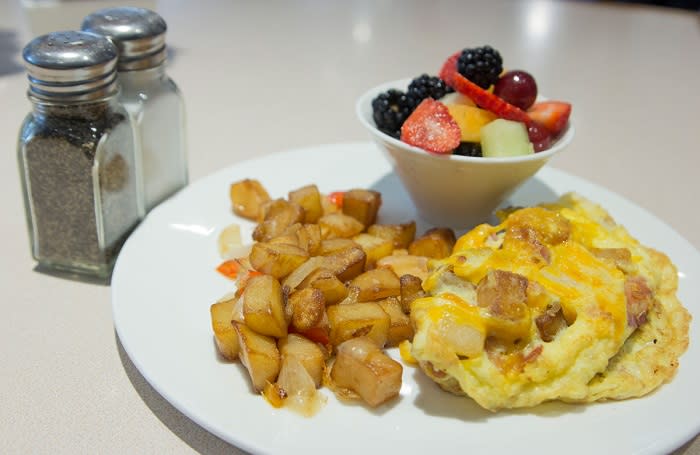 Feed the Navy Omelet
Right away I could tell this omelet had some substance to it. Since the egg was really just a thin layer binding the filling together, the bulk of the volume was due to the key players in the dish: ham, Italian sausage, Applewood-smoked bacon, cheddar cheese, and home fries. That's right, there were some good ol' potato nuggets in the omelet. It's enough food to feed an army, or rather, the Navy! The aforementioned local sausage really packed a flavorful punch in each bite.
Next came the salad, which was sweet summer simplicity—fresh watermelon and blueberries, along with a tender piece of chicken, nestled on a bed of beautiful mixed greens. There's no easier way to highlight the taste of summer than with some of the season's best fruits, and this dish did just that.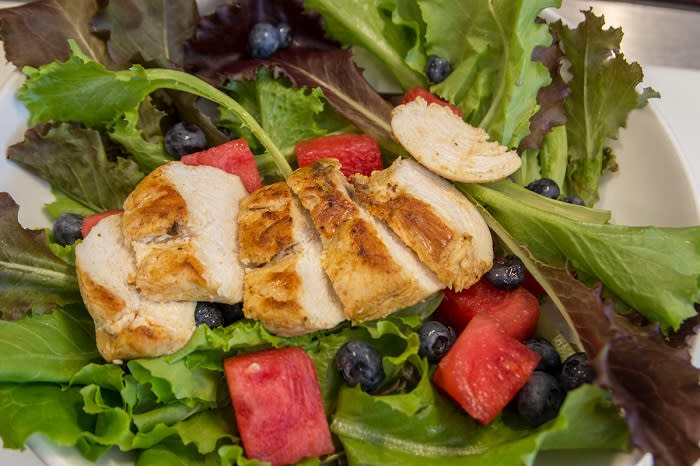 Last, but not least, was the Rachel, and boy did she close out my experience on a savory note. Evelyn's take on this variation of a classic has everything you would want in a Reuben—a mound of coleslaw and turkey smothered between Swiss cheese, Thousand Island dressing, and two thick slices of marble rye bread. Pressed and griddled to perfection, and served with a side of Evelyn's house-made waffle chips. Be sure to try their house-made corned beef in the traditional Reuben, too!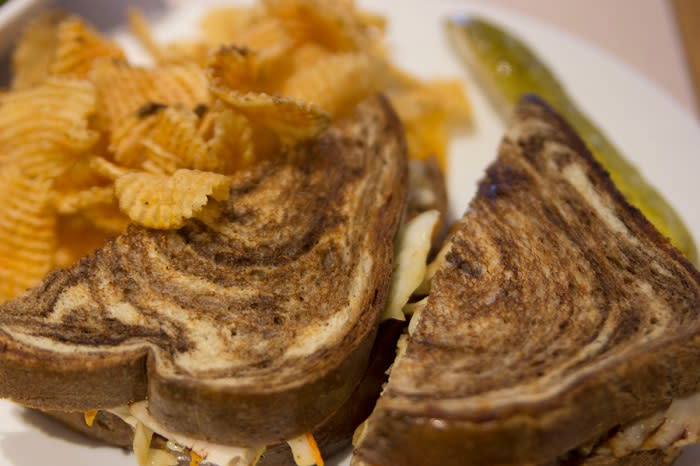 The Rachel
There are a few things to note that you may not know about Evelyn's. The first is that they have a professionally trained pastry chef on-site that bakes all kinds of treats throughout the week. When Joanna Ward isn't making cookies and brownies she's also helping to run Evelyn's as its General Manager. Keep an eye out for other delectable baked treats that change week-to-week, such as the banana chocolate coffee cake that Brandon so generously let me take home.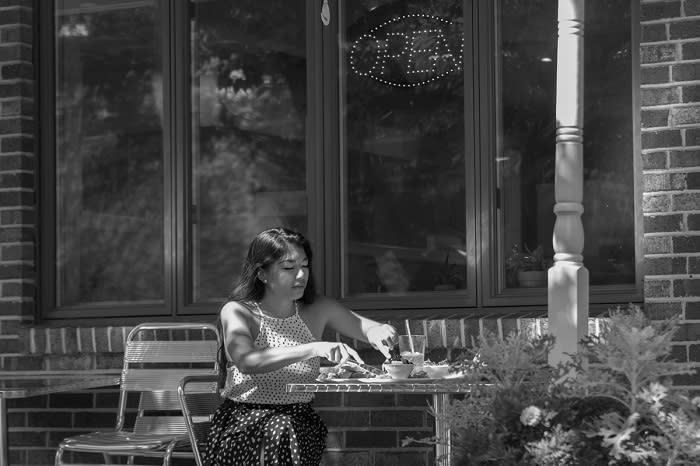 Additionally, Evelyn's has a hump day happy hour every Wednesday. They stay open until 6:30 with $1 off drinks and some kind of $1 food item, such as the pork sliders they had the previous week or the fish tacos for the week of my visit. Evelyn's has a full bar, but it's limited to higher-end options. "We don't sell a ton of booze, so I don't want to have something that isn't really nice," explains Brandon. For all the brunch lovers out there, Evelyn's offers fresh juices for their mimosas and crushes, and they even make their own Bloody Mary mix.
Finally, Evelyn's is named after Brandon's daughter. "She'll tell you this is her restaurant, I just pay for it and run it," he joked.
From what I can tell Evelyn can be proud of her namesake, even at age five.
Photography and Videography courtesy of Christian Smooth