Tucked away in a cozy little corner of the Clock Tower Plaza is one of Annapolis' best kept secrets: Grapes Wine Bar of Annapolis. This gem of a wine bar might elude your notice while driving back and forth on Forest Drive, but if you're a connoisseur of gastronomical delights, it's definitely one restaurant you don't want to miss.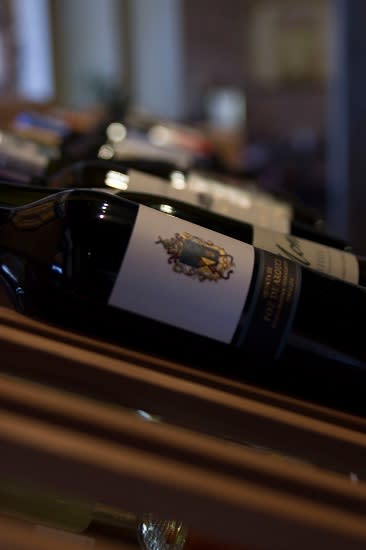 As their namesake suggests, the main attraction at Grapes is their impeccable selection of wines, all of which are available for purchase from their next door neighbor, Wine Cellars. This unique proximity to their wine supplier allows Grapes to obtain exclusive and rare wines, as well as the ability to mark wines at remarkably affordable prices. The wine at Grapes may have the limelight – and for good reason – but their gourmet, French cuisine deserves a spotlight of its own.
On a chilly Monday afternoon, Executive Chef Travers treated me to the Bouillabaisse entree, which provided the ideal comfort food and happened to be one of my favorite dishes. The Bouillabaisse is a classic French dish with mounds of seafood, a rich, savory broth, and two slices of baguette with an incredible rouille spread. From start to finish this dish is made in-house and from scratch (this can be said of almost all Grapes' menu items).
[gallery link="none" size="full" columns="1" ids="3826"]
Hours of preparation goes into this Bouillabaisse before it even gets put together. First is the fish stock, which takes about two hours to make and comprises the base of the stew. The fish stock is then used to make the Bouillabaisse stock along with celery, onions, garlic, fennel, leeks, and saffron. The vegetables used to make the Bouillabaisse stock are pureed into a thick mustard-looking paste, which is used during the cooking process to help thicken the stew and add richness and depth.
The last component is the rouille sauce, which is a bread-thickened sauce, and the veritable cherry on top. The rouille is made from the Bouillabaisse stock cooked in bread, herbs, and saffron, and then pureed into a thicker, creamier looking paste than the one previously mentioned. The rouille is spread generously on baguette slices and is oh so divine, especially when dipped in the stew. Given the chance I could make a meal of just that bread and sauce. (Good thing for my waistline, that's not an option).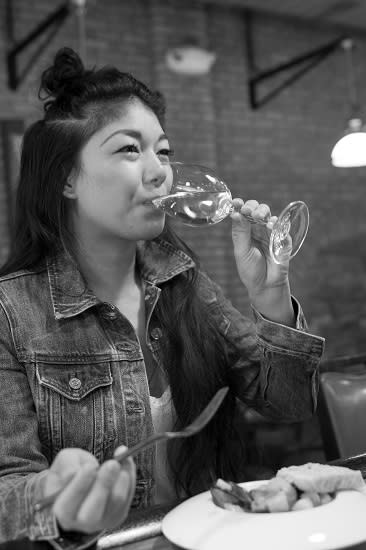 As seen in the video, the actual assembly of this dish is deceivingly quick and effortless. Knowing the time and preparation that went into the Bouillabaisse, the final steps appear to be a final layering of flavor upon the multitude of layered flavors already established in the prep work. Travers began with clarified butter in a pan followed in quick succession by mussels, shallots, garlic, shrimp, potatoes, and a sprinkle of herbs. Finally came the mustard-looking paste and it all simmered together while waiting for the mussels to open.
In just a matter of minutes Travers had the whole thing ready and was carefully ladling the Bouillabaisse in a bowl. A few seconds later, I was at the bar with a cornucopia of seafood goodness paired with an exquisite glass of 2015 Agnes Paquet Auxey-Duresses Blanc. With every bite I could taste the myriad of flavors that had been seeped over long hours into the Bouillabaisse. The broth was rich yet so light and the perfect backdrop to tender shrimp, scallops, and mussels. The baguette slices with rouille provided the perfect finishing touch and I saved it for the very last bite. The end was bittersweet and left me simultaneously floating on cloud nine and feeling bereft that the experience was over.
Another absolute favorite dish of mine is the Braised Rabbit Gnocchi. Tender, braised rabbit, red and white wine, wild shiitake, cremini, and portobello mushrooms, all in a creamy brandy peppercorn sauce. It's a must-try if you can get a chance before Grapes changes their menu on March 22. Be sure to look out for a different food special every night and weekly wine specials. There's also a featured daily special Monday through Friday. I can't wait to come in with a friend for Tuesday's special: a bottle of wine, two petite salads, and a flatbread for $45!
Come by and celebrate Grapes' six-year anniversary on March 18, or join them for one of their monthly Chef's tastings; a three-course meal with an optional wine pairing. Or, simply expand your wine palate with one their friendly and knowledgeable staff members. When asked how everyone stays so well-versed in wine, Kenna Musselman, General Manager of Grapes replied, "The best way to learn about wine is to try it. We do a lot of tastings and drink a lot of wine", which makes perfect sense and can be used as an example to all wine enthusiasts in Annapolis. Whether you're developing or refining your wine palate, there's no better place than this off-the-beaten-path wine bar.
Photography and videography courtesy of Christian Smooth