Ever since Iron Rooster opened their doors in downtown Annapolis roughly two and half years ago, they've been "makin' bacon" and serving breakfast all day, much to the delight of locals and tourists alike. They currently have three locations (Annapolis, Canton, and Hunt Valley) with another site set to open in Federal Hill on July 1st.
The Iron Rooster in Annapolis is their original location – and their busiest. Bustling foot traffic from the surrounding downtown area and free valet on the weekends help make them a highly sought after weekend brunch spot. How highly sought after? Around 1,500 - 1,600 people (on the weekends) at the Annapolis location alone!
Beyond an instant feel-at-home interior, their true appeal lies in a wide selection of mouth-watering dishes overseen by Executive Chef Drew Adams. The roster of traditional comfort food was the mission of this blog, and a most enjoyable way to spend an afternoon: The Crab Hash.
Drew began making the dish by slicing and dicing his way through all the necessary prepped ingredients: green onion, asparagus, lemon, bacon, and roasted red peppers. After warming a little chipotle butter in a pan, he piled in one ingredient after the other, saving the best for last – a generous mound of crab meat and a dusting of Old Bay.
Once everything was good and sauteéd he poured the heaping goodness onto a plate that was more like a shallow bowl and placed the poached eggs atop like crowning jewels. A squeeze of fresh lemon juice, a smattering of chipotle hollandaise and a sprinkling of scallions later and the dish was beckoning.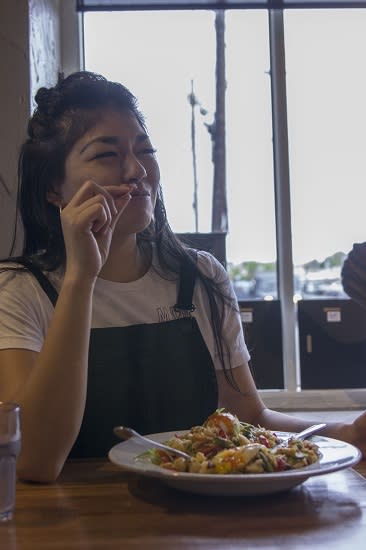 The Crab Hash is one of Iron Rooster's biggest sellers and it's easy to see why. Big enough to share and chock-full of flavor, I could taste the slight heat of the chipotle play against the sweetness of the roasted red peppers. The asparagus and bacon provided a little texture while runny egg yolk and hollandaise enriched every bite. Of course, like any true Annapolitan, my favorite part was the crab meat and Old Bay that punctuated each forkful.
The signature Iron Rooster Bacon Bloody Mary made for the perfect accompaniment, brimming with bacon, pickled asparagus, olives, and an Old Bay rim.
There's so many reasons to love the Iron Rooster. For starters, any place that's "makin' bacon" automatically has a special place in the heart of any bacon fanatic, and it seems like there's more than just a few. At roughly 50 cases a week, weighing five to six pounds each, the amount of bacon they serve up might just be real-life proof that bacon really does make everything better.
The Rooster's homemade pop tarts are made fresh every day and transport you right back to your childhood. Another personal favorite of mine are the poached eggs, which are always—always—done to utter, runny-liquid-gold perfection. They go through a whopping 1,200 eggs a week (approximately) at the Annapolis location alone! On certain days there is someone who literally poaches eggs all day. I, for one, would like to thank this benevolent soul for their service.
Come to a place "where pecan pie is a staple and macaroni and cheese is a vegetable" and you'll be sure to leave with a full belly and a light heart. It feels like home, and it should. From the southern hospitality to the local Naval Academy paraphernalia, you can see and feel the community. More importantly, you can taste it.
Photography and videography courtesy of Christian Smooth