Local. Sustainable. Small plates. These words are practically synonymous with Level, a restaurant that has been redefining what it means to eat out in Annapolis since 2009. Not only do they bring a wealth of locally-sourced food from all over Maryland right to your table, their space fosters a relaxed environment perfect for shared bites and tasty handcrafted cocktails.
I am a frequent patron of Level and I always look forward to seeing the new, seasonal items they create. On this particular visit, I had the pleasure of trying their Roasted Mushroom Salad (bonus: it's vegan!). I could not be more thrilled. It's like Executive Sous Chef Matt Singer knew how much I absolutely love this delightful food source.
Simply put, this dish is an amalgamation of flavor and texture. If you're not a fan of mushrooms, I hate to say it, but you're really missing out. It combines just about all of my favorite things including baby sweet peppers and five varieties of wild mushrooms, both from Le Bocage farm in Virginia.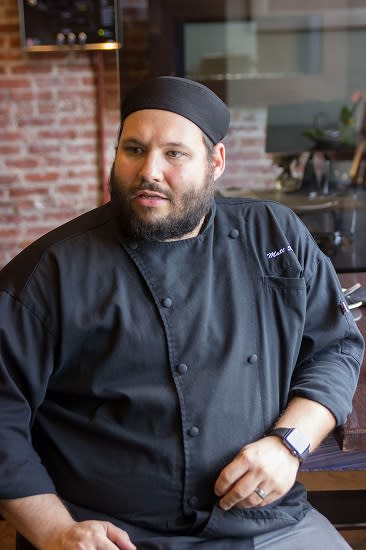 Executive Sous Chef Matt Singer
The mushrooms and peppers are par-roasted and sautéed in a pan along with arrowhead spinach (also from Le Bocage) and a couple lemon wedges. Then it's topped with Castelvetrano olives and red quinoa that's been fried to a nice crisp. Garlic, chili flakes, and a squeeze from the lemon wedge are all that's needed to infuse the whole medley with just the right amount of flavor.
Once seated with this savory dream of a meal, it was difficult deciding which part of the dish to tackle first—it all looked so tempting. Of course, I had to dive right into a bite of a mushroom. It was tender, meaty bliss that gained a new dimension of flavor with every forkful. The sweetness of the peppers, the subtle butteriness of the olives, and the faint tartness from the lemon all played off each other while the quinoa provided the most enjoyable bit of crunch.
To help wash it all down I had the ever-refreshing and zesty Cucumber Basil Collins, General Manager Devon Glauccum's favorite of the new cocktails. Innovative and delectable drinks are part of Level's cornerstone, and this one was no exception. The traditional Collins is taken to a new, shall we say, "level," with a homemade granita: A mixture of lime, basil, mint, and cucumber that's frozen and scooped on top.
[gallery columns="2" size="large" ids="4185,4187"]
After it was all said and done there was nothing but an empty plate and a very contented me. Don't underestimate this dish at first glance, it's definitely more filling than it may look. Of course, if there's still more room that just means more things you can try on Level's menu. I know I personally can't get enough of the Crab & Corn Gnocchi and the Pan Roasted Snapper, two phenomenal dishes that, along with the Roasted Mushroom Salad, I'll be sorry to see go with the season.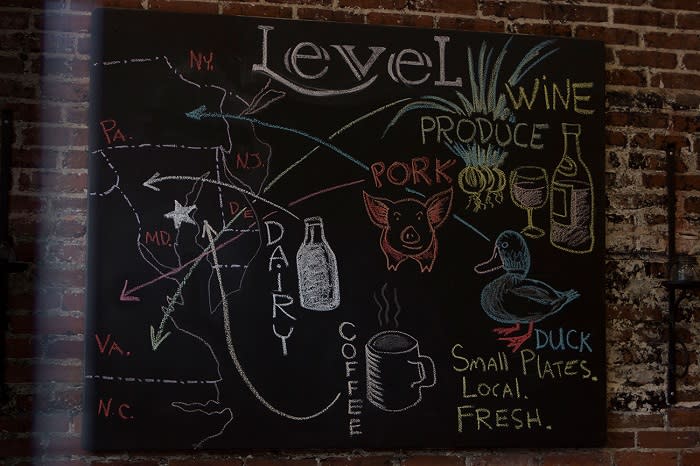 This dish happened to be vegan, but there are plenty of options for carnivores and herbivores alike. There are also gluten-free options available like the aforementioned snapper or the recently added Savory Doughnuts that I can't wait to get my hands on. If you want to end things on a sweet note, all of Level's desserts are made in-house including their gluten-free cheesecake with an almond crust.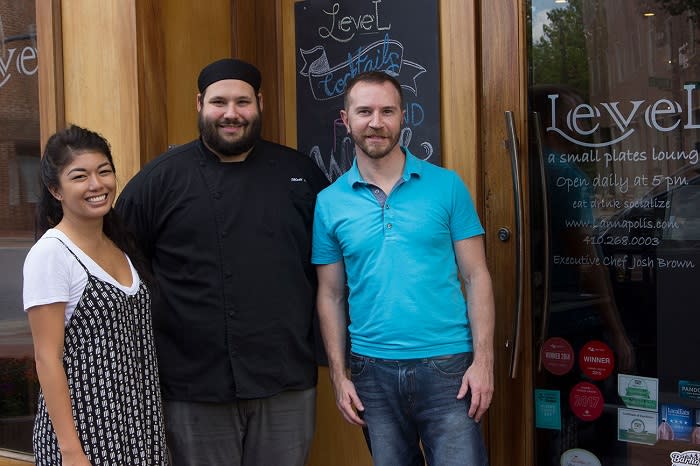 With an ever-changing menu there's an endless amount of delectable options in store at Level. Their motto is simple but holds the keys to a good time and dare I say a good life: Eat. Drink. Socialize.
Photography and videography courtesy of Christian Smooth