When you think of The Prime Rib (located inside Live! Casino & Hotel located right next to Arundel Mills), you probably think of, well, a big juicy prime rib. Your mind might wander from there to your favorite cut of meat, perhaps a ribeye (my personal favorite) or maybe a nice, tender filet. That might be it. You could – and reasonably so – assume that the buck stops at steaks, however, that's a line of thought that couldn't be further from the truth.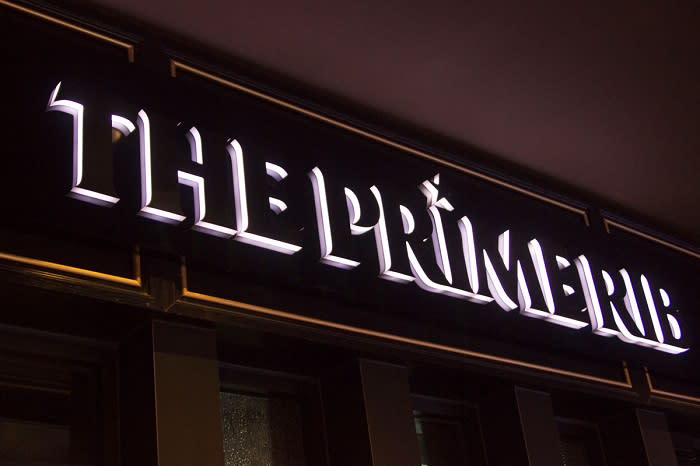 On a lovely fall evening I was fortunate enough to discover first-hand just how much The Prime Rib has to offer. Executive Chef Eric Littlejohn was set to prepare a Caribbean-style Red Snapper special from their new Day Boat menu, an offering of ten fresh seafood creations sourced locally and changed weekly, but I had no idea the treat that was in store for me.
I would hazard a guess that Littlejohn, who's been with Prime Rib for over two years and steakhouses for almost thirty, could cook a steak to perfection with his eyes closed by now. However, his Day Boat menu, with nearly all the ingredients made from scratch (which can be said of all their dishes) and changed on such a quick timetable showcases the depth of his culinary skills.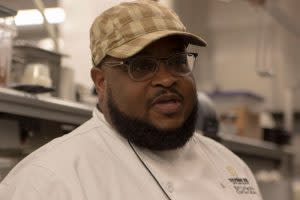 Executive Chef Eric Littlejohn
The snapper special was no exception. This beautiful piece of fish was first marinated in fresh lime juice, salt, and pepper – with three slits on each side to allow the flavor to soak in – for about a day and half. It was then sautéed in a broth consisting of coconut milk, seafood stock, and a little herbed butter along with a medley of onions, bell peppers, and carrots.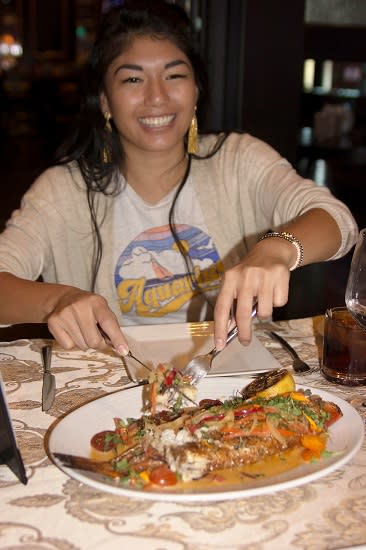 All that remained were the finishing touches: A scattering of baby heirloom tomatoes, chopped green onions, and fiesta microgreens. The final dish looked like something that could take over the turkey's job on Thanksgiving. It was such a decadent feast to behold with pops of color and a mouthwatering aroma, I could hardly believe I had it all to myself.
To no surprise the flavors were off the chart. The subtle sweetness of the coconut milk played against a slight touch of heat perfectly (thanks to a dash of cayenne, explained Littlejohn), while the medley of vegetables provided a new and fun compliment to every bite. The snapper itself was so tender it came right off the bone.
The snapper was truly exquisite and I would have been more than content with just that dish. I may not have gambled at the casino but I still felt like I had won because before I knew it more heavenly plates of food arrived: a rockfish with jumbo lump crab meat and a basil vinaigrette; a sea bass with a blueberry gastrique; and mahi mahi with a papaya jalapeno salsa. It was an incredible array of seafood delights, each one as delicious as it was uniquely dynamic in flavor.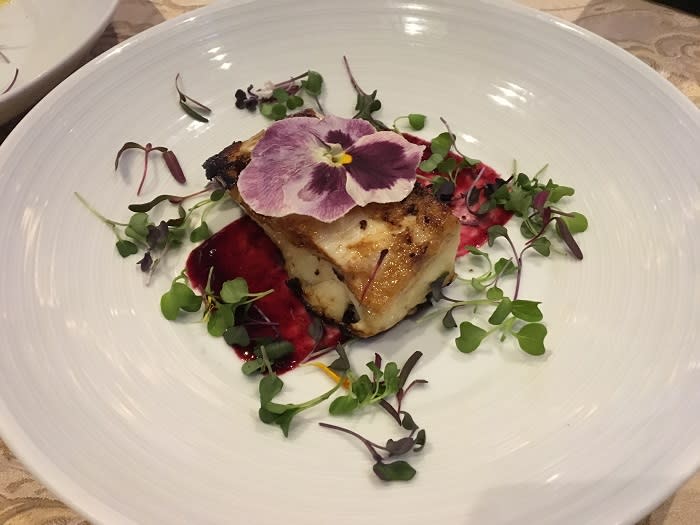 As if things couldn't get any better, the bartenders on duty were kind enough to provide one of their classic Manhattans made from scratch with four different bourbons aged for six weeks in barrels right on the bar. I cannot wait to come back to sip on this handcrafted glass of cocktail perfection alongside one of Littlejohn's new seafood creations – perhaps even for happy hour in Prime Rib's swanky bar lounge with live piano music in the evenings.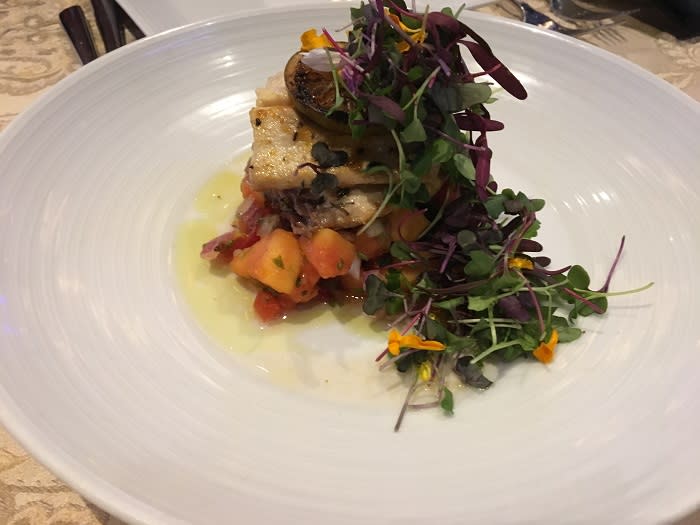 If I can ever make it away from the seafood options, there's always Prime Rib's signature item to consider. You guessed it: an 8- or 10-ounce prime rib. If you really want to treat yourself, there's even a 32-ounce bone-in option. Or, there's always the three steak specials that are run of the menu, like the bone-in tomahawk ribeye that may or may not be on my Christmas list.
A new personal goal of mine is to eventually get my hands on their cold smoked pork chop delivered with a smoke-filled glass dome that's lifted at the table to release the smoke right before your very eyes. When it comes to cold smoking, "I kinda love it and not a lot of people do it," says Littlejohn.
Don't let the bright lights of the casino or the bustle of the Arundel Mills Mall deter or fool you. Stepping foot into the Prime Rib is like traveling back in time to the days of Frank Sinatra in a New York club. The Prime Rib at Live! Casino & Hotel is true to its old-school, sophisticated roots, but has something new and exciting to offer every day.
Photos courtesy of Rhea Torreon and Christian Smooth; videography courtesy of Christian Smooth