Red Red Wine Bar located on Main Street in downtown Annapolis has been on a mission to redefine what it means to drink wine since 2011. Owners Lisa and Brian Bolter took the bold leap from television news into the restaurant industry to help change the way people approach wine, and in essence to create a comfortable environment to nurture the wine connoisseur in each of us. After all, you gotta start somewhere!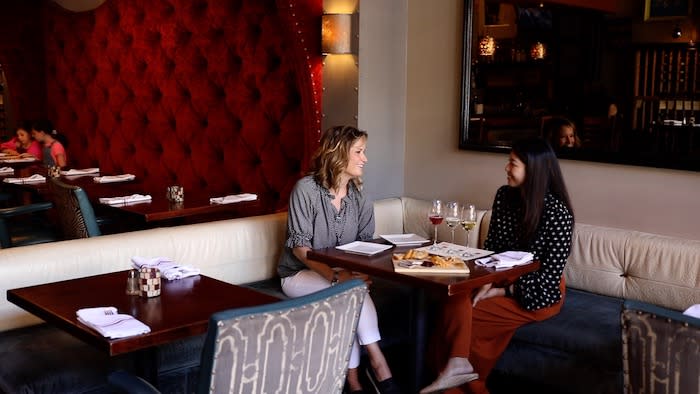 Image courtesy of Patrick McNamara of Drawn to the Image.
Spring is officially in full swing here in Annapolis and on a particularly beautiful day, I found myself chatting with Lisa over one of Red Red Wine's delicious cheese boards. This particular one included two of their most popular cheeses: the Drunken Goat, a semi-firm mellow cheese that's great with just about everything, and the vintage 5-year gouda, a harder, flakier cheese that will treat your taste buds to notes of butterscotch and crunchy salt crystals in every bite. 
To help customize each morsel, a small dollop of housemade rosemary apricot marmalade was provided along with walnuts, dried cranberries, and crispy baguette slices.
Now, what could be better to wash down all that yumminess with than a wine flight? The answer: a sparkling wine flight by the name of 'Message in a Bubble', one of three wine flights Red Red Wine Bar offers. Annie, the bartender on duty that day, brought over a trio of bubbles using a carrier that allowed her to smoothly deliver all three glasses with one hand. She placed the flight over a placemat which provided all sorts of useful information for each wine: the name, place of origin, flavor profile notes, and so on.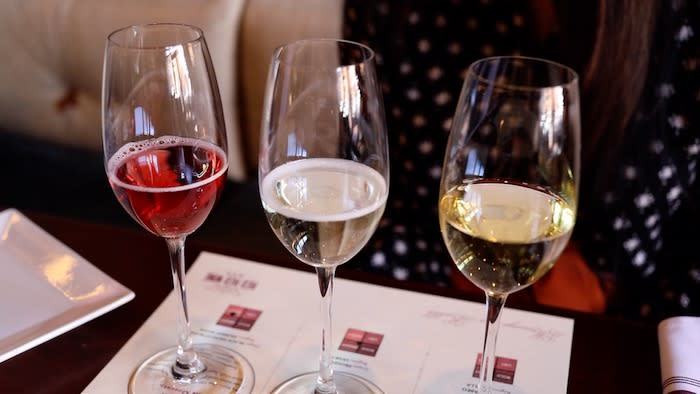 Image courtesy of Patrick McNamara of Drawn to the Image
Think of it as a self-guided tour to happiness with an itinerary. It's a fun and educational way to drink wine, and more importantly, to discover what you like and don't like. You can even keep the placemat as a memento. (Or in my case as a reminder of my past transgressions otherwise known as catching a wine buzz at noon.)
Naturally, a place called Red Red Wine Bar is known for its wine, but don't overlook their full bar with a cocktail list to match. They can whip up just about anything your heart desires, like a fresh whiskey sour, or as Red Red Wine calls it: a Maryland Sour. Lisa explained that it's their twist on a traditional New York sour but with the use of Sagamore whiskey from Baltimore, mixed with lemon and egg white, and topped with red wine for an intriguing visual presentation and flavor experience.
Every delectable drink deserves an equally scrumptious dish and the Bacon Wrapped Shrimp, one of Red Red's seasonal special entrees, did not disappoint. Four big, juicy shrimp sat atop a bed of sauteed brussels sprouts with green apple sticks, and honey apple vinaigrette. It's was the perfect meal for a sunny spring day, light yet filling with all the best sweet and salty flavors.
Last, but not least, was the dessert course. Everything, including the desserts, is made in house (something that always impresses me as baking is a mystifying art in my book). Lisa brought out their 'Cake of the Month', a passion fruit cake that was perfectly moist and sweet. She paired it with her favorite cocktail and one that as such, is a staple on the drink list. A lemon meringue cocktail is literally liquid dessert: vodka, vanilla, and lemon is shaken and topped with a housemade toasted meringue and candied lemon zest. It's like your favorite childhood camping trip, the one where you got to roast s' mores for the first time, but better.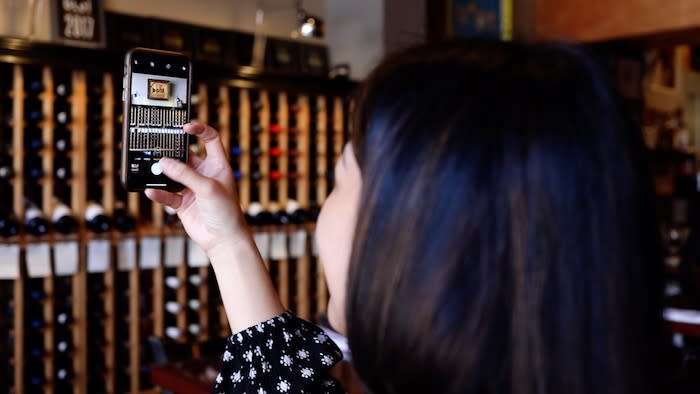 Image courtesy of Patrick McNamara of Drawn to the Image
As I write this I'm wishing I could relive the whole experience again. Don't forget about their wine on tap which is currently the Chesapeake White, a Pinot Gris/Chardonnay blend made exclusively by Great Frogs Winery for Red Red Wine. I'm already looking forward to the Obscura blend that Great Frogs is currently aging. It will be the first Maryland bourbon barrel aged wine set to be released in the late summer - early fall.
Another favorite combo of mine is pizza and wine and it just so happens that Red Red Wine has hand tossed pizzas. They're also one of the few places that have outdoor dining and it's right on Main Street so the people watching is prime. I foresee a pizza and wine date in my future, but until then I'll be savoring my meal here for the days and weeks to come.
Videography and photos courtesy of Patrick McNamara of Drawn to the Image.