Around this time last year, Sailor Oyster Bar (196 West Street) opened in the Arts & Entertainment District, bringing a whole new approach and flare to dining in Annapolis. Sailor brings a hip new vibe, outside-the-box drink menu, and a food like no other in town. Owner Scott Herbst and his talented team have kept their foot on the peddle throughout the year, testing new food and drink options as they updated and rolled out new menus.
Scott welcomed the team at Foodie Annapolis to check out MENU 4.0 – which was officially released this week – and taste some of the new menu items. His team, as always, did not disappoint. "We wanted to spotlight great seafood and fresh items with a touch of inspiration from foods around the world," Scott explained after we asked where his inspiration for the new items came from. "We have some Hawaiian inspiration with our new poke; Greek-influenced stuffed dates; and some Mediterranean style with our white anchovy toast. Don't worry – we kept some of our regulars favorites like the Bologna Sandwich and our daily fresh oyster selection. The reaction from our community has been unbelievable, so we felt we could push the envelope some more with this new menu."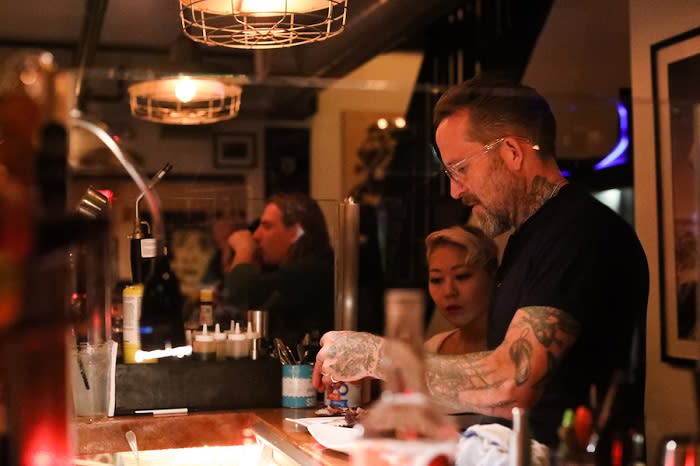 Owner Scott Herbst
There' not much to disagree with Scott about the menu. The vibe of Sailor and the attention of the staff has not changed since they opened their doors, but seem always to keep it fresh with updates to their drink and bar menu – just a few of the reasons our staff makes regular visits. While the entire menu looked tasty, we selected the following for our tasting:
Torched Scallions, Pine Nuts, Shaved Pecorino, and Chili Oil
Medjool Dates, Gorgonzola, and Prosciutto
Tuna Tartare....Serrano Peppers, Spiced Apple, Sesame, Chives
White Anchovy....Smashed Peas, Mint, Caviar, Evoo
Scallop in a Half Shell, Vanilla Coconut Cream, Blood Orange, Black Salt
Stop by and give Menu 4.0 a taste, and be sure to let us know what you enjoyed most on our Facebook page!
Photography Provide By: Drawn to the Image