Annapolis offers a number of non-stressful choices for visiting the big man himself this holiday season. Ranging from the typical lap-sitting experience to more informal gatherings. Check out some of the jolly experiences we have around the county! 
Westfield Annapolis Mall
At Westfield Annapolis Mall, Santa is at the Crate & Barrel court now through December 24.  Reservations to skip the line are available with an advanced online photo purchase.  
Annapolis Towne Centre
At Annapolis Towne Centre, you can visit Santa's Cottage next to Paper Source from now through December 24.  Maximize the quality of your visit by checking out Santa's calendar to see his regular hours and to note when he is hosting pajama parties, pet nights, and cookies and cocoa with Mrs. Claus.  
Homestead Gardens
Many children and adults might prefer a more casual Santa experience that avoids the potentially stressful trappings of lap-sitting—the line, the elves, the formality of approaching Santa's throne, and the release of mom's or dad's hand in order to climb on Santa's lap. Our town has you covered for those options, as well.  Most charge admission and require the advance purchase of tickets, so check the websites below for details and act quickly (some events are not listed here because they are already sold out).
On December 6, Homestead Gardens offers pets and families the opportunity to visit Santa and get photos taken with him.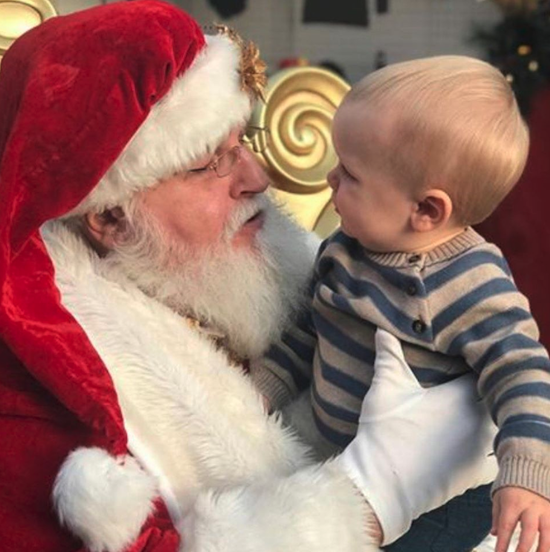 Image courtesy of Homestead Gardens
St. Anne's School of Annapolis
St. Anne's School of Annapolis is holding its annual Christmas bazaar on December 7.  The event includes visits with Santa, a pancake breakfast, craft activities, shopping for adults and children, raffles, games, and face painting.  
Cape St. Claire Volunteer Fire Company
The Cape St. Claire (CSC) Volunteer Fire Company will chauffeur Santa through the Cape on December 7 to visit with children. Santa will then stop off at the CSC Gatehouse to join kids, pets, music, hot chocolate, and photos.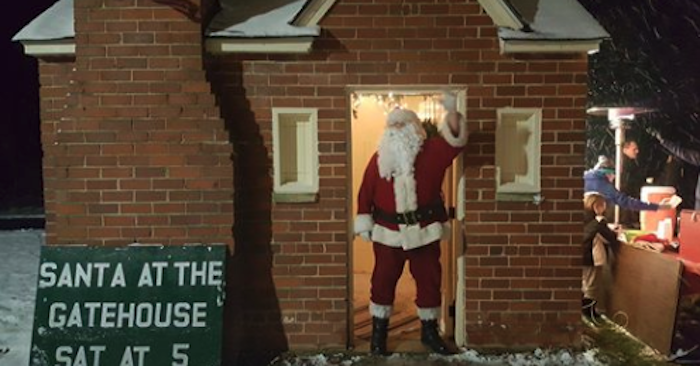 Image courtesy of Cape St. Clare Fire Company
Woodland Beach Volunteer Fire Department
On December 7, the Woodland Beach Volunteer Fire Department is hosting breakfast with Santa.  Santa will read stories and listen to the kids' Christmas lists. Then, on December 8, the Firehouse Santa and his brigade of helpers will travel on four routes throughout Edgewater to visit with children, take photos, hand out candy canes, and collect new toys for needy families.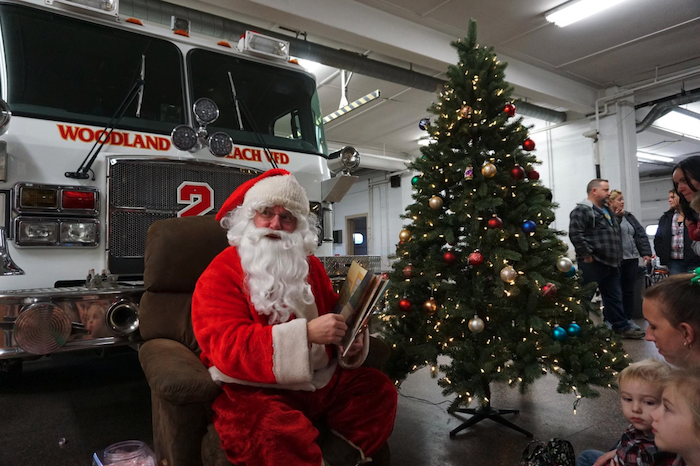 Image courtesy of Woodlawn Beach Fire Department
Rommel Harley-Davidson
On December 7, Rommel Harley-Davidson is hosting photos with Santa and Mrs. Clause for kids, adults, and pets, and serving hot chocolate, cookies, and snacks. Participation in the ugly Christmas sweater contest is optional.