Annapolis in October! There's a ton of tasty happenings going on all across Annapolis and Anne Arundel County; fresh fall menus and drinks, the North Country Restaurant Week, Fall Festivals, and football season! Here are four ways you can enjoy the flavors of the season in Annapolis this October.
New Menus in Annapolis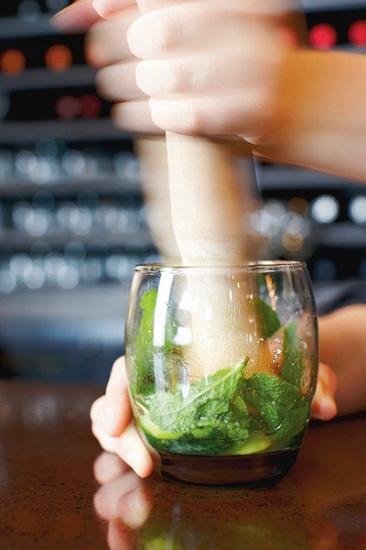 Paladar Latin Kitchen & Rum Bar
Rum Appreciation Month is here! Through Oct. 31, Paladar has some great food and drink specials that'll have you buzzing.
Mojito Mondays – They're bringing some happiness to the start of the week! Enjoy $5 traditional mojitos all day, every Monday throughout the month of October. Cheers!
Rum Flight Specials – Enjoy a hand-picked selection of must-sample rums this month. Sip and sample half-ounce tastes for $2.50, or build your own rum flight with three rums priced at $6.
Chef's Table Wine Dinner
Experience dining with a new dimension. Executive Chef  Jonathan Seningen invites you to join him for a Chef's Table Wine Dinner at Blackwall Hitch, Tuesday, October 25, at 7 pm. This unique evening features four courses of original cuisine paired with wines from the Blackwall Cellar and accompanied by conversation with Chef on the menu and creative culinary process.
Chef's Table Wine Dinner is $75 per person and reservations are required. Call 410.263.3454 or stop by Blackwall Hitch (400 Sixth Street, Annapolis) to secure your seat.
Additional Chef's Table Wine Dinners, each with a different seasonally-inspired original menu,  are scheduled for November 15, January 10, February 7, March 7 and April 25. Reservations for these dates will open 3 weeks prior to the event.
First Course:  Red Beet & Granny Smith Apple Ravioli stuffed with Whipped Goat Cheese garnished with thinly shaved Fennel and served with Pistachio and Vanilla Beet Reduction Wine: Chateau de Montfort Vouvray
Second Course:  Steamed Manila Clams in a Light Broth of White Asparagus, White Wine and Crème Fraiche with House Made Yukon Gold Gnocchi topped with Crispy Smoked Prosciutto Wine: Fess Parker Viognier
Third Course:  Braised Short Rib & Day Boat Scallops with Whipped Fingerling Potatoes, Slow Roasted Tomatoes and Pencil Asparagus in a Sauce of Toasted Shallots and Marjoram Wine: Columbia Crest H3 Cabernet
Fourth Course: Amaretto Bread Pudding with Poached Apricot, Bourbon Caramel and Vanilla Ice Cream Wine: Taylor Fladgate Tawny Port
Café Normandie
Café Normandie is offering 1/2 Price Wine Bottles, All Day, Mondays & Wednesdays
Breakfast, Saturday & Sunday, 9-12, Lunch 11:30-3:00
Early Dining Menu, Every Day, 5:00-6:30
Chesapeake Brewing of Annapolis
Jail Break is a small brewery Chesapeake Brewing of Annapolis has carried for many years. Mixing Jailbreak's Feed the Monkey Orange with DuClaw's Blueberry Wheat, they've created the FUNKY MONKEY. It's a beer cocktail you can't miss in Annapolis this October.
Joss Café and Sushi Bar
Don't miss the sake tasting event at Joss Café and Sushi Bar on October 15th from 2-5 pm with no entry fee. There will also be few rolls featuring jalapeños: Tuna Jalapeño, Toro Jalapeño & Aji Jalapeño roll. They all have avocado & jalapeño on the inside, and the corresponding fish with avocado thinly sliced on top. The tuna jalapeño roll has no sauce, toro jalapeño has wasabi yuzu, and the Aji jalapeño is drizzled with olive oil. There's also a new appetizer called the toro roll up. It has Korean chives, Japanese radish sprouts and shredded daikon wrapped inside long cuts of toro sashimi with wasabi yuzu dressing.
Federal House
A dog menu! Take your furry friends out to the Federal House for a little treat. On the menu is the "Annapolis" Dog Bone Treat, Peanut Butter Filled Turnover Treat, Assorted Paw Printed Treats, Bow Bow Burger, and the Canine Chicken
There's also the Annual Halloween Party on October 29th, beginning at 10pm with DJ Prince. Cash prizes will be given away through the night!
North County Restaurant Week
Now in its 3rd year, North County Restaurant (October 7-16) is featuring over 20 restaurants from the Glen Burnie, Ferndale, Pasadena, Millersville, Hanover and Severna Park areas. Fixed-price lunch and dinner menus offer visitors the chance to indulge in local favorites or sample that little known restaurant you've been meaning to try. A variety of cuisines from American, Caribbean, Irish, Italian, Japanese, and Mexican, to regional seafood are being offered by participating restaurants. Find out more by clicking here.
Fall Festivals
Fall is in full swing, which means so are the fall festivals and all their tasty treats! The Greenstreet Garden Fall Festival and the Homestead Gardens Annual Fall Festival offer the perfect family weekend, with everything from corn mazes to hayrides. Luckily for us, aside from the petting zoos and haunted trails, October means cider donuts, pies, pumpkins, and fresh, locally harvested produce!
Football
Football season is back, which means getting together and spending time with friends and family watching your favorite teams…and a great excuse to visit a few of Annapolis' favorite watering holes. Head to Stan and Joe's for a laid back bar scene playing all the top college and pro football games through the season along with some delicious plates. O'Brien's Oyster Bar & Restaurant in downtown is another great location to catch the game and bite to eat. There's also The Greene Turtle, located near the Westfield Annapolis Mall, a Maryland staple for sports lovers offering a great menu and selection of beers to keep you entertained no matter who's playing. Or, you could catch the game at Gordon Biersch Brewery Restaurant with plenty of screens and tasty game day snacks!