Boasting the name of America's Sailing Capital, Annapolis seems a fitting place for it's latest visitor. An article published by The Capital Gazette titled Historic schooner moors in Annapolis, highlights the Schooner America - a replica of the ship that won the first America's Cup.
"This is one of the more impressive of the older boats and replicas that visits Annapolis," said Robert Madden, a retired National Geographic photographer who lives in Shady Side. "You should see how powerful these are when they are under full sail. She'll move through two-foot chop with barely a ripple."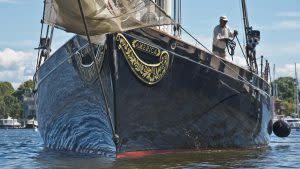 The schooner America (Credit: The Capital Gazette)
The boat will be docked in downtown Annapolis's City Dock at the National Sailing Hall of Fame from September 14-16, so don't miss the chance of catching a glimpse of this historic vessel if you're planning to Visit Annapolis this week!
Part of this article was first featured in The Capital Gazette. Read the full article here.