There is a new chef in town and she's sweeter than pie! Meet Chef Alana Collins, the pastry chef at Severn Inn. Although she has only been in Maryland for about a month, Chef Collins has tapped into the Annapolitan sweet tooth by putting a unique twist on heartwarming classic desserts. Between the decadent flavors and gorgeous waterfront views, Severn Inn and Chef Collins give patrons an unforgettable dining experience. We had the opportunity to chat with Chef Collins to learn more about her passion and inspiration for her delicious desserts.

How did you get into baking?
Chef Collins: It's cliché, but my grandma baked when I was younger. I'm also very artistic. I'm a face artist. I can do a lot of special effects makeup, beauty makeup, cosplay - all of it. I decided I wanted to combine my makeup, art and food passions through baking. I love how everyone has their preferences with makeup, the same goes for dessert. Some like the natural beauty of pastries, and others like the extravagant and highly decorated desserts. Much like makeup, some like the natural look and others love to go full glam.
That's an interesting connection between makeup and artistic baking…
Chef Collins: I think of decorating a cake or cupcake similarly to putting on makeup. People are amazed by the creativity, artistry and beauty and it makes them happy. It's the same thing. I like making people happy.

What brought you to Severn Inn?
Chef Collins: I'm originally from Michigan, but I was interested in creative pastry positions pretty much anywhere. When I came across the pastry chef job at Severn Inn, the Executive Chef Nick hooked me when he explained how I would have the opportunity to rebuild the dessert menu and add new items to the Sunday Brunch. We're also doing special order cakes for events.

When rebuilding the dessert menu, what local inspiration do you use to appeal to Annapolitians?
Chef Collins: The locals love classic desserts. I'm putting a twist on some of those favorites by elevating them with out-of-the-box ingredients. For example, we have a s'mores peanut bar that's phenomenal. We're also offering two specials that I created. The first one is a savory appetizer - a pumpkin goat cheese dip. It's served hot in half of a pumpkin with three types of handmade crackers. And our dessert special is a pumpkin pie dip, served in a pumpkin, with cinnamon-sugar phyllo, snickerdoodles, and chocolate crisp cookies.

What is the most artistic cake you've ever created?
Chef Collins: I did an externship in Estonia and I made a 4-tier decorated wedding cake as my final project, but I was also able to enjoy it for my birthday! I like Gothic designs, and that was my main inspiration. It's primarily black and gold with traits from the Victorian era and a little steampunk vibe. I like to incorporate that style in my baking while still appealing to the general public. The cake was phenomenal! My aunt and grandma still show it off to people.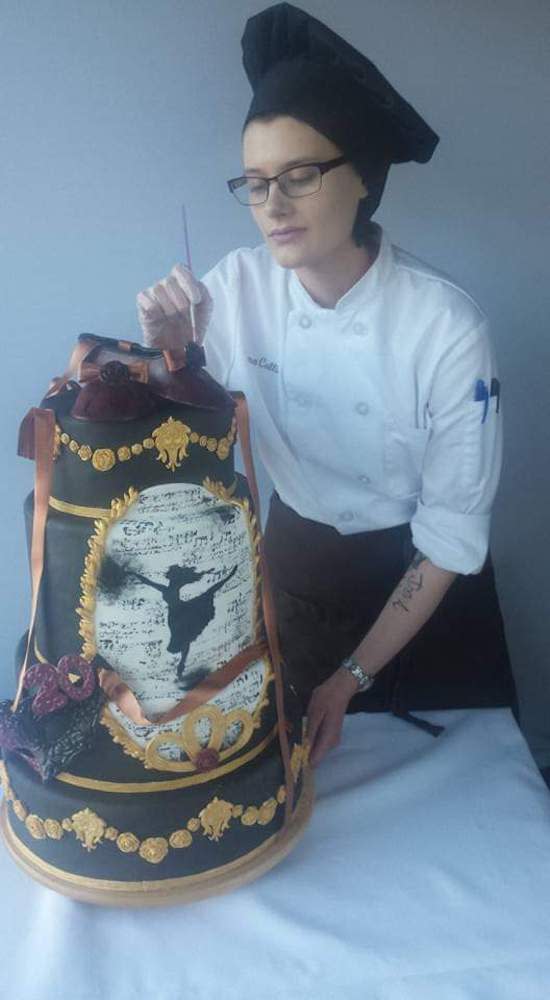 Chef Collins' additions to the menu will beg you to save room for dessert! Spectacular views and exceptional cuisine sum up the Severn Inn experience during lunch, brunch, happy hour, dinner and, of course, dessert. To learn more about their menus and learn more about private dining accommodations click here. Specialty custom cakes are available for order by calling 410.349.4000 ext. 12 or emailing Jami.