Valentine's Day is quickly approaching. Whether you've got plans for a candlelit dinner with that special someone or a night out with girlfriends, you'll want your outfit to be fabulous, your look to be flawless, and your gifts to be meaningful. Look no further than Downtown Annapolis. The many exclusive shops and services located in our city make prepping for Valentine's Day simple. Take a look at some of my favorite local hot spots that will help prepare you for your big night out.
The Look
Downtown Annapolis is home to several clothing boutiques that offer high-end looks at affordable prices. Dear Annie (65 Maryland Avenue, 410-267-6390), one of downtown's newest clothing boutiques, is a favorite that carries a variety of stylish options sure to impress. My advice? Select a dress that is timeless and classy. Your closet will see fashion trends come and go, but foolproof classics will never lose their appeal.
The little black dress is a wardrobe staple that is simple, elegant, and sophisticated. It can be styled easily with any pop of color or statement jewelry. Or maybe you want to wear something a little more fun and flirty. A color block shift dress in an eye-catching pink is festive and undeniably evocative of Valentine's Day.
The Pampering
Now that you have your look down, it is time to treat yourself to some pampering. Head to Downtown Annapolis' only nail salon, Kosmo Nail Bar (40 Randall Street, 410-268-0128), and get that awesome manicure and pedicure to compliment your outfit. Kosmo Nail Bar offers over 300 colors of soak-off gel colors and over 400 regular nail polishes. Planning a girl's night out for Valentine's Day? Try their bottle service and sip on mimosas while getting polished.
A classic shade of red is great for just about any day of the year, so try something different. I suggest polishes inspired by Pantone Incorporated, the official authority on color. A blend of Rose Quartz, a feminine airy pink, and Serenity, a calming light blue, have been dubbed Pantone's Color of the Year.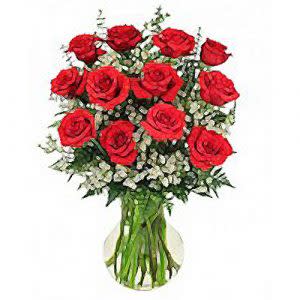 Sandi's Flower Shop offers romantic roses for Valentine's Day
The Gifts
We all know that stores this time of the year are stocked with commercial Valentine's Day gifts like chocolates, flowers, and greeting cards that can be unoriginal and even downright unappealing. Check out the small specialty stores in downtown Annapolis and plan to get truly excited about your gift-buying options.
Instead of going to a grocery store for flowers, head to a florist. Sandi's Floral Shop (260 King George Street, 410-268-0188) is a cozy and sweet floral shop offering beautifully decorated bouquets that are radiant and decorative. From velvety roses to dainty daisies, this shop has it. (Note: from February 11 through February 15, the store will be selling roses exclusively.)
How about those boxes of chocolates that have been sitting on the shelves for weeks? No thanks. Instead, try Kilwin's (128 Main Street, 410-263-2601), a town favorite located in the heart of Downtown Annapolis that serves the city with fresh homemade ice cream, fudge, and sweets made on the premises.
From the moment you get close to their doors, the aroma of chocolate sends you straight inside. Customize a box of chocolates for your loved ones or friends with their delicious chocolate turtles, hand-dipped chocolate strawberries, or crunchy toffee bars. As soon as I saw their white chocolate dipped marshmallow bars, I had to have one! This is a much better option than a pre-selected box of assorted chocolates.
[gallery columns="1" size="medium" ids="2636"]
Are you a last-minute card giver? No problem. Downtown Annapolis has that covered too. Lou Lou Boutique (179 Main Street, 410-626-0809), a fashion accessory store, has a huge wall full of greeting cards for any occasion. Their selection ranges from tongue-and-cheek puns to sweet and simple messages on beautiful stationary.
Now that you have some fun, fresh ideas on prepping for the most romantic day of the year, don't delay: head to Annapolis, dubbed by Travelandleisure.com as one of America's most romantic towns.
Photo credits: Dear Annie, Sandi's Flower Shop, and Jazmine Turner Petty.