Pack up your troubles, put on a happy face, and head to downtown Annapolis to make merry at Midnight Madness. Now an annual holiday tradition, this unique event has drawn so many celebrants over the years that the event has grown from a single hit to a triple-header. This year, Midnight Madness prevails on December 6th, 13th, and 20th. Ready, set, shop…sing and dance…discover what wonderful surprises await you in downtown Annapolis and beyond.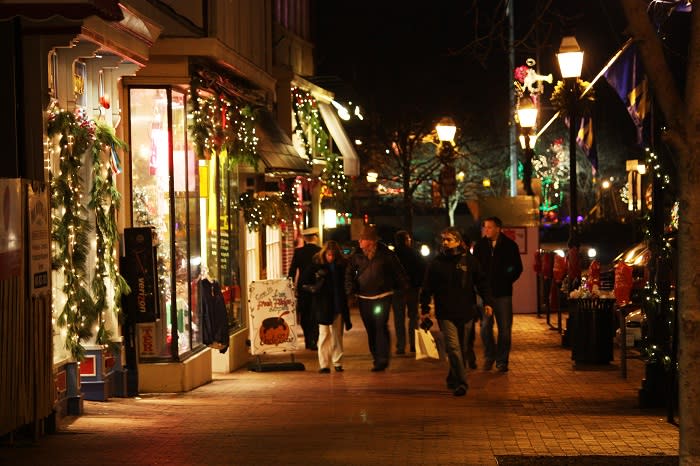 Shops and eateries on Main Street, Randall Street, Market Space, Church Circle, West Street, State Circle and Maryland Avenue are rolling out the red carpet for this popular community event. Some streets in this area will be closed to vehicular traffic, downtown parking garages will have reduced rates, and a circulator bus will provide free rides all around town.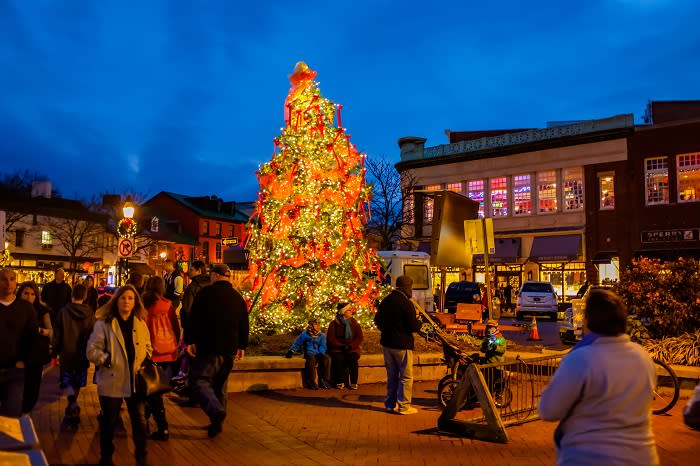 Believe me, there is a lot of seasonal magic in the Annapolis air these days. As darkness cloaks the streets, overhead lights illuminate West Street and the majestic Christmas tree at City Dock spreads its sparkle throughout the heart of the city. Shopkeepers invite you to come in for a complimentary beverage and a look at merchandise not found in most malls. "Midnight Madness makes holiday shopping an exhilarating experience," says Erik Evans, director of the Downtown Annapolis Partnership, sponsor of the event.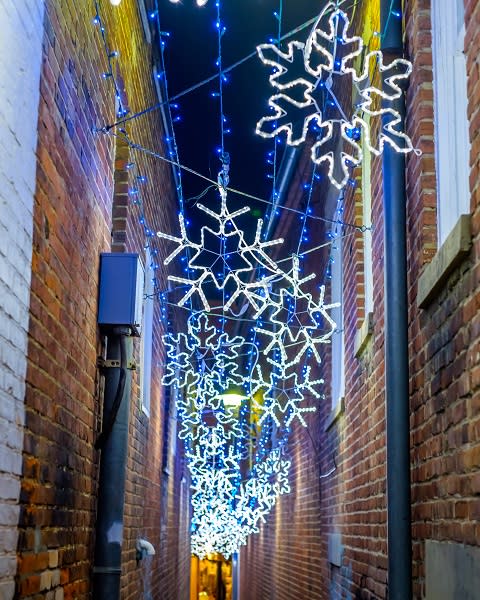 Many restaurants in the area have extended their happy hours as well as the availability of early bird specials. Jean Louis, chef-owner of Café Normandie on Main Street, welcomes diners to take advantage of this perk for the three Thursdays of Midnight Madness. His restaurant is among the few downtown eateries where fire places add appeal on winter eves. Find others at the historic Middleton Tavern opposite the City Dock and in the Treaty of Paris dining room downstairs at the Maryland Inn near Church Circle. Middleton's bartenders will have mulled cider and Irish coffees on tap, as well as the restaurant's legendary oyster shooters.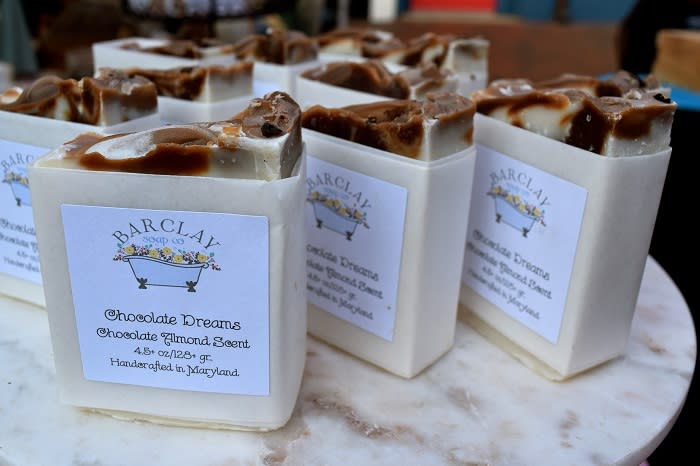 West Street from Church Circle to Park Circle is flourishing under the umbrella of its new designation as the Annapolis Arts District. Its first two blocks are lined with restaurants, most offering specials to those who stop in for drinks or dinner during Midnight Madness days. Luna Blu is a tiny jewel specializing in Italian fare; Stan and Joe's brings in the country western crowd for its music and pub fare; and Rams Head Tavern is perhaps best known as a venue for first-rate musical entertainment as well as its spectacular vine-covered outdoor garden and above-average American fare.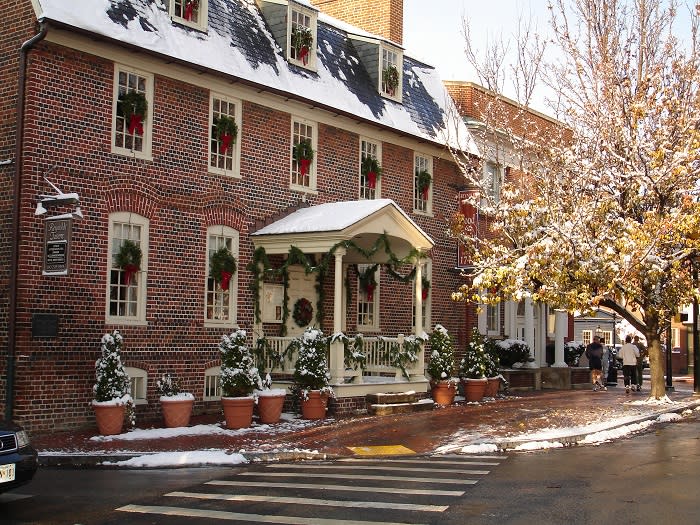 Other denizens of the West Street Arts District include Tsunami (creative Asian cuisine), El Toro Bravo (Mexican menu, giant margaritas), Metropolitan Kitchen (quirky casual) and Level (creative small plates, imaginative cocktails). Moving further along the street, get 20 percent off drinks and food at BAROAK in the Annapolis Loews Hotel; join the fun at Fado's Irish Pub's Happy Hour; stroll around Church Circle to Maryland Avenue, site of antique shops and two bookstores and Galway Bay restaurant, a Gaelic treasure offering samples of its world-famous Christmas Eggnog.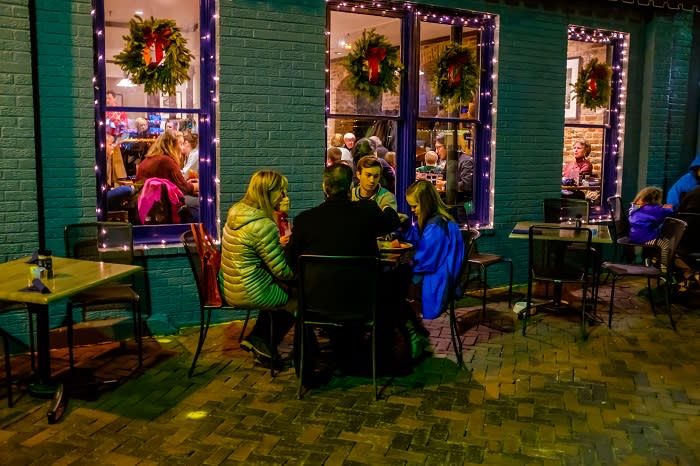 That serendipitous detour will leave you refreshed before getting back to the action on Main Street, where people of all ages (some pushing baby carriages or wheelchairs) catch the celebratory spirit. Some choose to take a seat in the windows at Joss Café and Sushi Bar or Preserve (a vegetarian favorite) to watch the action. Others are drawn to the history-rich Reynolds Tavern on Church Circle, where holiday-themed movies will be featured in the brand-new beer garden. Insider tip: its 1747 Pub (in the cellar of the Tavern has a working fireplace – a cozy spot to enjoy one of our town's best burgers.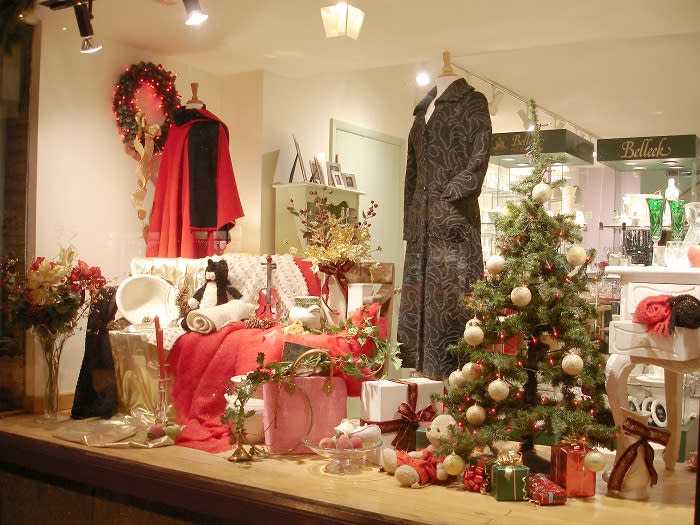 Further down Main, the Red Red Wine Bar is a good choice for shoppers ready to take a break where it's always party time. The décor and the menu are brilliantly original and service is swell. Closed December 7th for a private party, consider this a prime place for its New Orleans Jazz Brunch – an experience guaranteed to put you in a festive frame of mind. Stop by the Historic Annapolis Museum Store at the bottom of Main Street, circle along the pub-lined sidewalks of City Dock, then head over the Eastport Bridge (stopping for a drink at Pusser's Caribbean Restaurant in the Annapolis Marriott Hotel, overlooking the harbor) and enjoying extended happy hour prices in the bar until midnight at Blackwall Hitch, an upscale restaurant with a copper-topped oyster bar and rooftop lounge with magnificent views of the city.
Just about every establishment downtown – and some in West Annapolis and Eastport – are open late during Midnight Madness. The celebration turns the spotlight on local businesses that are often overlooked by locals in favor of the malls surrounding the city. We join the Downtown Annapolis Business Partnership in encouraging everyone to enjoy three days in a storybook setting sparkling with bright lights and good will – and an invitation to come back soon.
Gifts for Foodies at Midnight Madness
Seasons Olive Oil and Vinegar Taproom, a one-of-a-kind shop at 180 Main Street, is a wonderful place to explore the endless variations on the staples of savory cookery. Owners Tim and Sara Balshi and their staff are generous in the sharing of their knowledge as well as samples from the shop's amazing inventory and recipes. Hard to choose from among the great gifts for yourself or the foodies on your list.
Spice and Tea Exchange, 155 Main Street, will be serving samples from their special inventory during Midnight Madness. Owner Joy Quinn-Whelan takes pride in the scope and quality of the products and the variety of the herbs and spices to be found here. A knowledgeable staff is ready to help and advise. Stop by for a complimentary "cuppa" and for the perfect presents for friends and families.
Images courtesy of VisitAnnapolis.org