Springtime is just gorgeous in Annapolis, as the town starts to wake up from its long winter's nap, with sails unfurling, people hanging out near the water and flowers blooming in baskets and beds all over town. Those colorful flowers make me think of just one thing: rosé. The pink wine, not the flower.
Over the past few years, rosés have become increasingly popular – and rightly so. The wine is super food-friendly and on a warm day, there's simply nothing better to sip. These days, wine bars and restaurants across Annapolis carry great iterations of rosé that pair well with their springtime menus.
When I'm in the mood for something cool and pink, these are a few of my favorite stops:
Red Red Wine Bar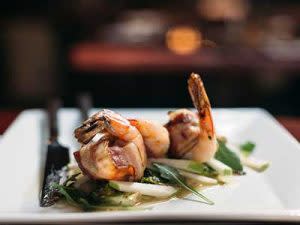 Photo courtesy of Allison Zaucha Photography
Yes, it's called "Red Red" Wine Bar (189B Main Street). But that doesn't mean the folks behind the bar shy away from rosé. Far from it –the people at Red Red Wine Bar are great. They know a ton about wine, but they're not the least bit snobby about it. And that means if it tastes good, they embrace it, whether it's red, white or shocking pink.
The Main Street bar's impressive list includes a handful of rosés, including two by the glass, both of which are from France – the birthplace of so many of the best summery pink wines.
It's hard to pass up a few choices from Red Red Wine Bar's cheese menu, but both rosés are also a great fit for some of their heartier dishes, like bacon-wrapped shrimp. Salty, sweet and summery. So good.
VIN 909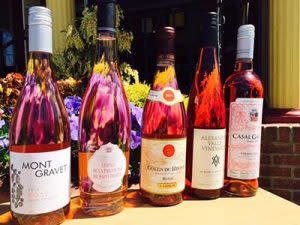 Photo courtesy of VIN 909
Tucked on an Eastport side street, VIN 909 (909 Bay Ridge Avenue) is a great stop any time of year, but it's especially fun as the weather gets warmer, when you can grab a seat on the restaurant's patio and settle in for a glass or two or rosé paired with Chef Justin Moore's excellent, locally-sourced food. (Get there early – VIN 909 draws a crowd!)
The restaurant and wine bar, which I love for both its food and its smart wine selection, recently debuted a new spring and summer wine list featuring five rosés. With wines that hail from France, California and one slightly sparkly pink vinho verde from Portugal, the list is a good one.
If you're just stopping in for a quick drink, try the wine with the chef's meat or cheese plates. But if you're settling in for a little longer, you can't go wrong with one of Moore's pizzas. They're fantastic-—and any of them would be even better with a glass of something pink.
Grapes Wine Bar
Feeling fancy – but don't want to get dressed up? Locals love slightly off-the-beaten-path Grapes Wine Bar (1410 Forest Drive) for its excellent selection of vino – it's attached to a serious wine shop called Wine Cellars of Annapolis – and for its small plates menu, which is stacked with delicious dishes that are elegant, but not precious.
Grapes' selection is constantly changing. Right now, the leading contender for best pairing, in my opinion, is the Courtage sparkling rosé with a lobster roll (it's a special available on Tuesdays).
Pink champagne + lobster sounds extravagant...and maybe it is. But if you can't try something over the top on a gorgeous spring day in Annapolis, when can you?
[gallery columns="1" size="medium" ids="2705"]