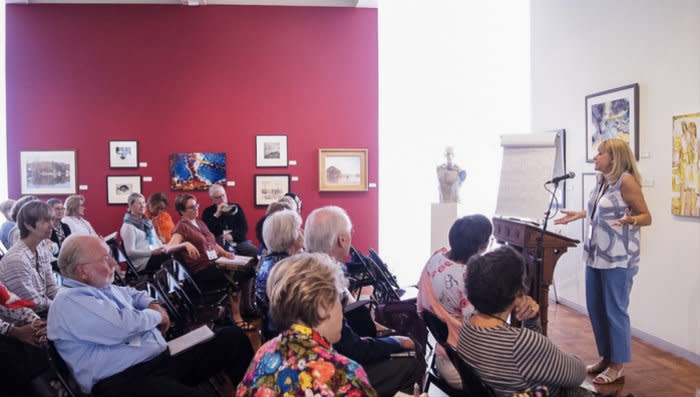 Photo courtesy of Ibbi Schwartz
The Writing Intensive at St. John's College on June 8th was like feasting at an abundant buffet. The table provided a variety of inspiring workshop presenters, books for sale and swap, new and old friends, professionals to question, food and drink, and a memorable and insightful keynote speaker. It was a day to celebrate all things related to writing.
This annual event was created and facilitated by award-winning writers, Laura J. Oliver, and Lynn Auld Schwartz. Both have had impressive careers, including success as authors, editors, teachers.  They each offer seminars in the Annapolis area, St. John's College, and The Writer's Center in Bethesda.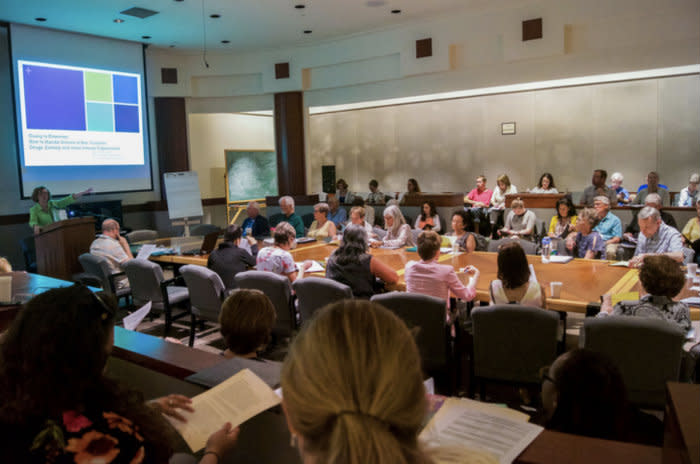 Photo courtesy of Ibbi Schwartz
"Laura Oliver and I created this one-day writing conference five years ago. As a true labor of love, we are delighted that this gathering has grown into a respected regional event that attracts over 130 writers and book lovers," said Lynn Auld Schwartz. "It's a great way to be inspired, learn new skills, and meet others who are dedicated to becoming better writers and readers,
Mellon Hall was a perfect venue, especially The Mitchell Gallery's art show, which served as a striking background for some of the workshops.  With spacious conference rooms, a couple of sunny cafe areas, and outdoor space available, the event was very comfortable.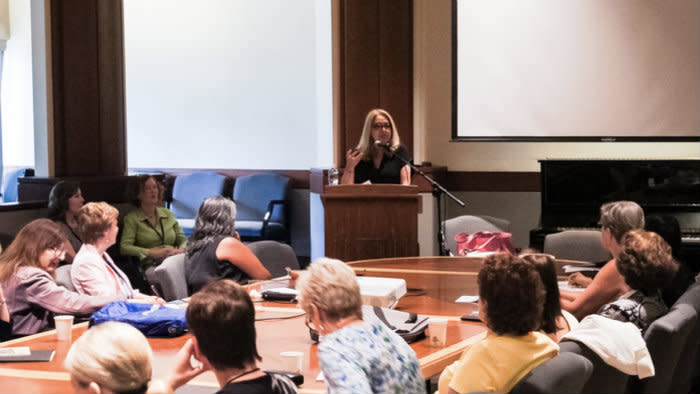 Photo courtesy of Ibbi Schwartz
This was my third Writing Intensive. I attended for the first time two years ago, not knowing anyone or what to expect. With writing as a common bond, it was easy to make new connections over coffee, lunch, or at a workshop. That's how Barbara S. Hurwitz and I became acquainted. We set out to meet monthly to encourage each other in our writing efforts and expanded to taking classes together. We have enjoyed celebrating each other's new projects and successes.
"This was a fabulous event. So many takeaways from writers sharing their stories and Ann Hood icing this layered cake of inspiration," Barbara Said. "Thanks to her I'll never write another piece without considering the objective correlative."
Workshops
Author Amber Sparks introduced new and different techniques to construct stories, rather than the traditional beginning-to-end variety. Her tips and tricks for no less than 16 types of non-linear methods to reflect "the fractured post-modern world we live in" was fascinating.
Adam Goodheart, who teaches at Washington College in Chestertown discussed writing about history in an interactive way. His love of history and writing about it is contagious. Goodheart took his students to a house that was built in the 1600s and encouraged them to use what they discovered to further the understanding of historical events, like the Civil War.
Linda Gray Sexton, memoir writer and daughter of the Pulitzer Prize-winning poet, Anne Sexton covered the difficult subject of the impact of memoir on the family - "Is it worth the risk?" Sexton spoke openly about suicide, her take on how to handle family members who are not supportive of memoir, and exactly what memoir is and is not.
Keynote Speaker
Ann Hood - "Eat, Drink and Be Merry: How Writing About Food Helps Us Write About Love and Life."  No, she does not write cookbooks. When I heard that she was going to be featured, I read two of her novels - "The Book That Matters Most" and the "The Obituary Writer." Both had great plots and appealing characters. One of Hood's suggestions to writers - "Be an observer of the unusual, not the ordinary." Her humor, anecdotes and life experiences were captivating and a delicious way to complete the day.
Laura J. Oliver summed it up. "It has been gratifying to serve a growing community of writers since Lynn Schwartz and I began the Intensive five years ago. After each event we analyze what was of greatest service to those who participated and brainstorm creative ideas for the following year. Many things are involved in an event that takes about 9 months to plan, from hiring faculty and keynote speakers, to creating a diverse range of workshops."
Barbara and I plan to return in 2020.