"Summer afternoon…to me those have always been the two most beautiful words in the English language."  Henry James (1843-1916)
We all have lingering memories of sweet summer afternoons spent with siblings at the local swimming hole or neighborhood pool…sipping icy tea with our grandmother on her shaded front porch…listening for the magical melody announcing the arrival of the ice cream truck…being summoned to supper too soon on a still-sunny day…gathering around a newspaper-covered picnic table for a leisurely crab feast. It's summertime in Annapolis!
For Marylanders, crab feasts have a special place in defining "summer afternoons" and we invite you to add them to your own memory bank. We are happy to share a list of places where crab feasts are just beginning and will pick up momentum as the season progresses.  Except for Buddy's Crabs, the super-casual family restaurant overlooking the City Dock, they are all within driving distance of the city.  Information on the 2018 Chesapeake Bay crab season from the Maryland Department of Natural Resources is cautiously optimistic at the beginning of July, with predictions for larger crabs into the fall.
Cantler's Riverside Inn, 458 Forest Beach Rd., Annapolis MD 21409; 410-757-1311. Don't give up on finding this slice of Americana on Mill Creek on the outskirts of Annapolis – or just come by boat in hopes of finding an empty slip.  Cantler's is the "big Daddy" of local crab houses, attracting patrons who live locally as well as out-of-town seafood lovers (check out the license plates in the parking lot).  Sit at communal tables outside or in and chit chat with the young servers who help you keep the beer flowing and the crabs coming.  Cantler's is a local, family-run tradition, up and running since 1974.  Check out the ever-expanding seafood menu and the prime rib special for the meat-eating crowd.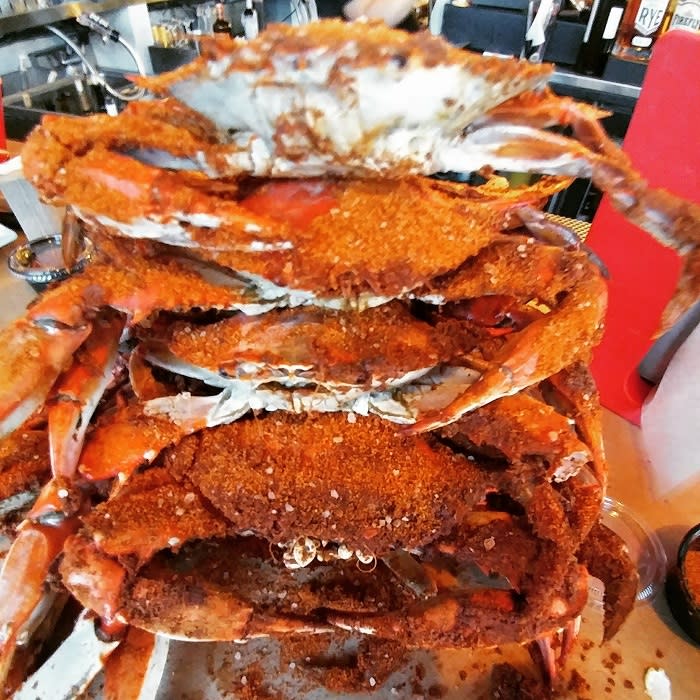 The Point Crab House and Grill, 700 Mill Creek Rd, Arnold MD 21012; 410-544-5448. One of the busiest crab houses in the region, "The Point" has a clean and airy ambience and is popular despite its odd location in a residential neighborhood outside of Annapolis city limits.  It's a family-run and family-friendly place on the Magothy River, accessible to small boats that may moor in its marina.  Chef-owner Bobby Jones favors Maryland crabs when available, market-priced and sold by size.  Among Jones' culinary amenities are homemade cheddar cheese biscuits, corn fritters, and soft pretzels.  His Maryland crab soup is a winner, as are the Prince Edward Island mussels in a garlicky lemon-spiked white wine sauce.  Music is often a part of the party scene.  To find out when, check the website.  Note: handicapped accessible, but difficult for wheelchairs.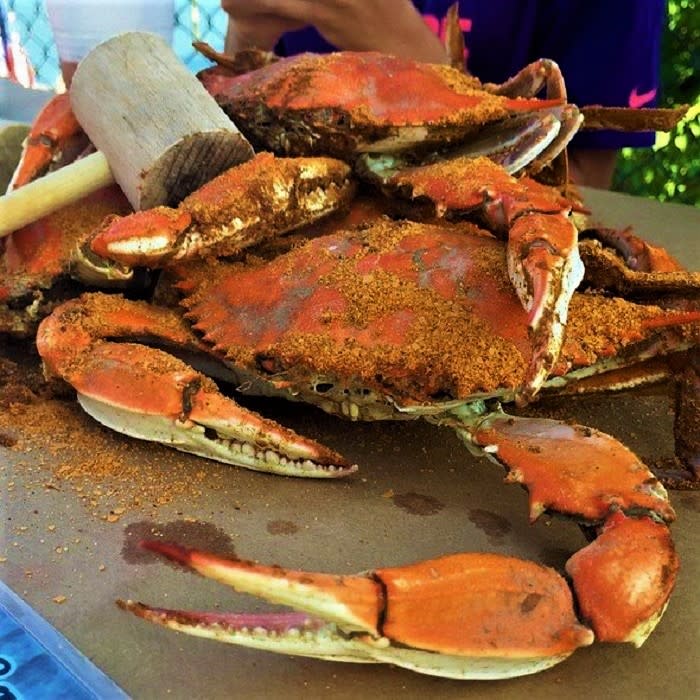 Mike's Crab House, 3030 Old Riva Rd., Riva, MD 21140; 410-956-2784. Since 1958, Mike's Crab House has been a magnet for crab and seafood fans.  Established by the late Mike Piera, the Riva Road location and its sister location in Pasadena are managed by family members who have added a tiki bar, installed big flat screen TVs in the main bar and introduced live music on weekends.  Prices for crabs vary with the season, as does their size of these "beautiful swimmers." Mike's crabs are sourced from Louisiana and Texas as well as Maryland, but all are prepared Maryland-style – cooked to order with lots of the restaurant's secret seasoning blend.  In addition to seafood, the menu includes burgers and chicken as well as a good grilled pork chop.  A panoramic view of the South River is part of the package, which includes complimentary docking, a carry-out menu, and a boat provisioning market. Friday Night is Karaoke time.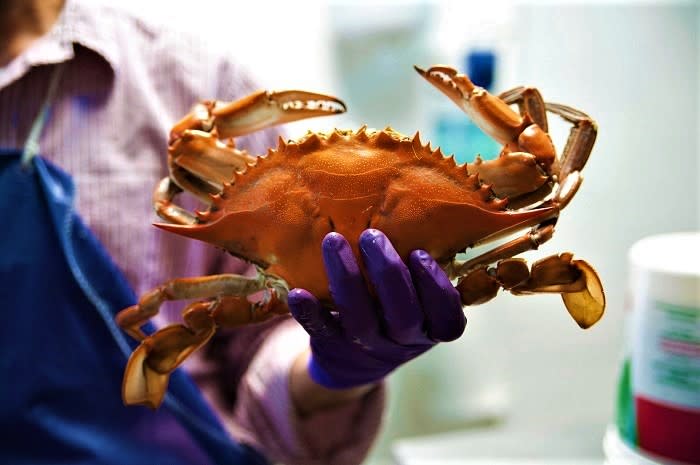 Thursdays Steak and Crab House, 4851 Riverside Dr., Galesville MD 20735.410-867-7200. Your dogs will love you more if you bring them to Thursdays, a super-friendly place on the West River in Galesville.  Take a long walk on the pier leading to a box-like structure built directly over the water and enjoy your crab feast on the sheltered porch next to an outdoor bar or in the inner dining area.  Servers taking drink orders remember to bring bowls of water for attending pets and the general mood is festive and welcoming.  Tables covered with brown paper, wooden mallets and piles of Maryland crabs invite patrons to pick away.  Boaters welcome.
Skipper's Pier Restaurant and Dock Bar, 6158 Drums Point Rd., Deale MD 20751, 410-867-7110. Jessica Rossage, a Johnson and Wales Culinary College graduate, and husband Dave, an MBA grad from Loyola, have put this delightful destination on the map since assuming ownership six years ago.  Check out the video feature on Skipper's Pier elsewhere on this website.  A visit here is worth the trip by car, boat or bike.
Sundae Sundays
The Captain Avery Museum (1418 E. West Shadyside Rd.) celebrates summertime with Sundae Sundays on the third Sunday of the month.  July 15 is the day when all ages may enjoy lawn games, a misting tent and some Maryland history in this charming small town.  Special attractions that day will be dogs, cats, rabbits and hamsters available for adoption through the Anna Arundel County SPCA.
Photos courtesy of VisitAnnapolis.org, Cantler's, and The Point