Maryland blue crabs are sweeter and meatier than _____________.  Fill in the blank and start your research with a visit to one of the best crab houses in and around Annapolis.  If you are a visitor without a car and need transportation to one of them, consider the water taxi at the City Dock, an Uber call or one of the several local taxi companies.  Don't let anything stand in your way when you are feeling crabby in Crabtown.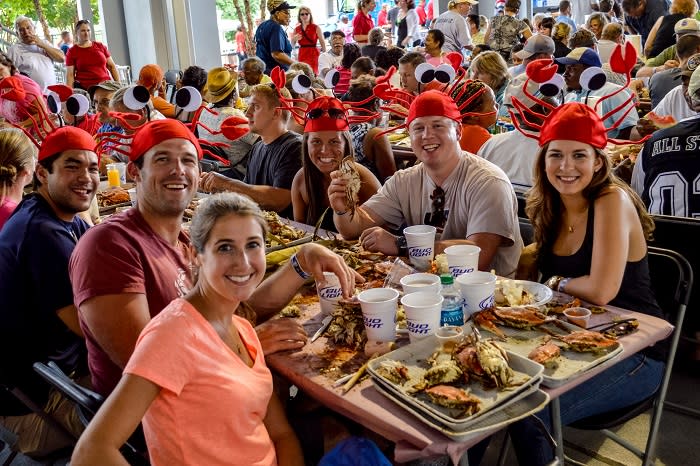 Annapolis Rotary Club
One way to take a major plunge into the action is by joining the crowds at the 72nd Annual Rotary Club Crab Feast on Friday, August 4, 5-8 pm at the Navy Marine Corps Stadium. Billed as the "biggest in the world," last year's event attracted 2,500 people who consumed all they could eat of hard shell crabs, Maryland crab soup, corn, barbecue, sodas and beer. Thanks to a partnership with the Rotarians, the non-profit Annapolis Green environmental group and the Veteran Compost Company, it's a "green event," with all waste except for bottles and paper cups composted.  For tickets ($65, in advance or $75 at the gate) call 877-333-9667.  Preferred seating is $130 in advance or $150 at the gate.  All proceeds go to a variety of local charities.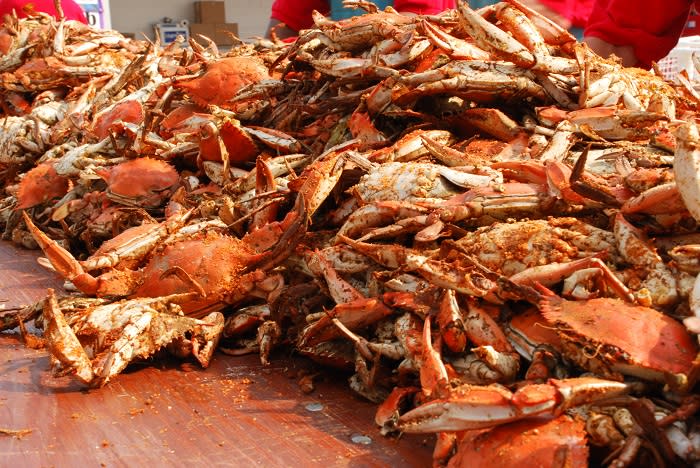 There are other ways to go from crabby to happy in the blue crab state.  Some say that August is the height of the season for these prized crustaceans, although some would swear that September and October are the best months for picking crabs.  They are meatier and cheaper, the argument goes, but anytime crabs are "in season" is the best time to enjoy these treasures of the Chesapeake Bay. You can choose among crab-eating options, whether you like the exercise of cracking and picking yourself or prefer to go the gourmet route with crab cakes, crab dip or crab imperial.
We'll start with Buddy's Crabs and Ribs, a steep climb up steps leading to the second floor of 100 Main Street overlooking the City Dock.  It's an ok place for families with kids, super-casual and convenient. It also has one of the best views of Annapolis through the 22 windows overlooking Main Street, City Dock, and the harbor. All-you-can-eat seafood buffet Mon-Fri 4-9 pm, Sat 11 am-3 pm $25.95, ages 6-12 half-price, ages 5 and under free.
Ratchet up your expectations if you get out of town with a visit to Cantler's Riverside Inn or The Point Crab House, both waterfront locations and each about 15 minutes away from downtown.  Cantler's, a slice of Americana at 458 Forest Beach Dr. in rural Annapolis, is the real deal, a local landmark for fifty years with a reliable reputation for first-rate crabs and other seafood (clams, mussels, rockfish). Lunch and dinner. 410-757-1311.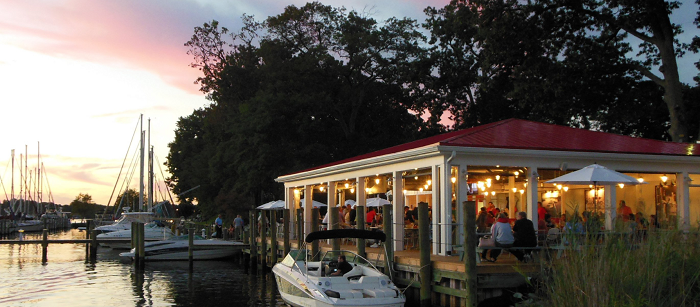 The Point (700 Mill Creek Rd in Arnold) combines crab picking with a menu featuring a selection of authentic Chesapeake favorites, some of which are based on chef-owner Bobby Jones' family recipes. Lunch and dinner.  410-544-5448.
Most of our local restaurants feature seafood in some form or another but for an authentic Annapolis experience I suggest Boatyard Bar and Grill in Eastport, 400 Fourth Ave.  A favorite of sailors as well as families, this convivial spot features a variety of crab and other seafood specialties every day during crab season and lobster rolls on Saturdays. Breakfast, lunch, dinner. 410-216-6206.  Another obscure favorite, also in Eastport, is Wild Country Seafood in an alley next to the Annapolis Maritime Museum.  A father-son team spend most mornings aboard their work boats, Baby Boy and Wild Country, and return with their catch to sell in their small retail shop.  Patrons sit at five umbrella tables to enjoy the freshest crabs and oysters around. Call 410-267-6711 for availability and hours.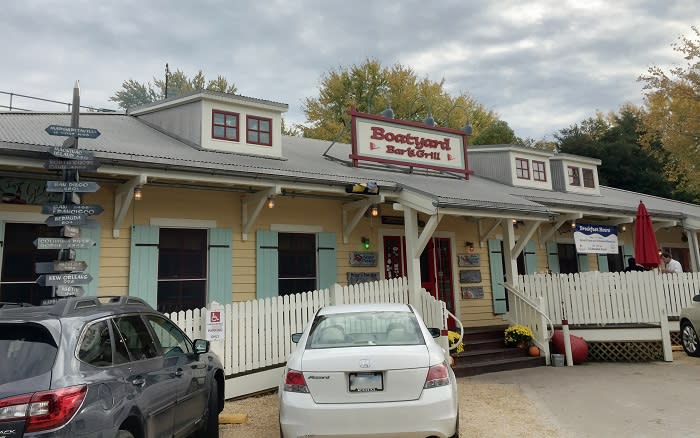 Here's a savory souvenir of your visit to Maryland, courtesy of Annapolitan Ken Upton, known locally as "Caterer to the Stars" as well as the creator of one of the best crab cakes in captivity.
Ken's Crab Cakes
1lb. jumbo lump Maryland crabmeat 1 egg 1 T. Dijon mustard ¼ cup mayonnaise (homemade preferred) mixed with juice of half-lemon ½ t. salt; ¼ t. pepper ¼-1/2 cup fresh bread crumbs Carefully pick over crabmeat to remove any cartilage and bits of shell.  Set aside. Combine egg, mustard, lemon mayonnaise, salt and pepper in large bowl and mix well. Add crabmeat to this mixture and toss gently until combined, being careful to preserve lumps. Add enough bread crumbs to form sticky mixture and shape into four crab cakes. Sauté in a buttered skillet over medium heat until golden brown.
Recipe from Seafood Lover's Chesapeake by Mary Lou Baker.
Photos courtesy of VisitAnnapolis.org, and The Point Crab House