What better way to celebrate the season of thanks and togetherness than with a visit to Thanksgiving Farm Winery, in Harwood, Maryland.
Doug and Maureen Heimbuch opened Thanksgiving Farm Winery in 2010 as the first commercial winery in Anne Arundel County. According to Maureen, it was her husband's hobby that grew a tad out of control. Lucky for us - we now get to enjoy some fantastic wines because of it.
Thanksgiving Farm's tasting room was a cozy and intimate spot full of rich cherry and mahogany wood. I could almost hear the laughter reverberate off the walls and feel the warmth of good cheer shared by friends familiar and new. There was a view into the adjoining barrel room through two well-placed windows emulating the effect of a participant rather than a spectator.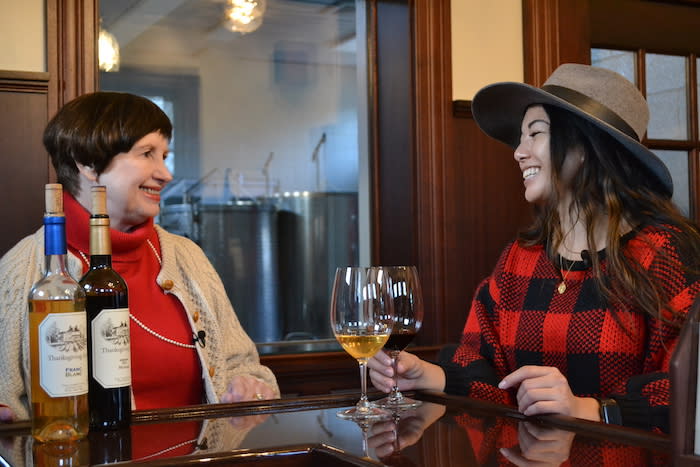 Displayed behind the bar was quite literally the fruit of Doug and Maureen's labor, six wines in total, ranging from a Franc Blanc to a Farmhouse Red. Jewel tone colored capsules (the metal wrapping around the closure of the wine bottle) stood out against dark wood like family heirlooms, crowning a label that was simple and traditional. The presentation was almost too charming to open– almost, but not quite. 
We started with Thanksgiving Farm's signature 2018 Franc Blanc, a wine that Doug and Maureen set out to make from the very beginning and is what sets them apart today. They make their Franc Blanc using a rather technical French process called soigné. The main thing to understand is that they start with 100% Cabernet Franc, a red grape, and end up with the palest of rosés. Essentially, a red wine that looks and feels like a white.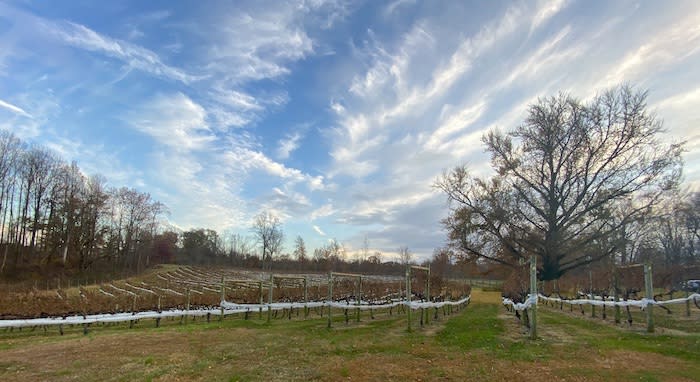 Thanksgiving Farm Winery is one of only two wineries in the country to produce a Cabernet Franc Blanc so it's a real treat that we have access to one right in Annapolis's backyard. The wine itself made for easy drinking, bright and crisp with a smooth finish. I could see this pairing well with any number of dishes: pasta, chicken, seafood, and the like. I recently had it with wine and butter steamed clams myself.
Next, we were treated to the 2013 Meritage Reserve, a blend of Merlot, Cabernet Franc, Cabernet Sauvignon, and Petit Verdot aged in new French oak barrels for 12 months. It was a beautiful wine, jammy with a hint of vanilla. I took a bottle of this home as well and can't wait to pair it with a nice steak dish. Of course, I had to grab a few extra bottles as gifts with Christmas around the corner.
This holiday season treat yourself to some wines that were lovingly grown, harvested, and fermented in small batches right next to the winemakers very home. They're open on Saturdays and Sundays, but be sure to make an appointment. Bring your friends, some snacks, and drink up an attitude of gratitude at Thanksgiving Farm Winery.