In a building with a large, funky coffee cup painted on the side and a vibrant energy all about the street, there is a little shop of treasures curated by a woman who can only be defined as fabulous. One Petticoat Lane (2 Annapolis Street) welcomes you to quaint West Annapolis with a bright red high heel sign and a front porch of wonderful artifacts: all hand-picked by the woman you can't wait to talk to behind the counter. Her name is Stella Breen-Franklin – a British-American transplant with an impeccable eye for design and a charm that makes you feel welcome as soon as you walk in the door.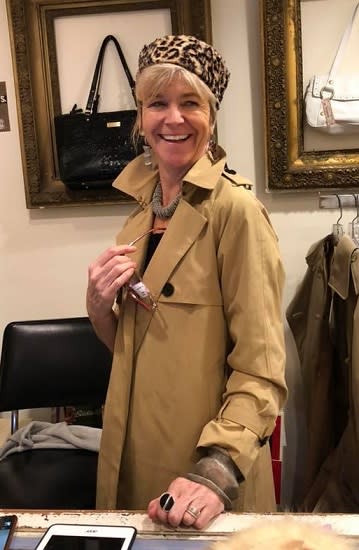 Stella Breen-Franklin
I met Stella in 2010 when I was working at Art Things. She had such an aura of effortless cool that my first impression was if David Bowie had a sister, it would be this woman. (I mean, that as a huge compliment.) The state of the economy, however, was not so cool in 2010. At a time where most would have considered it too risky to launch their dream, Stella says once her mind was made up she never looked back.
Making up her mind
Stella and her lovely husband Nic came to the states from England in 2001 with their two children. She had gotten degrees in textile design and art education, but could not work for seven years upon arriving, so she focused her energy into raising their children. With limited family income, Stella learned to style second-hand out of necessity. When it was time to jump back into her career she began pursuing art therapy, but her heart wasn't in it. After meeting with her book-club-turned-accountability-group, her true passion came into focus.
Stella became a proud United States Citizen in July of 2018. She celebrated with a road trip across the country where she tried to visit as many consignment shops as possible!

"I used to pass this one consignment shop all the time and every time I passed it I heard a little voice in my head say, 'That's what you should be doing. That's what you should be doing,'" Stella told me.
She began telling everyone she was going to open her shop, particularly at a Christmas party. Running into one of the guests a few months later, she was asked, "How is your shop going?" Stella was so embarrassed that she had not yet taken the steps to get the business off the ground. She had built it up in her mind, but the last mental hurdle was cleared after receiving a Christmas gift from her son Isaac. Knowing she wanted the shop to be named "Petticoat Lane" (the street in London where all the best thrift stores were), and it being her first shop, he bought her the domain name OnePetticoatLane.com.
Within two months, Stella was open for business.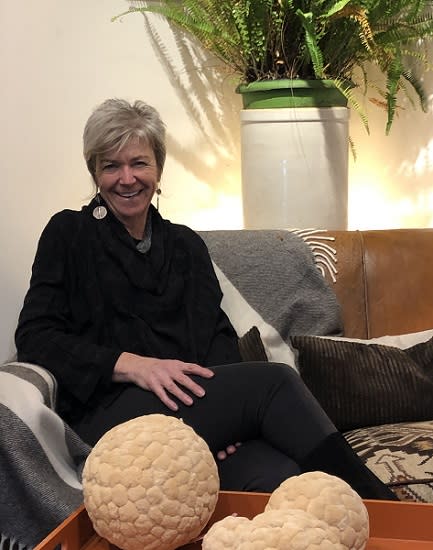 "I thought to myself, 'It shouldn't be this easy,'" Stella remembers. "Making the decision was the hardest part. Everything fell into place after that…I had to. I told my children I was going to do it, and you don't tell your children you're going to do something and then not do it."
Timeless Success
Looking back at nine years in business, Stella is happy she stuck to her guns. After many people telling her what she "should" do in the beginning, she no longer needs to explain her vision – it is evident throughout every inch of One Petticoat Lane.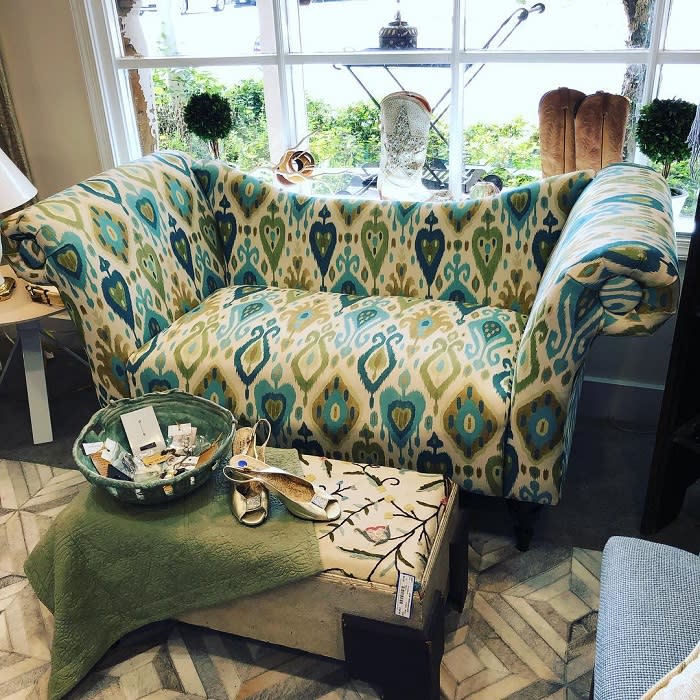 Whether it be an article of clothing or home furnishing, Stella truly believes in the art of self-expression through style. She loves the environmental benefit of shopping consignment and believes you can have a robust wardrobe without spending a fortune. As far as taking that leap for sporting a look out of your comfort zone, Stella says, "Don't worry about making mistakes. Look different from other people, it's okay!"
While it was her store that gave her confidence, Stella is constantly inspiring women to feel confident in themselves and their appearance, giving honest, personal style tips for what works and even what doesn't work. She didn't feel like she found her own style until she was in her early 40's. (So, not that long ago).
"Good design and quality fabrics are what I search for in clothes," Stella says. "That usually goes hand in hand with the high end designer labels, like the ones I carry in my shop, but not always. It's not about the name brand, but more about the cut and construction of the garment."
Girl Power
Her monthly Ladies' Nights have become a huge hit and women of all walks of life pass through with their friends to shop and let loose. (One Petticoat Lane will be hosting its first Ladies Night of the New Year Thursday January 24, from 4-8 pm).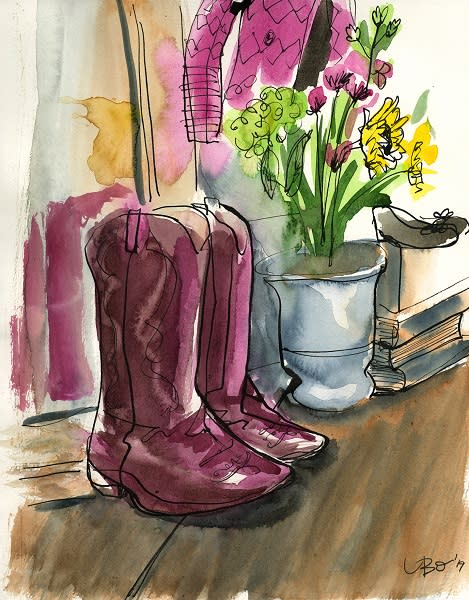 Illustration by Lindsay Bolin
"I have at least one really good laugh each time," Stella explains. "It's a great energy. Women are very encouraging to other women. You can keep to yourself if you want to, but usually we're all hanging out saying 'try this with that' or "that looks really good'. We just have a really good time."
In a way, Stella has found the perfect expression of her talents in textiles and art, and continues to strengthen and build relationships through One Petticoat Lane.  As well as being the fashion icon of West Annapolis, I like to think of her as our local retail art therapist.
Images courtesy of One Petticoat Lane, illustration by Lindsay Bolin