One of the main roads into historic downtown Annapolis is King George Street, which ends with a sharp right turn in front of Gate 1 of the United States Naval Academy. As you take that right turn onto Randall Street, you are sure to see one of the most recognizable Bed & Breakfasts in Annapolis, the Flag House Inn. One of the things that makes this particular B&B so special is the array of flags waving across the front porch telling you of the places that the current guests call home. Whether it be the unique colors of the Maryland flag to the myriad of colors and symbols representing other states and countries, the flags wave proudly welcoming visitors near and far.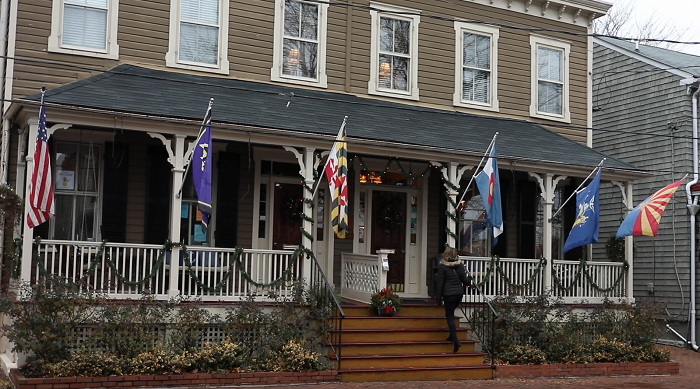 The Flag House Inn is actually a duplex, comprised of #24 and #26 Randall Street, a set of two townhouses that were built in 1879 by Richard Owen Williams. According to family members, Mr. Williams immigrated from Wales when he was 12 years old and his family lived at the property for many years before moving elsewhere in Annapolis. Once sold, the property had a variety of different uses over the years, often as private residences for families and most notably, as a boarding house, primarily for young ladies who were visited by midshipman from the Naval Academy. Dates of midshipmen were often referred to as "drags" and the young men could be entertained by the ladies in the sitting room only as visitors were not allowed upstairs. This type of boarding house went out of style as women were eventually admitted to the Naval Academy beginning in 1976.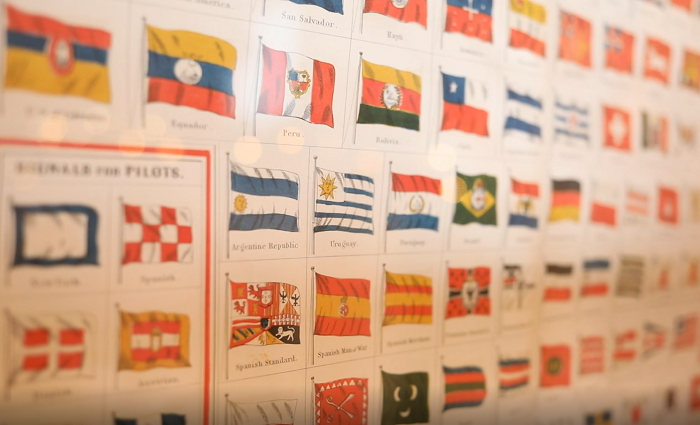 In 1992, both townhouses were purchased and many changes were made to convert it to a Bed & Breakfast. In 1997, Bill and Charlotte Schmeckle bought the property and ran it as an Inn for 21 years, adding bits and pieces of local history and developed the Flag House Inn into a well-appointed fixture in Annapolis. The current owners, Marty and Carmel Etzel, are a delightful couple that purchased the property in 2018 after leaving their respective careers in business and education. Taking on their next adventure as proprietors of the Flag House Inn, they have continued to carry on many of the traditions set forth before them, while modernizing many amenities in order for this charming place to continue to thrive in the Annapolis community.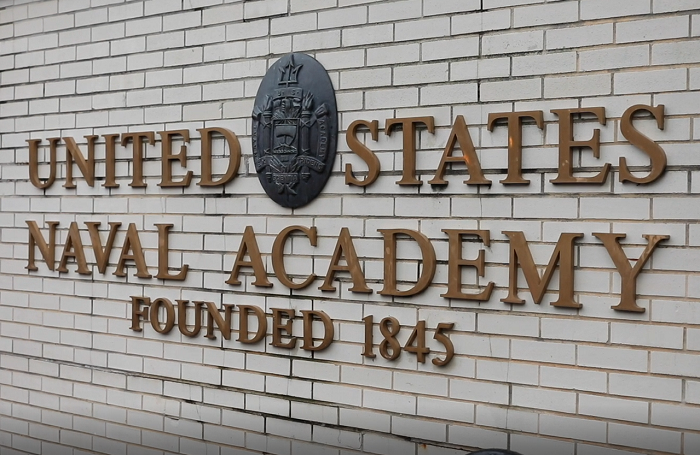 While spending time with Marty and Carmel, it is clear that their mission is to provide a warm and personalized experience for every guest that stays with them. From the welcoming flags waving on the front porch to the tasty breakfast and personalized tips for your stay, Marty and Carmel provide a unique experience that will be long remembered. And of course, my favorite part is that there are bits of history all around you to learn and explore! Every piece in the house has a story and Marty and Carmel love to share all they know and continue to learn about this very special place.
More information about the Flag House Inn can be found at www.flaghouseinn.com Marty & Carmel Etzel 24-26 Randall Street 410-280-2721
Videography and photography courtesy of Patrick McNamara of Drawn to the Image