Any idea what N 38° 59.013 W 076° 30.416 means? It happens to represent the coordinates for a geocaching site near the Naval Academy, something I didn't realize until I plugged them into my phone and went on a real-life treasure hunt to that precise spot. I've always been quite enthralled with treasure maps, and have watched "The Goonies" about a thousand times, so the idea of treasure hunting—with a modern twist—appealed to me and my family.
If you've never tried geocaching before, here's how it works. Using a GPS-enabled device, such as a 'smart' phone, to find the geocache (container or other treasure) hidden at a location, you start by plugging in the coordinates for the site you'll be visiting. I found it easy to go online and look for geocaching sites just by typing "geocaching in Annapolis" into Google. At the website http://www.geocaching.com, I registered for free to obtain access to geocaching descriptions and coordinates all around town.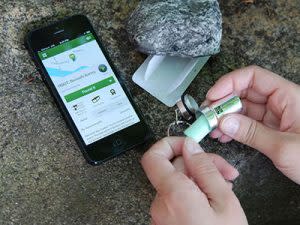 In Annapolis, there are hundreds of geocaches sites near such iconic landmarks as the State House, Naval Academy, Paca Gardens, Tawes Gardens, Spa Creek, and many more. The forums on geocaching.com provide details about the last time a cache was found at a given site plus hints about finding it, along with the difficulty level in finding the treasure. For your first time, you may want to go easy, or maybe you are up for challenging your sleuthing skills.
On our family's first time geocaching excursion we took our young children, so we aimed for an easy site where we would have a good chance of finding the cache. Once we found the first one, we were all hooked and couldn't wait to go searching for more. Feeling ambitious, we searched for two more challenging caches that very day!
If you succeed in your hunt, your findings can vary. Typically, they relate to the place you are visiting. We recently found a mini blue angel plane in the box of a local cache near downtown Annapolis. The kids went wild for that treasure, so true to the culture and fun of Annapolis. At a minimum, you will find a log book, where you can see communications from other geocachers, and leave your own communications. I felt like I was part of some secret detective network, or even a little part of history, as I read through the writings and left my own note. In many cases, you will find a box with a trinket inside. You can take the treasure, but plan to bring something to leave behind for the next seeker, of equal or greater value. For example, one time we left a crab mallet, a cute souvenir from town. We particularly like to find the caches with a clue to another location, or a puzzle to help figure out a new set of coordinates, so we can go full-on Nancy Drew.
My family has grown to love geocaching because we get to work together, enjoy the outdoors, see the sights in town, and feel like true treasure hunters (no Indiana Jones hat needed, although I would recommend sunscreen). After we find a cache, we make sure to go online and post tips and pictures from the hunt, keeping this rich community of treasure seekers strong. Annapolis is particularly great for geocaching because of all the beauty and history you can discover on your adventure. Happy treasure hunting!
Images courtesy of Kat Spitzer and geocaching.com