Oysters, with their luxurious texture and long-standing reputation as aphrodisiacs, are ideal Valentine's month fare. And where better to enjoy them but Annapolis, where oysters have been entrenched in the local culture for generations?
Starting in the 19th century, "Annapolis was home to several oyster packing businesses and nearby water was harvested for oysters," says Sara Krizek, the Education Director at the Annapolis Maritime Museum, where fun, interactive exhibits teach visitors about oysters. "This past helped shape Annapolis and fostered an oyster culture that continues today."
In the 21st century, that oyster culture takes the shape of oyster roasts, shucking contests and, of course, oysters on menus all over the city. There's no one correct way to eat oysters, either. Here are a few of our favorites:
On the Half Shell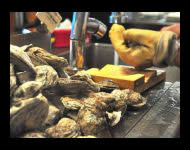 Oyster purists will tell you that the best way to enjoy their briny goodness is raw, freshly shucked and straight from the shell, with just a little squeeze of lemon and dab of cocktail or mignonette sauce.
In Eastport, where Annapolis's connection with its maritime history is especially strong, there are tons of places to slurp down a dozen or so oysters. Susan Elnicki Wade, author of the Chesapeake Oyster Lovers' Handbook, especially recommends Boatyard Bar & Grill (Severn Avenue & Fourth Street, 410-216-6206) or Wild Country Seafood (124 Bay Shore Avenue, 410-267-6711). Boatyard is fun, with "constant buzz," she says, and Wild Country, with its outdoor picnic tables and locally harvested "Patty's fatties" oysters, is low key and charming. (Wild Country is not open during the winter months.)
Downtown, McGarvey's (8 Market Space, 410-263-5700) and O'Brien's (113 Main Street, 410-268-6288) are known for their raw bars and fun atmospheres. For an oyster-laden fine dining experience, Les Folies (2552 Riva Road, 410-573-0970), just outside the downtown area, offers a wide selection of bivalves.
Grilled or Baked
Everyone's heard of oysters Rockefeller, but in recent years, the world of cooked oysters has expanded far beyond the luxe spinach-topped starter. At Preserve on Main Street (164 Main Street, 443-598-6920), Bay oysters are topped with Worcestershire-garlic butter and charbroiled and at Carrol's Creek Café (410 Severn Avenue, 410-263-8102), they're topped with horseradish, bacon and cheddar before baking.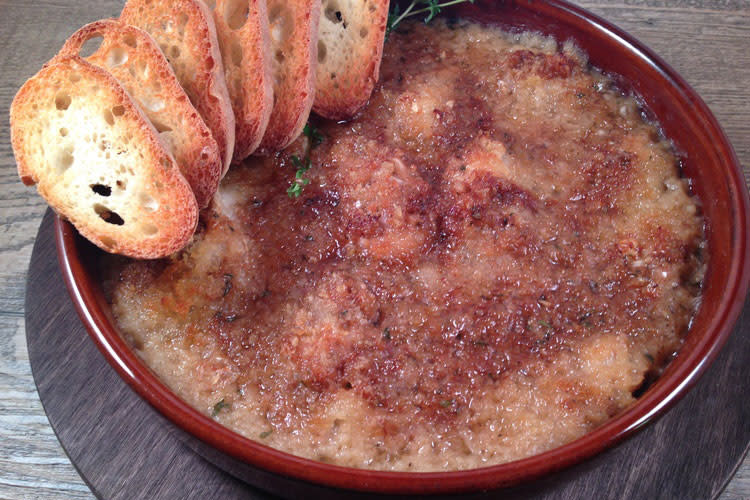 Nestled in a Stew
Though Tony Moynagh loves his oysters raw – "A good salty raw oyster is one of the best things you can eat ever," he says – he also thinks they're great in creamy chowder-style soups. At Eastport Kitchen (923 Chesapeake Avenue, 410-990-0000, the restaurant he and his wife Celia opened last year, Moynagh features a frequent oyster stew special.
"We get big, fat plump southern Bay oysters. We use mostly heavy cream but cut it with a little bit of whole milk, so you can eat it with a spoon instead of a fork," he says. "Everyone who has had it has really enjoyed it."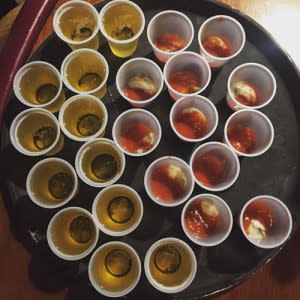 Oyster stew is a good gateway food for diners who want to try oysters but are nervous about the prospect of downing a raw bivalve. "It takes the element of risk out of eating an oyster because it's heated," says Moynagh. "It's a nice step into the oyster world for someone who might be afraid to slurp right out of the shell.
In a Shooter
Maybe the most fun way to enjoy an oyster is to shoot it, just like it's a shot of liquor. Oyster shooters are made with either beer or vodka (or, occasionally, a different liquor) and they're best enjoyed with a big, laughing group.
Locals love the shooters at historic Middleton Tavern (2 Market Space, 410-263-3323). Down an oyster and cocktail sauce from one glass and chase with a small shot of beer in the other for a simple, slippery, spicy shot you won't soon forget it.
Photo credits, in the order of their appearance in the blog: Boatyard Bar & Grill's website, Preserve's website, Erin Barrineau.