Located in the heart of Maryland, Annapolis & Anne Arundel County is the ideal destination for spring adventures. Flowers are blooming, the waters are warming, and the boating season is upon us! Start planning your getaway today!*
Inaugural Event: A Maryland Wine Experience
April 15 - 16 – A Maryland Wine Experience (Annapolis) The Maryland Wineries Association presents A Maryland Wine Experience, showcasing the best of Maryland wine in a three-part consumer event. Focused on exploration and education, you are invited to attend all three parts of A Maryland Wine Experience. Winemakers, winery owners, and expert winery staff will be on hand to talk about their wines and offer a sneak peek into why they're so passionate about what they do. Tickets are priced between $30 and $290 and offer a variety of curated wine experiences.
"Visit Annapolis & Anne Arundel County is thrilled to partner with our Grow & Fortify friends to welcome guests to savor Maryland wines in the historic city of Annapolis and encourage all to enjoy the many shops, attractions, and restaurants throughout the region," said Kristen Pironis, Executive Director of Visit Annapolis & Anne Arundel County. "We're proud that Anne Arundel County is home to a growing craft beverage industry, and we raise a glass to occasions like these that bring people together to support our state's thriving wine industry—Cheers!"
For tickets and a full schedule of events, please visit their website.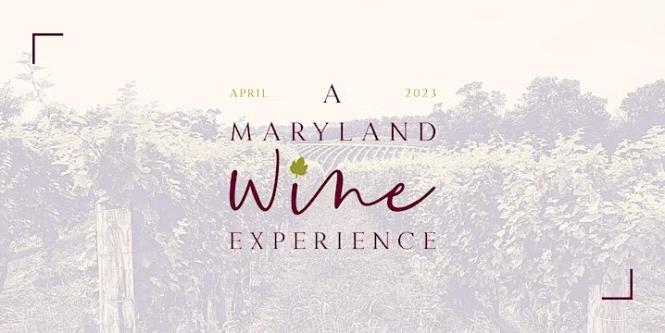 Annual Signature Events:
March 31- April 2 -- Maryland Day Weekend (Anne Arundel County) Commemorate Maryland's birthday this year with a celebration of art, heritage, and culture with free or $1.00 admission to museums, parks, heritage areas, and events throughout Anne Arundel County all weekend-long. With over 30+ events and activities daily, you will find something for everyone in your family to enjoy. For more information and a complete list of events by day and date, visit Maryland Day online.
April 26 - August 30 -- Wednesday Night Sailboat Races (Annapolis City Dock) Discover the Annapolis tradition of the Annapolis Yacht Club Wednesday Night Races from the deck of the Schooner Woodwinds. Woodwind and Woodwind II will be match racing every Wednesday night when there is an Annapolis Yacht Club (AYC) Race (weather dependent). Both boats will start on the AYC starting line at 6:45 pm and then sail on a set racecourse while passengers enjoy the thrills of the weekly regatta. Racing begins on April 26, 2023. Tickets are $75.25 per person (the same price as their weekly sunset sails) and include a complimentary soft drink or bottled water. Tickets go on sale six days before the date you want to go sailing.
April 28 – 30 -- Annapolis Spring Sailboat Show (Annapolis) Jumpstart the boating season with the Annapolis Spring Sailboat Show in historic downtown along the city's waterfront. Annapolis Boat Shows, a leading management company, has produced these in-water demonstrations since 1970, drawing over 150,000 people worldwide to the Chesapeake Bay to see the latest and greatest in boats and related gear. As part of the Annapolis Spring Sailboat Show, Cruisers University, held April 27-30, 2023, will have workshops providing professional lessons and opportunities for hands-on experience. Topics include learning how to troubleshoot and maintain engines, navigate in coastal and offshore weather, cruising courses, and classes on maintaining a boat above and below the waterline.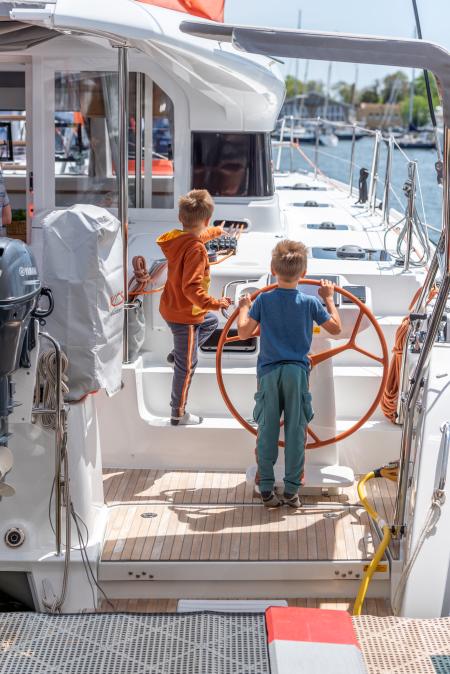 The Annapolis Spring Sailboat Show returns April 28. Image courtesy of the Annapolis Spring Sailboat Show.

 

April 30 -- Santa Maria Cup Opening Ceremony (Annapolis) This racing regatta is the world's only professional sailing series for women. Join sailors from around the world at this international regatta taking place on the shores of the Chesapeake Bay, May 1- 4, 2023. Annapolis is one of four host cities for this historic event. The Opening Night Ceremony will occur at the Eastport Yacht Club in Annapolis.

 
Calendar of Events:
April 1 -- MLK Parade and African Diaspora Festival (Annapolis) The Dr. Martin Luther King, Jr. Parade and African Diaspora Festival is coming to Annapolis with art, entertainers, music, and vendors beginning at noon on April 1 at Amos Garrett Boulevard. The festival will follow at City Dock and run from 1 to 8 pm.
April 1 -- Grammy Winner Samara Joy at Ram's Head On Stage (Annapolis) International recording artist and recent Grammy Award Winner Samara Joy will be headlining at Rams Head On Stage with her soulful and sultry jazz stylings, reminiscent of the golden era of Jazz. The 22-year-old songstress is quickly cementing herself as the first Gen Z jazz icon. This is a 21+ event.
April 1 -- Two Romantics -- Brahms & Prokofiev (Annapolis) Join the Annapolis Symphony Orchestra in concert at Maryland Hall performing Brahms' Symphony No. 2 in D major, op. 73 and Prokofiev's Concerto for Violin No. 1 in D major, op. 19.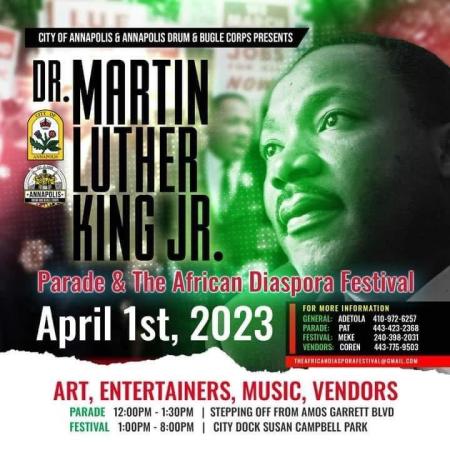 April 1- April 3 -- Her Voice, Her Vision (Brooklyn Park) The Women's History Month exhibition highlights women artists and their wide array of talents. Join the Chesapeake Arts Center for a complimentary March 16 opening reception featuring beverages and light snacks from 6:00 pm to 8:00 pm in the Hal Gomer Gallery.
April 1-August 31 -- POW Challenge Scavenger Hunt at USNA (Annapolis) On the 50th anniversary of the repatriation of Vietnam War prisoners of war (February 12), the U.S. Naval Academy launched an interactive exhibit that engages audiences with the riveting history of the POW experience. "Returned with Honor," tells the story of defiant American Vietnam POWs and the unwavering commitment of their devoted wives and families. Hosted by USNA's Stockdale Center for Ethical Leadership, the challenge allows participants to witness firsthand accounts of the courage and ingenuity of Vietnam War POWs by scanning QR codes at 19 iconic Naval Academy locations. The combined scavenger hunt and walking tour of the USNA Yard commemorates the service and sacrifice of the 591 American POWs who returned home from North Vietnam as part of Operation Homecoming, which began February 12, 1973.
April 2 -- Wilma Lee Sets Sail (Eastport) Set sail in 2023 and join Annapolis Maritime Museum & Park for a cruise aboard the historic skipjack, WILMA LEE, in Annapolis. Built in 1940, she is one of 23 floating skipjacks and only five commercially dredging for oysters. The season runs April-October. Tickets are available at the Annapolis Maritime Museum & Park website.
April 2 -- Fire in the Kitchen Pickleball Classic (Eastport) The inaugural Fire in the Kitchen Pickleball Classic will be hosted by the Eastport Volunteer Fire Company (EVFC) and Fire Station 36 from 8 am - 2 pm on Sunday, April 2, 2023, at Pip Moyer Rec Center in Annapolis. The event features Women's and Men's Doubles and an Open Doubles First Responders bracket. All proceeds will help EVFC and Station 36 serve the Eastport community through programs promoting fire prevention education, safety awareness, and initiatives designed to protect public health.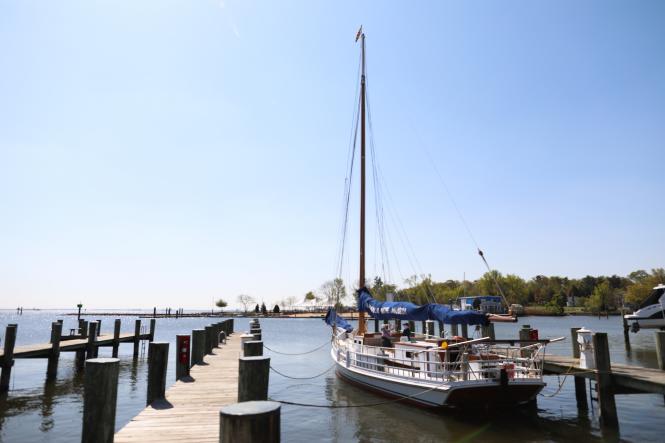 The sailing season officially begins in April, an image of the Wilma Lee at the Annapolis Maritime Museum. Image courtesy of Visit Annapolis.

 

April 7 - April 30 -- Our Town (Annapolis) A thoughtful and creative take on this charming Pulitzer Prize-winning drama by Thorton Wilder, by Classic Theatre of Maryland, is an American classic that will leave you reminiscing days gone by. Tickets are available from $55-$75.

 

April 7, 14, 21, 28 -- Formal Lecture Series (Annapolis) On Friday evenings, gather in the Great Hall at St. John's College to enjoy a lecture or concert by visiting scholars, artists, poets, and faculty. Lecturers include the college's Annapolis dean, members of the St. John's College faculty, and professors from notable universities nationwide. An engaging discussion with the presenter, students, and faculty follows the 8:00 pm presentations.

 

April 8 -- Hammond Harwood House Easter Egg Hunt (Annapolis) In this family-friendly activity, participants will tour the Hammond-Harwood House, go on an Easter egg hunt in the garden, and paint the wooden eggs that are found. The event will run 10 am - 11:30 am; tickets are $10 - $15 each.

 

April 15 - 16 -- Graham Nash: Sixty Years of Songs & Stories (Annapolis) With two shows over two nights, you will not want to miss this one-of-a-kind experience from Legendary artist Graham Nash, founding member of both the Hollies and Crosby, Stills, and Nash, and a two-time Rock and Roll Hall of Fame inductee. Show time is 8 pm; tickets start at $135.00.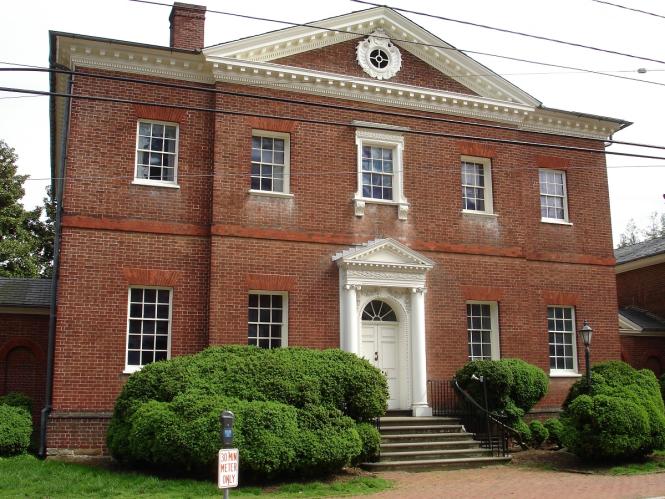 The Hammond Harwood House will host their annual Easter Egg Hunt on April 8—image courtesy of Visit Annapolis.

 

April 18 -- Life Along the River: The Pamunkey Tribe of Virginia (Annapolis) Historic Annapolis, a Smithsonian Affiliate, is pleased to present a special presentation with Renée Gokey, the Student and Teacher Services coordinator at the National Museum of the American Indian, on the Pamunkey Tribe of Virginia. This is a free online event; however, registration is required.

 

April 20 -- Colonial Cocktails: Orange Shrub and Rum Punch (Edgewater) This famous cocktail; class is brought to you by Historic London Town. Imbibe as they did at the colonial seaport with a classic colonial concoction. A perfect mix of history and culinary perfection, this event will sell out quickly. Price: Members: $25 Non-Members: $33, 6 pm - 7:30 pm.

 

April 22 -- Parijita Live in Concert (Severna Park) Parijita Bastola, Severna Park High School senior and semifinalist on NBC's The Voice, will perform live in Severna Park with Jackson Taylor Blues Co.! This night of music kicks off at 7 pm with Parijita's good friend and local musician, Tyler Zachry. Doors open at 6 pm. Tickets are $20 - $45 each.

 

April 22 -- Rock the Harbor with Tranzfusion (Severn River). Presented by Cruises on the Bay by Watermark, Tranzfusion is back by popular demand for a 2.5-hour live music cruise in Annapolis. Cruise the bay and Severn River as you enjoy live music, cocktails, and dancing on the Harbor Queen! Tickets are $55; the cruise runs from 7 - 9:30 pm.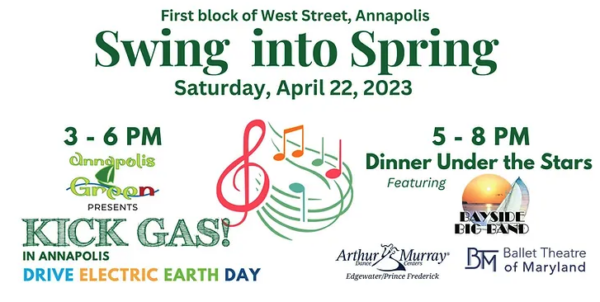 April 22 -- Swing Into Spring; Kick Gas in Annapolis (Inner West Street) A beloved Earth Day festival returns with music, activities, vendors, and more along the storefronts of Inner West Street. Annapolis Green will electrify Earth Day from 3–6 pm. Learn about the electric driving experience from the drivers of over 50 vehicles of all types and models, from cars to pickup trucks to electric motorcycles and e-bicycles. Enjoy kid-friendly Earth Day Activities and continue the night at one of the restaurants during Dinner Under the Stars from 5 - 8 pm. 
April 21-23, & April 28-30 -- Artists on the Half Shell (Edgewater) Join over 30 Southern Anne Arundel County artists in a pop-up art show including creations in a range of media, such as painting, stained glass, jewelry, photography, sculpture, wood, mixed media, ceramics, textile, and more. Sponsored by the Muddy Creek Artists Guild.
April 27 -- 2023 Fly Fishing Film Tour (Eastport) The 17th annual Fly Fishing Film Tour (F3T) presented by Costa, YETI, and Simms is back in action and hitting the road with a top-notch selection of short films that are sure to get you fired up for the season ahead. The 2023 show will feature locations from Cuba to Patagonia, Mexico to Australia, Alaska, Wyoming, the Deep South, Massachusetts, and beyond. The Annapolis Maritime Museum will host this year's film tour on April 27 from 5:30 pm - 7:00 pm; tickets are $30.
April 28 - 29 -- Ballet Theatre of Maryland presents Don Quixote (Annapolis) A family-friendly ballet full of bravery, fantasy, and love, this revered ballet classic centers on Don Quixote, an aging and eccentric nobleman, who imagines himself to be a valiant knight. With his trusted sidekick Sancho Panza in tow, Quixote embarks on a humorous and fateful journey. Evening and matinee performances are available; tickets range in price from $30 - $50, excluding taxes and fees.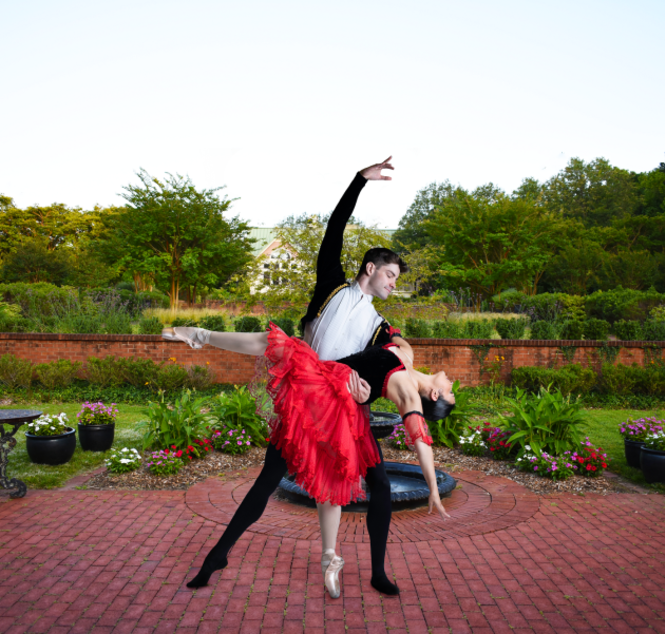 Don Quixote from the Ballet Theatre of Maryland. Image courtesy Ballet Theatre of Maryland.

 

April 29 -- Annapolis Book Festival (Annapolis) Every year, thousands of people enjoy this community Festival that celebrates the written word's beauty, power, passion, and excitement. The festival will celebrate its 20th year in 2023, bringing nationally renowned authors to the community to discuss their books and the craft of writing and featuring a day filled with children's activities, live music, food, and a huge used book sale. The Annapolis Book Festival is free to attend and open to all!

 
May 2023: Looking ahead!
May is among the most desirable times to visit Annapolis & Anne Arundel County. The boats return to the water, and boating and sailing season is in full swing; the county is in full bloom, and the United States Naval Academy commissions (a.k.a. graduates) their new class of Midshipmen as Ensigns in the Navy or Second Lieutenants in the Marine Corps. Head to our website for more exciting events, festivals, and tours.
May 1 -- May Day (Historic Annapolis) Walk through historic downtown and view May Basket displays from residents and shop owners from over-the-top to understated and see who will be given a Blue Ribbon for the exclusive invitation to the Garden Club of Old Annapolis Town's celebratory tea. From 10 am- 2 pm, the baskets are judged. Baskets will stay on display as long as the flowers are in bloom.
May 5 -- Cinco de Mayo in Annapolis & Anne Arundel County (Countywide) discover new ways to celebrate Cinco de Mayo in Anne Arundel County with authentic Latin American cuisine, parties, and salsa lessons, and even a Cinco de Mayo-themed cruise from Watermark!
May 6 -- Annapolis Irish Festival (Crownsville) Although it may seem like we just finished celebrating St. Patrick's Day, Anne Arundel County hosts an annual festival of all things Irish at the Anne Arundel County Fairgrounds every spring. There will be plenty of Irish music, dancing, singing, food, and drink for the whole family to enjoy. Tickets are $25 in advance and $30 at the door; children under 12 are FREE. Admission includes entrance and free parking to the event.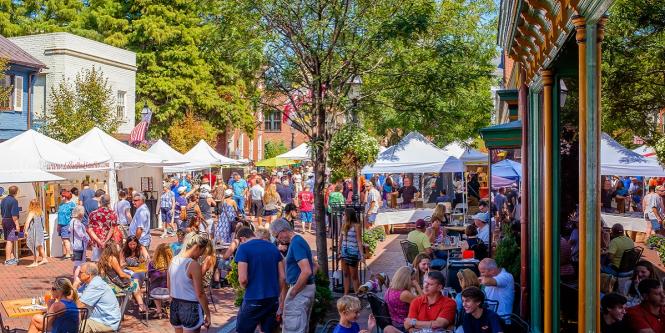 First Sunday Arts Festival kicks off on May 7. Image courtesy of Bob Peterson.

 

May 7 -- First Sunday Arts Festival (Inner West Street) Every year, from May through November, the Inner West Street Association hosts their monthly arts festival. The streets are closed, and vendors set up their wares in picturesque, charming downtown Annapolis. Shop the storefronts, listen to music, or dine in one of the cafes or restaurants. This event is family-friendly, and friendly leashed pets are welcome.

 

May 11 - 13 -- Vietnam Veteran War Commemoration (Countywide) In addition to a storied maritime history, Annapolis is home to the United States Naval Academy, Fort George G. Meade (home to all five branches of military service), numerous government agencies, and the National Security Agency or NSA. With so much military history to be proud of, Annapolis & Anne Arundel County is the perfect destination to visit during the United States of America Vietnam War Commemoration.

 

May 17 -- Herndon Climb (United States Naval Academy) Truly a sight to behold, the Herndon Monument Climb is the traditional culmination of the plebe year at the Naval Academy. Demonstrating the teamwork and perseverance they have learned during their first year at the academy, the plebes build a human pyramid to remove the "dixie cup" hat at the top of the vegetable-shortening-covered monument and replace it with an upperclassman's cap (a.k.a. cover). After completing the Herndon climb, the first-year students are no longer called plebes but "fourth-class midshipmen." The Trident Brass band will perform at the Zimmerman Bandstand as part of this traditional event. This event usually takes place during Commissioning Week; however, the Herndon Climb will be a culmination of plebe activities in the future.

 

May 19 - 26 -- Commissioning Week (Annapolis) The United States Naval Academy Commissioning Week is a celebration for Midshipmen, their families, and the entire town of Annapolis. Woven into the fabric of our historic city, visitors come from all over to celebrate this special honor with graduating Midshipmen. Explore hotels, attractions, and more on our website, and plan your stay in Annapolis for one of the year's most exciting events!

 

May 23 & 24 -- Blue Angels Practice and Performance (Annapolis) Feel earth-shaking, heart-pounding pride every time this incredible group takes flight. For Blue Angels Commissioning Week 2023, several flyovers are accessible at the Naval Academy or along the harbor in downtown Annapolis. Check out this map to plan where you'd like to view them! Performances are subject to change and weather dependent, so please check back for updates and changes before your visit.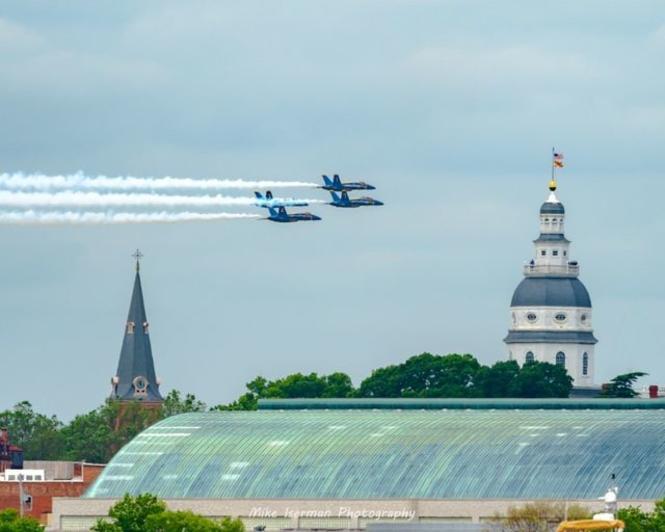 Blue Angels zoom over Annapolis during Commissioning Week.  Image courtesy of Mike Iserman.

 

*For a more comprehensive listing of events throughout Annapolis & Anne Arundel County, scroll through the Visit Annapolis & Anne Arundel County events page. Events are subject to change. Please get in touch with event organizers to confirm dates and times.