Community can be defined as fellowship; a sharing of common interests and goals with others. It can also be described as a group of people playing Dice Masters… or Heroclix… or any other tabletop game on a given day at Third Eye Games & Hobbies (209 Chinquapin Round Rd. Suite 400, Annapolis).
I walked into Third Eye on a Monday evening and was readily greeted by Tom, one of the store managers who gave me a tour and quick history of the space. It all started about ten years ago when owner Steve Anderson decided to open Third Eye Comics, where aside from retailing comics of all genres, he also carried several games. The selection generated increasing community interest and eventually, Third Eye Games & Hobbies was born as the sister storefront to the comic store. After having relocated to the current space within the past year, store inventory expanded into a much larger variety of games. Walking around, I quickly recognized several Kickstarter products, some of which I had been a supporter of myself. I also noticed that the entire periphery and front half of the area is lined with games organized alphabetically, and by category. Tom was then leading me to the back section of the store which contains a seating area and high-top tables open for visitors and locals to test out new games, attend events, or plan team strategies for upcoming tournaments.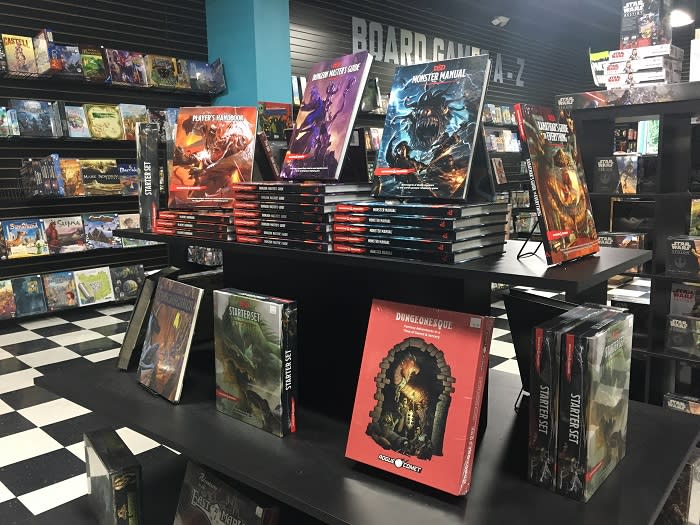 Overall, the store has a very inviting and fun atmosphere: It's clean, well-organized, and seems like a good place to make new friends. In fact, within a few minutes of my visit, Kathryn, one of the regular players, or more affectionately referred to as a 'Third Eye faithful', had already introduced herself and expressed her excitement for the space and the community it supports. "Everyone is family here," she said.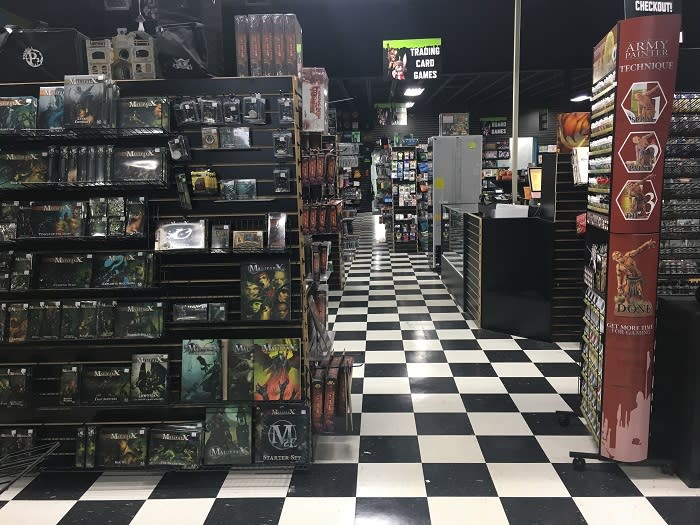 With such a broad selection ranging from miniatures (including tools and paints), to cards like Pokemon and Magic, dice, party, and board games like Carcassone, I wondered how the inventory is determined on a regular basis. Tom explained that the team wants visitors "to feel welcome," and that "the best way to achieve that is have their stuff," meaning that the supply is primarily informed by community feedback and inquiries, resulting in a balanced mix of popular, well-known games and smaller brand items.
In addition, I learned that although one is likely to find just about any game occupying the shelves at Third Eye, those that haven't yet made their way into the store are available via special order, which most often results in a long-term addition to the in-store collection.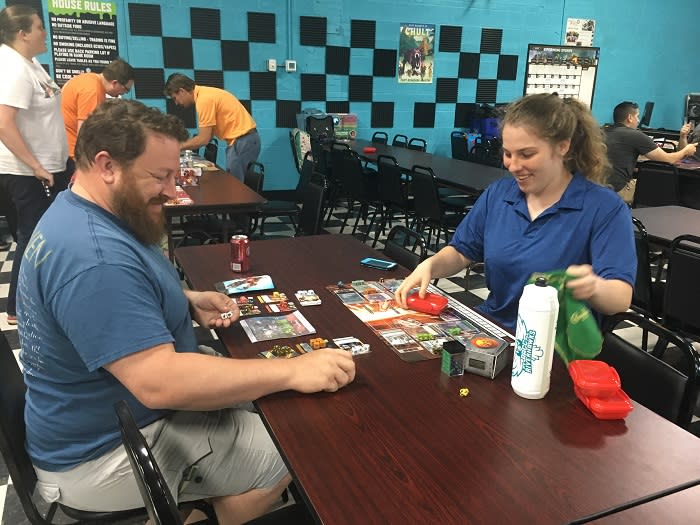 At Third Eye Games & Hobbies, community is accounted for in both common interests and fellowship. I had a wonderful time visiting and look forward to stopping by again, maybe with a few friends to try out a new game. In such a high-energy and unique environment, the Third Eye team is readily available to assist, inform, and share the excitement with those that walk in their doors. Here's some stuff worth checking out:
Bay Holder Con 2018 - A convention dedicated to Dungeons and Dragons fans coming to Third Eye in August.
Betrayal of the House on the Hill - One of Tom's favorite games.
Pandemic - One of my favorite games.
Monday nights - Casual game night at the store.
For more events happening at the store, check out their online event calendar.
Photos courtesy of Melissa Kuhta