"Stop trying to make everybody happy.  You're not tequila."
This quip, currently making the rounds on the internet, struck my funny bone.  It came across my computer screen as I began writing this February blog – a month marked with Valentine's Day, when everyone from first graders to perennials sends cards, orders flowers, and maybe make reservations at restaurants reputed to be romantic.  It's a time for dinner and romance, when we go out of our way to make our loved ones happy – often with a meal for two at a reputedly romantic restaurant.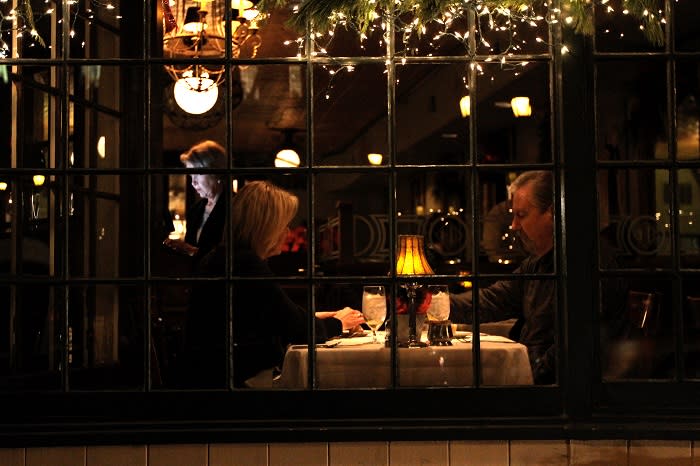 Harry Browne's
Annapolis has its share of establishments that pass the "romance test."  These restaurants may be described as quiet enough to allow conversation, attractive enough to appeal to the senses, a place where the food and wine complement each other and where the service is solicitous but non-intrusive.  Since we are here to help visitors to Annapolis, our restaurant recommendations are concentrated within the city limits and include Eastport as well as the downtown area.  Most are in walking distance from downtown hotels. The exception is Les Folies, a fine French bistro on the outskirts of town.
Pusser's Caribbean Grille, a privately-owned restaurant in the Annapolis Waterfront Hotel, is hosting "A Taste of the Bubbly" wine dinner at 6:30 pm on Friday, February 9 in a private dining room accommodating 60 people. Executive Chef Jim Erikson has put together a 5-course menu to match sparkling wines from Spain and California, Prosecco from Italy and Champagne from France.  These wine dinners are popular among local foodies and you will share the evening with kindred spirits.  Limited seating, $65 per person, reservations required.  410-626-0004.
Café Normandie is a perennial favorite of mine, an opinion shared by discerning diners with a penchant for food with a French accent.  A four-sided glass-enclosed fireplace sets a cozy tone in an intimate setting decorated with Gallic touches and the menu ranges from seafood crepes to boeuf bourguignon and local seafood. French pastries are made in-house. Chef-owner Jean-Louis is your host for 30+ years.  Lunch, dinner, weekend brunch. 185 Main St., 410-263-3382.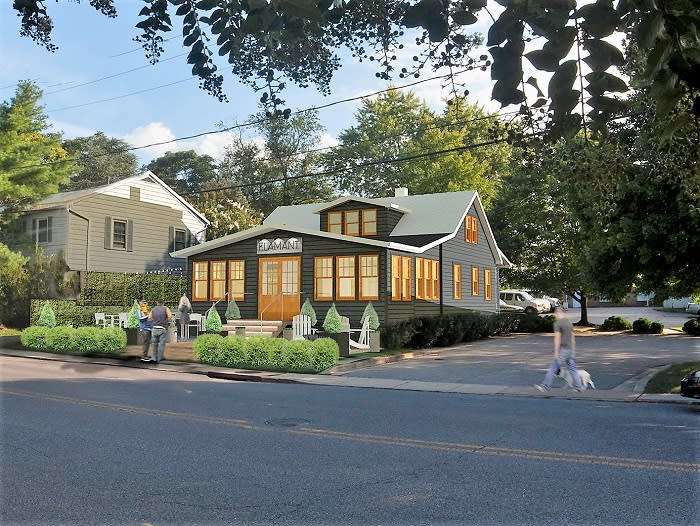 Flamant
Flamant is our newest upscale restaurant, singled out for praise by Tom Sietsema, restaurant reviewer for the Washington Post.  Small and intimate, the restaurant promises culinary adventure for those whose palates seek stimulation.  Situated in a cottage that was once home to a popular children's clothing store, the Belgian owner has overseen its transformation into a simple but sleek space with a semi-open kitchen.  Prepare for pricey and reserve well in advance.  Valentine's Day menu is $75 per, with $55 add-on for wine with each course and requires a $50 deposit to hold a February 14 reservation.  17 Annapolis St., 410-267-0274.  Note: Flamant is in West Annapolis/not walking distance from downtown. Open for dinner only.
Harry Browne's, founded 35 years ago by current owner Rusty Romo, is an Annapolis classic.  Serving lunch, dinner and Sunday brunch, the restaurant is tucked into a small space on State Circle and is an unofficial adjunct to the Maryland Inn and its sister hostelries.  Subdued and elegant, the space lends itself to sweet talk and the food is consistently first rate.  Ask the sommelier about Rusty's incredible wine cellar.  He likes to share.  66 State Circle 410-273-4332.
Osteria 177, owned by a prominent Italian family, is famous for its authentic coastal cuisine and well-chosen wine list.  Spacious booths resemble tiny private rooms and savvy service contribute to this establishments enviable reputation as a romance-friendly destination as well as a convivial bar scene. Serving lunch Tues-Fri, dinner daily.  177 Main St. 410-267-7700.
Red Red Wine Bar is for millennials or the young-at-heart looking for a light-hearted atmosphere, quick-witted servers, tasty small plates and a good selection of well-priced wines. Seating is random and décor is creative.  Couple who owns this unique establishment are former Washingtonians and TV personalities.  Spend a lot or a little for some romantic shenanigans.  Lunch, dinner, Sunday brunch, every day Wine Bar.  289 Main St. 410-990-1144
The following Eastport destinations are best reached by cab or car, unless you enjoy walking and the weather is friendly.  Informally known as Annapolis' Restaurant Row, the Fourth Street Strip is home to upscale franchises Chart House and Ruth's Chris as well as local enterprises Blackwell Hitch, O'Leary's Seafood, Carrol's Creek Café and Lewnes' Steakhouse.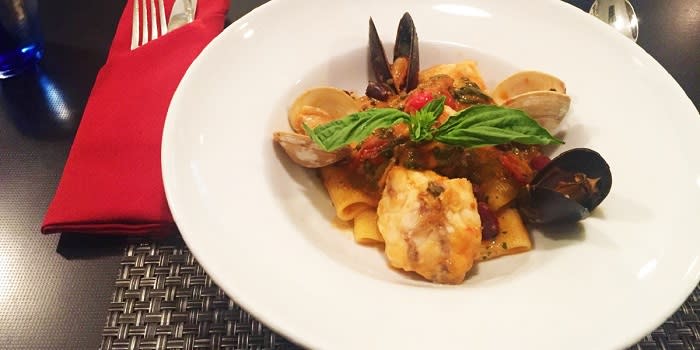 Osteria 177
Blackwall Hitch, is arguably our trendiest place for food, drinks and meet-ups.  An upscale casual establishment, it boasts a wonderful oyster bar, a welcoming wine bar and spacious booths for intimate evenings.  Eclectic menu is wallet friendly and servers are savvy. Good place for seafood and traditional American favorites.  Late night date night. 410-263-5454.
O'Leary's Seafood, hidden on a dead-end street leading to the harbor, is the perfect place for a quiet dinner-a-deux. Owner Wil Petersen orchestrates a creative kitchen and craft cocktail bar that elevates his place to a longtime local favorite.  It's near but not on the water but the seafood is a specialty and their lobsters and mussels are delivered direct from Maine. Service is A+ and so is the wine list – half-priced on Tuesdays.  Look for $39.95 3-course chef's menus Mon-Wed.  Dinner and Sunday brunch. 310 Third St. 410-263-0884.
Carrol's Creek Café is the place locals take out-of-town visitors for its great view of the USNA and the Annapolis skyline as well as the family-owned restaurant's reliably good food and service.  Reservations strongly recommended.  Signature dishes are scallops in phyllo dough, the Maryland lump crab cake and the prize-winning cream of crab soup. 410 Severn Ave. 410-263-8102.
Lewnes Steak House will make your meat lover love you even more.  Various members of the Lewnes family have made sure Annapolitans have a place to go for steak and special occasions for many years. Lewnes does not neglect seafood lovers and features Maryland crab dishes in season.  Fans appreciate the retro atmosphere, from the extended family photos on the walls to the capacious booths that guarantee privacy. 401 Fourth St. 410-263-1617.
Love and bon appetit from your Virtual Valentine!
Photos courtesy of VisitAnnapolis.org