May is a celebratory month in Maryland, when the first fruits of spring appear and moods mellow to match the season. It's also a time when we welcome multitudes of visitors to the state capital of Annapolis, home of the United States Naval Academy and St. John's College – two of the finest schools in the nation. As visitors – and residents – you may be surprised that both institutions welcome the general public to enjoy the beauty of their respective campuses and discover their "best kept secrets" in dining. Here's the scoop on each.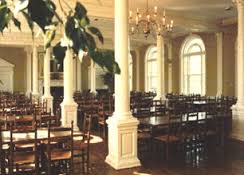 St. John's McDowell Coffee Shop
St. John's College, a liberal arts college founded in 1696, is bordered on one side by College Creek, a subsidiary of the Chesapeake Bay, and College Avenue on the other. Strolling around the lush campus while admiring the historic buildings and perhaps visiting the Mitchell Art Gallery is a treat for all ages. Not many know that the college's coffee shop, McDowell Coffee Shop, located in the basement of McDowell Hall, has some of the best homemade muffins ever, a memorable grilled cheese sandwich, a good Reuben and a signature turkey club made with turkey roasted in the shop's kitchen. And, oh, those chocolate chip cookies! Hours are 8 am – 4 pm weekdays from mid-August until mid-May. 410-263-2371. For a full menu, click here.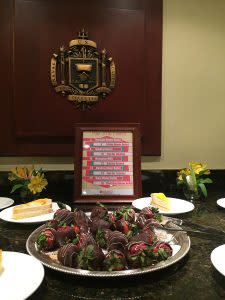 Buffet treats at The Alley
If a visit to the United States Naval Academy campus is on your itinerary – congratulations. Just be sure to bring proper ID to the main gate, and head for the exhibits and gift shop located in the nearby Visitors' Center. If you need nourishment while on the base, ask the guard for directions to The Drydock in Dahlgren Hall (for pizza and deli sandwiches) or The Alley—downstairs in the Navy Club (for fancier fare).
Mix with the Mids at Drydock and marvel at the adjacent high-ceilinged Assembly Hall that used to be a public ice rink. This place is kid-friendly, prices are super-reasonable, and they claim the best pizza in town. Other menu choices include deli-style sandwiches and grilled items. Find information about hours of operation, group reservations, pre-ordering (for groups of 15 and up), and more on the Drydock's website, here.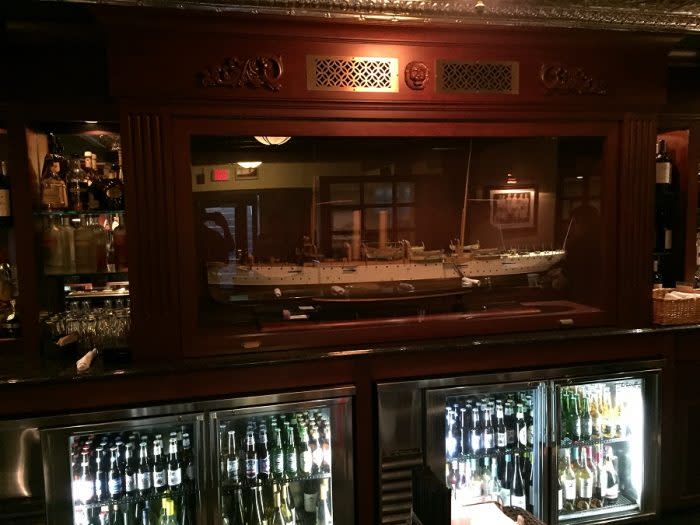 Model Ship behind the bar at The Alley
The Alley, so named because at one time it was a popular place to bowl, is a cozy venue with a busy bar and booth-seating. It's a great place to stop for a hot, nourishing lunch if you're touring the campus. Note, however, that dinner is open only to members and their guests. For more information, visit the website.
Now you know that you needn't go hungry when visiting St. John's College or the Naval Academy. And if you have more time or want to venture beyond these respective campuses for a meal, you're in luck. Historic Annapolis boasts countless dining establishments for every palette. For a directory of local restaurants, click here.
Photos courtesy of St. John's College website, Adam Dahlgard, and Bob Peterson.