In Ireland, where I'm from, we have a huge pub culture. The pub is where folks go to gather and exchange with friends or work colleagues what we've been up to in our day-to-day lives. It's kind of a meeting hub for our social lives, so to speak. I've found that historical Downtown Annapolis is similar, as it boasts a number of bars and restaurants running from West Street to Main Street and all the way to City Dock and beyond, with each place completely different from the next so that you are never bored. Here are some where my husband and I enjoy spending time.
[gallery link="none" size="full" columns="1" ids="2784"]
One of our favorite places to go is Tsunami Sushi Bar and Lounge (51 West Street). It's an excellent sushi lounge bar that serves really tasty food, as well as wonderful cocktails and craft beers.
We love to sit at the huge windows on high stools and people watch while taking in the old colonial buildings across the street.
It's a great place to meet up with friends or as an after-work hangout location; they play great music too in the evenings. It's open until 1:30 am weekends, and offers outside seating for al fresco dining and drinks. It is very relaxed and hosts a great mix of all types of people.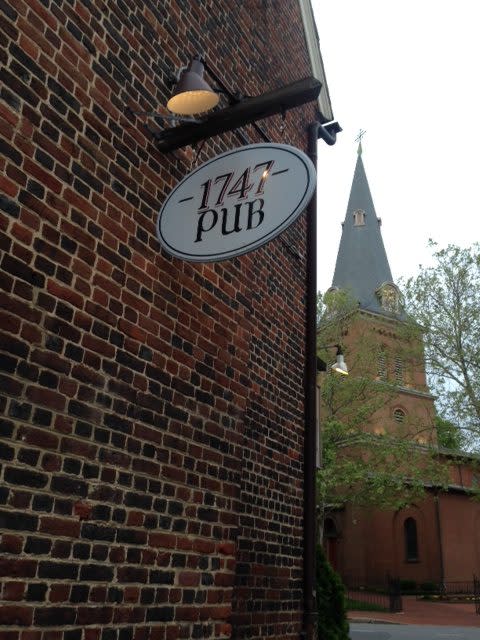 Reynolds Tavern's Pub 1747
Keep moving on West Street towards Church Circle and you will find a great hidden gem of the Annapolis bar scene, one of my 'go-to' pubs here for sure. Called the 1747 Pub, it is located in the basement of Reynolds Tavern (7 Church Circle). It is housed in a very historical building with many original features maintained from its inception in 1737, including very low ceilings, stone walls and brick floors, and the original fireplace. The atmosphere is super cozy, and its great ambiance makes you feel immediately at home and relaxed. Seating is kept to a minimum but there is standing room also. George Washington has even been known to have had a drink or two there when he was here in Annapolis. It is quite like one of the many old pubs back home in Ireland, so rich in history and character. If only the walls could talk, oh the stories they would tell.
If you crave some live music you can't beat Rams Head on Stage (33 West Street). This wonderful multi-level bar, restaurant and live music venue is the place to be. They host a great band or performer on stage nearly every night of the week; you can check out the line-up here. You can purchase your tickets at the box office or online (shows sometimes sell out early). If you want to make a night of it, you can even have your dinner at your table while watching the show. Also, if you wish, pre-show and post-show you can grab drinks in the main bar, the outside terrace or—my favorite—the Rams Head Tavern. This is another basement-level watering hole which, like the 1747 Pub, has a long and interesting history. And it's located conveniently at 33 West Street beside all the action and nightlife of Rams Head on Stage.
Metropolitan Kitchen & Lounge
Another great bar with multiple levels and lots of choice is the Metropolitan Kitchen and Lounge (169 West Street), a mix of ground-floor bar-slash-restaurant, live music venue and stylish rooftop terrace. It's an excellent place to go on the weekends for a good, entertaining late night out on the town. The live performances range from rock, rap, DJ and standup comedy—a great mix. Catch their weekly lineup on their website. Sometimes we pop in for a few drinks before heading to dinner at Lemongrass (167 West Street), a restaurant that is literally next door and serves delicious Thai food.
There is so much choice here in Annapolis; I mentioned just a few of my favorites. I'll leave you with this one last tip: if you wish to save your feet and want more socializing time, catch the Circulator Trolley. It runs from the top of West Street starting at the Westin Hotel and runs all the way down West Street and ends at City Dock at the heart of Downtown. It is only a dollar and it stops wherever you put out your hand. It circulates around every 20 minutes or so and the last trolley runs up to 11pm Saturdays.
I am sure you will have lots of fun exploring Annapolis nightlife as much as I do. Enjoy!
Photos courtesy of Sinead Harold and VisitAnnapolis.org