When was the last time you gifted yourself 45 uninterrupted minutes to better your mind and body? No screen time distractions. No family obligations. No work responsibilities. And most importantly, no excuses. Tribe Cycle (890 Bestgate Road, Annapolis, MD) is the newcomer to the Annapolis fitness scene, but the concept of a rhythm-based indoor cycling class has been forming avid believers year after year.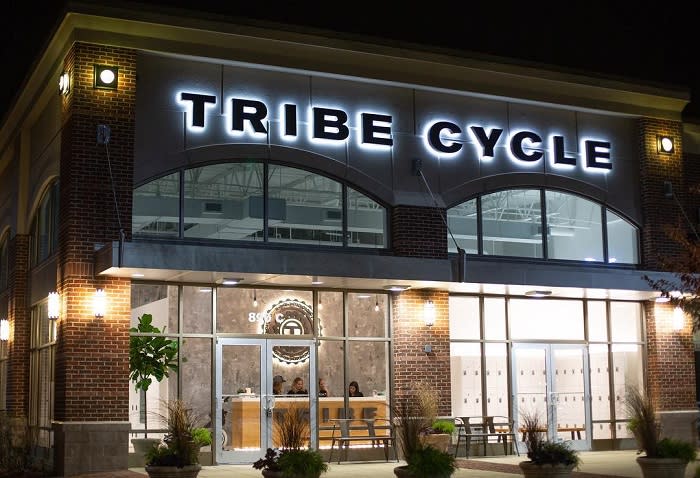 Courtesy of Tribe Cycle
Owner and Tribe leader, Jen Selby forged out to dream big and bring to Annapolis a fresh workout that will change your life. "It was three years of exhausting research," says Selby. "I knew it had to be special and bring a vibe to Annapolis that was unique."
Riders pile into a custom designed studio with 40 bikes to experience a high-energy, full-body, cardio-centric workout that challenges you to catch the beat and not let go. Each ride varies based on the instructor and their curated playlists, but the fundamentals carry through. The bike movements are a mix of drops or push-ups, tap-backs, jumps, sways, and sprints. Don't be intimidated by the idea of choreography on a bike. The room is dark, the music is loud, and everyone's ride is different.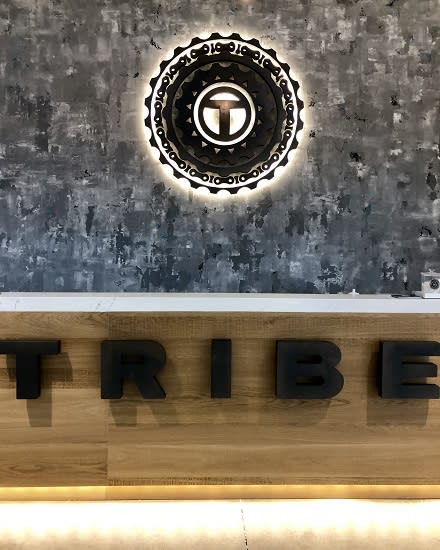 During the standard 45-minute class, a segment focused on arm strength is weaved in and comprised of isometric holds, curls, and pulses. Towards the end of class, you'll be given a break in choreography that offers you one song to challenge yourself and pedal how you please. Call it a time for reflection, an opportunity to gear up for the day, or simply your chance to dance it out without anyone else watching. You'll start the class trying to regain focus on yourself. You'll finish the ride with a feeling of accomplishment and peace.
There is an overwhelming surge of self-confidence when you choose to be in a room of people that are working to better themselves one pedal stroke at a time. The beat leads everyone, and when you find yourself in cadence with one another, you'll understand why Tribe Cycle is infectious. Jen Selby reminds us that, "At Tribe, we work together. We move together and we feed off each other's verve to push ourselves to reach our goals. It's amazing when you can cross a very personal and individual experience with others and feed off their energy and enthusiasm. It can be life changing—magic!"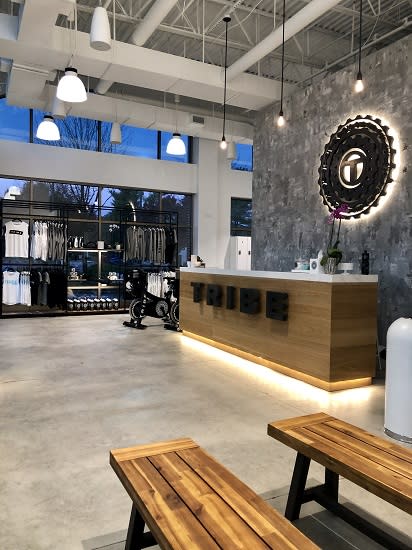 The Tribe staff is there to equip you with everything that you need for a successful class. The custom designed bikes are made for clip-in shoes that aide in a proper and successful ride. If you don't have your own, they are available for rent. The sleek studio offers secure lockers, showers, bathrooms, and a prime retail selection of branded items. Individual classes are $28 and a variety of class bundles and unlimited plans are available.
Here's everything you need to know for your first Tribe ride:
Sign up for a class. Schedules are posted a few weeks in advance and clearly note what type of class it is. There three types of classes – Classic (45 minutes), Tribe 30 (30 minutes), and Themed (45 minutes with a special element to it). The instructors are also posted on the schedule. I would recommend trying out a few different instructors at first before claiming any favorites.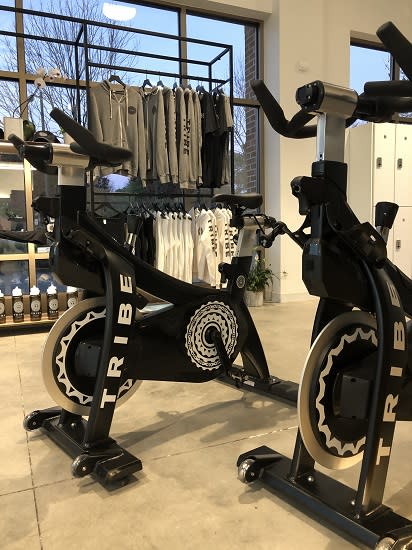 Select your bike and weights. The Tribe Cycle studio houses 40 bikes in a stadium-style room. Don't be shy! The front row is where you're going to get the best view of the instructor so that you can mimic their form and cadence. In a stadium-style room, the rows are gradually elevated the farther back you go. So even in the back row, there is no hiding from a good time. It's also a good idea to check your dumbbells to make sure it's a weight that you want to commit to for the arm segment. Four minutes doesn't sound like a long time for three pound weights… that is, until your biceps are burning and sweat is pouring from your temples.
Ask for help. The Tribe staff welcomes you with a smile and are happy to guide you through your bike set up. Each type of bike is special, so even if you have mastered cycling classes in the past, it's a good idea to ask a Tribe member to set you up. Remember your settings for next time and you're one step closer to being a pro! New to clip-in shoes? Don't worry, they can also give you a rundown of how to clip-in and how to release your clips.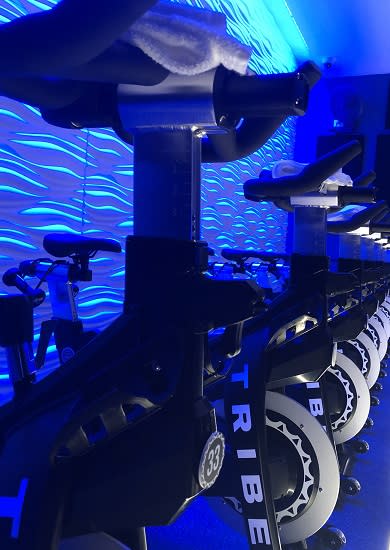 Catch the beat. The choreographed movements are much easier if you grab the beat with your pedal strokes and keep it. You'll find that when you're in sync with the rhythm, the movements are more fluid. It might take a few classes to get the hang of it, but when you do, your ride will be more efficient and you'll be on your way to a mentally and physically stronger version of yourself.
Focus on what feels right. Cycling has always been a fantastic, low-impact exercise. It does not hold any bias on fitness level, age, or gender. But, as always, you should cater the ride to your strengths and do what feels right for you.
Images courtesy of Nina Vidal and Tribe Cycle