Tsunami Sushi Bar and Lounge is well-known for infusing local art, tasty cocktails, and topnotch sushi together in a swanky atmosphere perfect for nighttime revelries. Located on West Street in an area also known as the Annapolis Arts District, Tsunami has been serving up Asian American cuisine for over twenty years.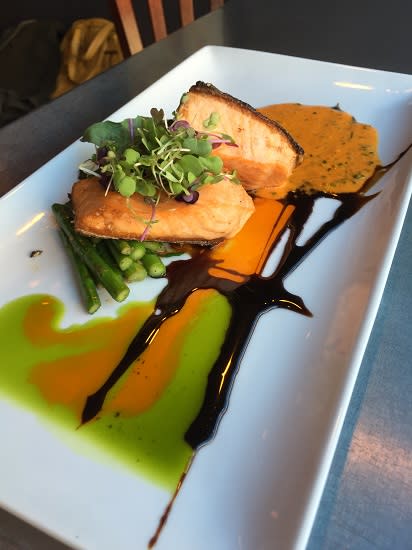 Tsunami is perhaps best known for their late-night sushi menu. They're one of the few places to offer food (that's not deep-fried or otherwise) until one a.m. I personally can't pass up on a big bowl of miso soup, chili oil & garlic edamame, and tuna lollipops when I'm there late-night. The Metropolitan, Tsunami, and Dragon Rolls are among my favorites.
However, you will miss out on some major foodie bliss if you overlook Tsunami's dinner menu directed by Executive Chef Trevor Champion. Trevor has just released a new menu that showcases his talent for innovation with tantalizing dishes like Buttermilk Cereal Fried Chicken and Crispy Citrus Teriyaki Duck—two things I plan to go back and try ASAP.
On a Wednesday afternoon I had the pleasure of watching Trevor prepare and, afterwards, tasting one of his new dishes, the Unilaterally Salt Seared Salmon. The inside of Tsunami on my visit that day—empty with the daylight streaming in as it was before they were open—was a distinct shift from my normal midnight chopsticks and martini routine, yet all the more delightful in a novel way.
The Unilaterally Salt Seared Salmon dish gets its name from the way it's cooked. Trevor began by adding a generous amount of salt to the bottom of a few pieces of salmon (wild-caught from Pro Fish) and then placing the salmon salt-side down in a pan to sear. This meant that there was direct heat being applied from one side, cooking the salmon in one direction from the bottom up. Hence, the term unilaterally.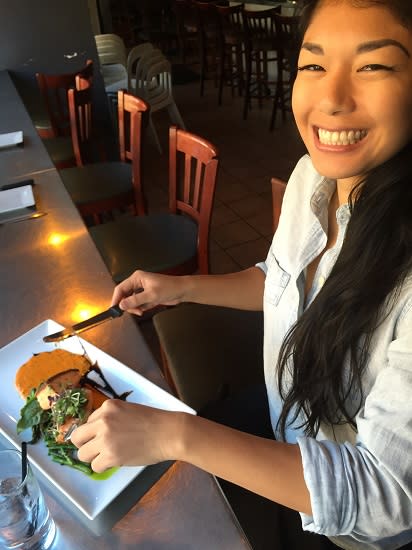 The second method Trevor employed was an old French technique called "arroser" which means to baste. In this case, Trevor quickly and repeatedly spooned melted butter over the top of the salmon filet. The butter was bubbling up from the heat, which he explained was necessary. "You have to keep the bubbles going; they actually cook the fish like a microwave and keep it moist," he explained. The whole thing was fascinating to watch, and I felt like Trevor was more wizard than chef at this point.
Next came the asparagus, which took only a few minutes to sauté. He then began the plating process starting with one of three sauces made in-house: a balsamic reduction, followed by a basil olive oil, and finally a chili oil. The plate with just these sauces alone looked like a work of abstract art to me. Trevor finished plating the dish by carefully placing two piles of asparagus in the middle and topping it off with the salmon.
The presentation was spectacular and Trevor did it all with such ease. It was almost too pretty to eat, except that it simultaneously looked too delicious not to! Bright red and green colors from the chili and basil oil contrasted beautifully among the outlines of the balsamic reduction. They not only added to the display but leant incredible flavors to the dish. The basil oil was subtly sweet while the chili oil gave each bite the slightest touch of heat. The balsamic reduction was of course sublime as balsamic reduction almost always is. All these flavors practically melt in your mouth as they intermingle in every bite, noticeable at first and then lingering pleasantly throughout the meal.
The asparagus was cooked to perfection, not overdone or undercooked. They had just the right amount of crisp-tenderness that I strive for with asparagus in my own kitchen. It was a fitting backdrop to the salmon, which was so tender and juicy, and equally cooked to perfection. The bottom of the salmon had a fantastic salty crust, and I could taste—but not feel—richness of the butter-basting. I marveled at how rich and full-bodied the dish was, while almost equally light and airy—all qualities that point to Trevor's cooking expertise.
Photography and videography courtesy of Darren Heater