By the time we hit February, the tone is beginning to set for the remainder of winter, with the weather as the underscore and our schedules dictating the melody.  It is up to us to add the harmonizing elements to our daily lives. Luckily, we don't have to go far to unload from the repetitious rhythm of the daily in and out with all the local art this February.
Continuing this metaphor, rhythm is also a strong element in visual arts, though it is not something one often thinks about when viewing artwork.  Just as in poetry and music, rhythm determines the pace, the energy, and the tone of the work.  In visual arts, rhythm can vary greatly, but to boil it down, it is the essence of the composition; the combination of elements that causes your eye to move from place to place in the piece.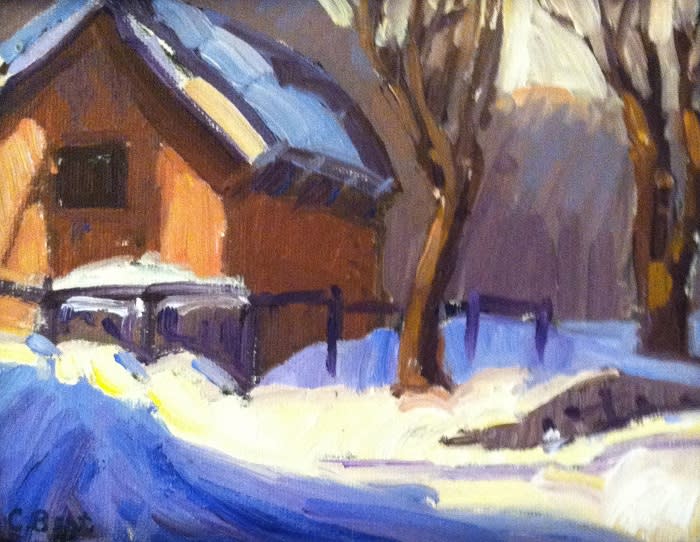 Christoper Best, Cabin in Snow, oil at McBride Gallery
Below is a sampling of art gallery listings and events this month. With the usual eclectic and wide variety of artworks on view, there is much opportunity to observe the different rhythms of individual works.  Well-curated exhibits have a tempo all their own as well.  If something catches your eye, linger beyond the first glance to determine:  Is it energetic and exciting?  Or does it ground you in a calm place far away?  Is it harmonious, or does it create an edgy tension?
Even the act of visiting a gallery can provide a varied pace based on when you go. Attending events is an upbeat experience for me. I love to interact with artists, listening to them talk about what is behind their work and to meet with art appreciators to see what they see – which is always different from my perspective.  When I need to slow things down, I take a micro get-away into one of these venues when it isn't crowded at all. I can get lost in a few individual works and then come out refreshed.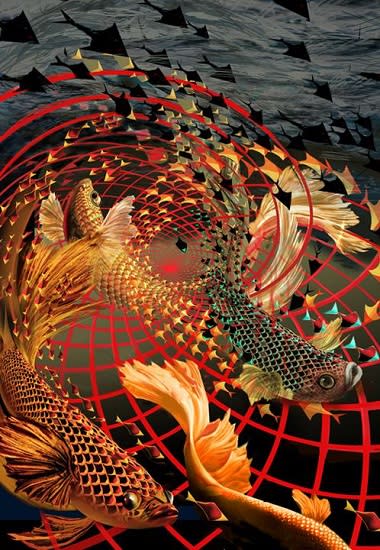 William Henry Haney, Siamese Betta Carousel, Digital Painting for Focal Point
I hope you find just the right elements to create an exciting beat for the rest of your month!
MFA's "Focal Point" exhibition runs through Feb. 24 at the Circle Gallery. This futuristic exhibition demonstrates the current state of digital media as well as where it is going in the months and years to come.
MFA's "Lowe House Gallery Exhibition" exemplifies MFA's mission to bring art to the community at large. This exhibition has an amazing array of original 2-D and 3-D work created through any media including: sculpture, acrylic, and oil, all on view in the Anne Arundel County Delegation Room and Hallways at the Lowe House of Delegates in Annapolis through April 9.
Paul's Homewood Café presents the MFA exhibit of Artwork by Anne Sieling and Marilyn Ugiansky, opening tomorrow and running through April 2. Opening reception is from 5 to 6 p.m. Feb. 27.
At the Annapolis City Hall Gallery, Future History Now presents "COLLAB: Future Artists from Newtowne 20 and Stanton Center", an exhibit curated by international photographer Allison Zaucha. Join them for an opening reception from 5 to 7 p.m. Feb. 12.  The exhibit will be on view through the end of March.
Jo Fleming Contemporary Art presents two- and three-dimensional works by two artists concerning the most vital ingredient to life in a show entitled "H2O: Contemplations on Water", opening Feb. 15, and running through April 30. Join them for an artist reception from 6 to 8 p.m. Feb. 16.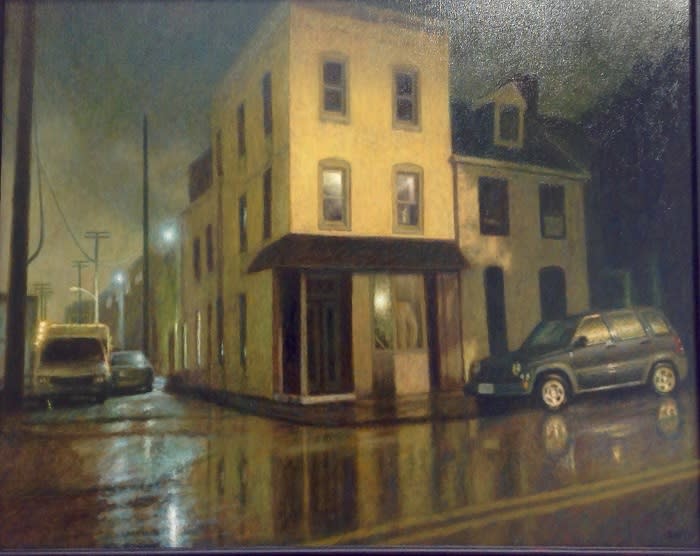 Davis Morton, Aliceanna, Oil on canvas, Main St. Gallery
The Willow Gallery at Quiet Waters Park is pleased to host the juried exhibit, "Beyond the Line, Colored Pencil Released", presented by The Metro-Washington Chapter of the Colored Pencil Society of America, a national non-profit organization founded in 1990. Opening Feb. 14, exhibits will be on view through April 1.   Opening reception with awards presentation is 1:30 to 3:30 p.m. Feb. 18.
Continuing on view at The Mitchell Gallery at St. John's College through Feb. 25 is "About Prints: The Legacy of William Stanley Hayter and Atelier 17," a collection of over 45 prints that provides an overview of one of the most important mid-century printmaking studios located in Paris and New York. The Mitchell Gallery Book Club will meet at 2:30 p.m. Feb. 22. Free; registration required. The Sunday afternoon lecture will be held at 3 p.m. Feb. 25.
Maryland Hall for the Creative Arts continues its two exhibitions:
"H.C. Porter's Blues @ Home: Mississippi's Living Blues Legends" on display in the Martino and Chaney Galleries through March 3..
"WAXED: Encaustic Paintings by Kendyl Lawson and Michael Matthews" on view in Maryland Hall's Openshaw Balcony Gallery through April 8. A public reception will be held for this exhibit in March.
The Annapolis Collection Gallery is showing works by Philadelphia native H.M. Saffer who studied art in France and Japan, and built a stellar career in both the music and art industry. Six of his recent oil paintings are on exhibit in the Gallery on Annapolis' Gallery Row.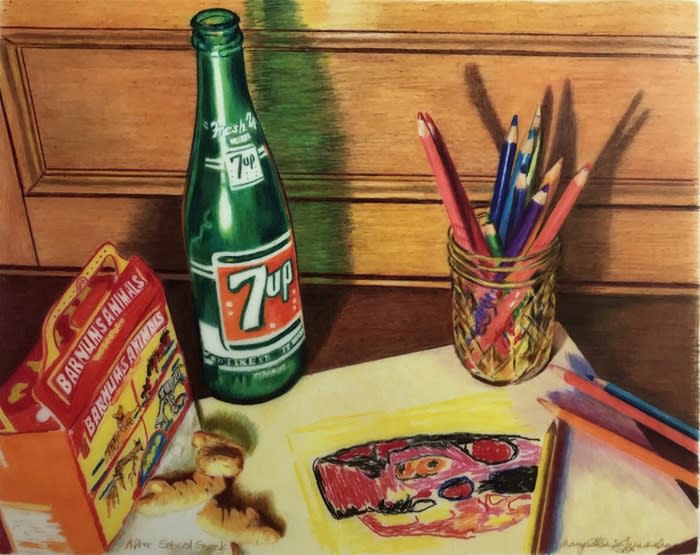 Mary Ellen Geissenhainer, After School Snack, Colored Pencil at Quiet Waters Park
BayWoods of Annapolis features the work of award-winning photographer Frank Brennan.  The show, which features many favorite Annapolis scenes, runs through the month of February and is open to the public.
Main St. Gallery welcomes oil painter Davis Morton to the Gallery.
"The Chesapeake Show" at West Annapolis Artworks continues through Feb. 26, featuring fourteen local artists from Annapolis and Eastern Shore featuring diverse original artwork from watercolors, acrylics, to cut-paper and ribbon collages.
Gallery 333 in the Unitarian Universalist Church of Annapolis continues "You've Been Served", an installation of 28 intricately hand-painted platters by Ray Watkins through Feb. 25.
McBride Gallery continues its winter-themed group exhibition, "Winter's Beauty" through Feb. 18. Participating artists include: Christopher Best, Frank Nicolette, Leo Goode, Julia Rogers, Ray Heus and more.
Images courtesy of the galleries mentioned