Welcome to Annapolis – capital of the state of Maryland, a city widely associated with the almighty blue crab. Let it be known there are lots of other options in the months when crabs are happily hibernating in the nurturing mud of the Chesapeake Bay and its tributaries. Visitors to our area can expand their culinary horizons with the flavors of Asian, French, German, Greek, Indian, Irish, Belgian, Italian, Lebanese, Mexican, Spanish and Thailand cuisines – served in the style of Maryland hospitality. We love our wide variety of ethnic Annapolis food as much as our blue crabs…almost.
A Taste of Asia
Asian flavors mix and match at the Canton Restaurant (11 Ridgely Ave.), a family-run Chinese restaurant serving the local community for more than 50 years. Be patient with a retro dining room as you peruse a menu showcasing the skills of a new chef imported from NYC who is versatile in the styles of Canton, Hunan, and Szechuan cooking. Specials here include Peking Duck, hot and sour soup, orange chicken and a bountiful $6.95 lunch buffet.
Courtesy of Joss Café & Sushi Bar
Joss Café & Sushi Bar (195 Main St.) and witness the sushi chefs at work or enjoy the secluded patio in the rear. This is a fine way to explore the many variations of sushi, our gift from Japan.
Lemongrass (167 West St), a lively restaurant showcasing the foods of Thailand, was a novelty when it was opened in 2005 by Australian native Gavin Buckley – now the colorful mayor of Annapolis. It quickly attracted a loyal following with its authentic menu and youthful vibe and we strongly recommend a visit. A friendly staff stands ready to introduce you to its many offerings of both interesting cocktails and innovative fare.
Euro Dining
Belgium is the birthplace of Frederik De Pue, the engaging chef-owner of Flamant (77 Annapolis St.) in West Annapolis. De Pue, whose restaurant has won widespread praise from the critics, has transformed a cottage into a living portrait of a European-style bistro with food to match. His creative configuration of the modest house features an open kitchen that allows patrons to watch De Pew (and his staff) in action. Prices are high for the pleasure of sampling his imaginative menu, where vegetarians and gourmands will find choices geared to both groups. Bring your adventuresome self to this gem - but leave the children at home.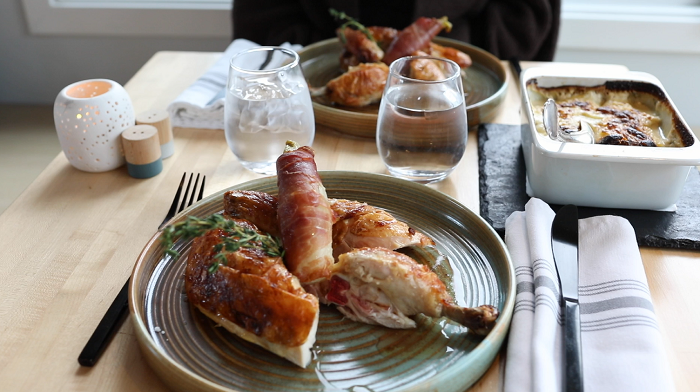 Flamant
France is well-represented in Annapolis food by Café Normandie (185 Main St.), a delicious destination for simple French favorites skillfully prepared in an open kitchen by chef-owner Jean-Louis Evennou. He's been educating local palates for decades and providing employment for generations of St. John College students and reliably good eating for its faculty. What began decades ago as a small café specializing in sweet and savory crepes has doubled in space and amenities (a fireplace and a private upstairs dining room) and the menu has been extended to include an appealing variety of French favorites, adding such classics as boeuf bourguignon, a deep-flavored onion soup, seafood dishes and profiteroles made in-house.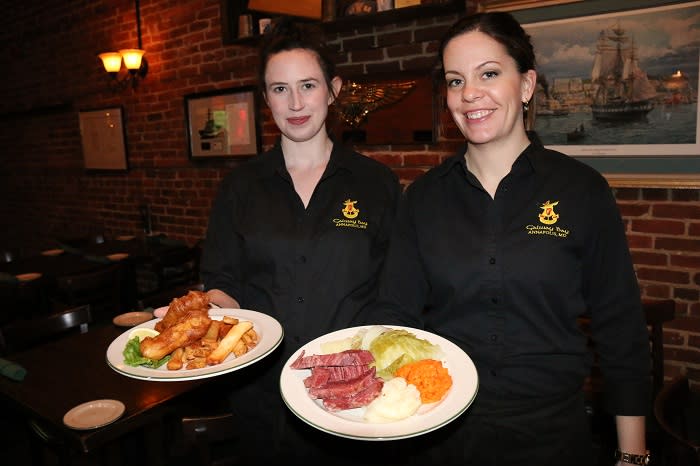 Galway Bay, Maryland Avenue.
Ireland is the native land of the owners – and several staff members – of Galway Bay (63 Maryland Ave.), where the bar is usually busy and the adjoining restaurant's Dublin-inspired decor a pleasure to behold. Fish and chips, corned beef and cabbage, Reubens and lamb stew are favorites.
Everyone Loves Pasta
Here's to the green, white, and red flag of Italy, figuratively flying over four excellent eateries hereabouts. Carpaccio Tuscan Kitchen (1 Park Place, Suite 10) is a local favorite for its expansive menu, top-notch wine list (and adjoining wine bar), Sunday brunch, well-trained staff, seasonal patio dining and overall quality.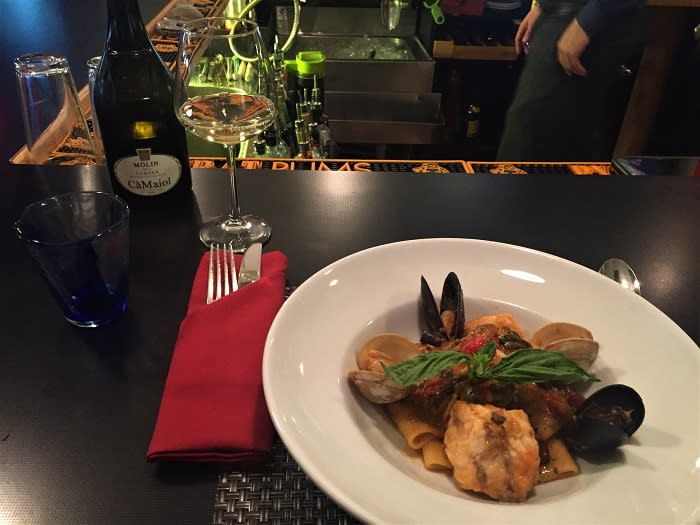 Osteria 177.
Osteria 177 (177 Main St.) in the heart of the historic district, deserves its high ranking among downtown Annapolis restaurants. Luxuriously appointed, with cushy booths and sparkling chandeliers, the restaurant caters to upscale tastes in food and wine with a menu featuring authentic Northern Italian cuisine and an impressive wine list. Service is impeccable.
Luna Blu (36 West St.), just a few blocks away near Church Circle, is a charming little trattoria where the welcome is as appealing as its Southern Italian dishes and reasonable wine list. At lunch, patrons may create their own pasta dishes from a tempting list of shapes and sauces. Dinner menus change with the season and the chef's whims.
South of the Border
Mexico inspires the spirit – and spirits – of El Toro Bravo (Riva Rd.), a popular party-site in the first block of West Street. It has grown from a small venue to a large and lively spot where communal tables and free-flowing margaritas contribute to the good time atmosphere.
Courtesy of El Toro Bravo.
Both Spain and Mexico are represented a Jalapenos (85 Forest Plaza) a handsome restaurant tucked away next to a Dollar Store near the Town Center. A close-knit trio of gentleman – two owners and a chef – have made this place famous for its happy hours, its remarkable menu of Spanish appetizers and entrees, its sangria and the friendly front-of-the house guy Gonzalez, who has just retired. Go see for yourself what's makes Jalapenos special.
Mediterranean
Greece has traditionally been the theme of restaurants here, many family-owned. One of our favorites is Paul's Homewood Café (919 West St.), where chances are your server is a family member or someone with a long association with the restaurant. Homey is a description that suits this special place, where an appetizer platter includes all the Greek favorites, the avgolemono soup is superb and the homemade moussaka will make you smile.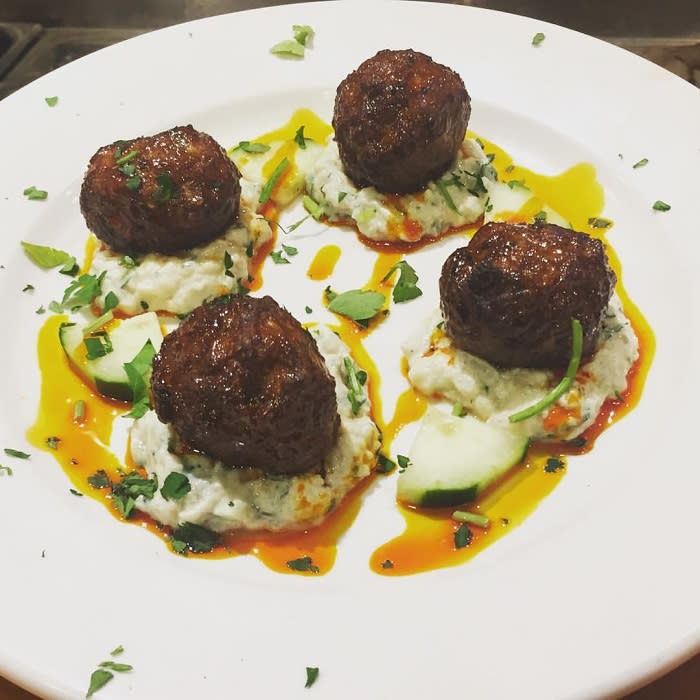 Courtesy of Paul's Homewood Café.
A more casual setting with excellent Greek food may be found at Chris' Charcoal Pit (1946 West St.), long a favorite of locals who rave about its lamb kebobs and its eggplant sub.
Images courtesy of the restaurants and Visit Annapolis