If you're searching for the perfect balance of refined dining and casual ambience this winter, look no further than Eastport's Vin 909 Winecafé, nestled in a neighborhood just across the bridge from Downtown Annapolis. Named after the restaurant's street number, and the French word for "wine", Vin appropriately boasts about eighty wines to choose from (by the glass or by the bottle) in a price range for every pocket. The food menu – which Executive Chef Justin Moore refreshes seasonally through partnership with local farms – consists of small plates for shared-style dining. In fact, they just launched their Winter 2018 menu on January 10th, so I jumped at the chance to check out their new items.
Vin accepts diners on a first-come, first-serve basis, but don't be alarmed! It's actually a blessing in disguise—the restaurant is never booked up days or weeks in advance, as many restaurants equally as popular are. While you wait for your table, you're welcome to grab a drink at the bar; in addition to their vast wine selection, they offer a variety of rotating beers on draft. An alcove adjoining the bar is dedicated to standing room for those waiting with drinks.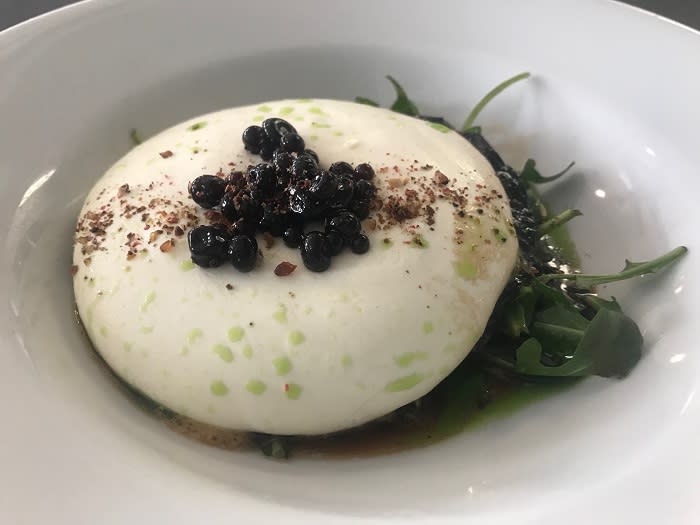 Fresh Pulled, Warm Mozzarella
If you're like me, you appreciate efficiency almost as much as friendliness. At Vin, you don't have to choose between the two. The entire staff is both all kindness and all business. The result is a relaxed atmosphere, despite the sophistication of the menu: elegance without pretension. A good example of this is their Fresh Pulled Warm Mozzarella, something they always keep a variation of on the menu. There's (arguably) nothing as comforting as cheese, and yet Vin succeeds in transforming it into a highly dignified plate. This winter, the pulled mozzarella arrives perched atop a grilled portobello mushroom on a bed of arugula, drizzled with chive oil, garnished with balsamic pearls, and served with warm, crusty bread.
The first time I ever ate at Vin, they were offering tuna tartar topped with an egg yolk, and I'll never forget how delightful it tasted. I was thrilled to see that this menu has a similar item: Blood Orange Tuna Tartar. This splendid reincarnation of the dish rivals the original, with the tang from the citrus playing wonderfully with the bite from the fresh fish, and, of course, plated beautifully, as always.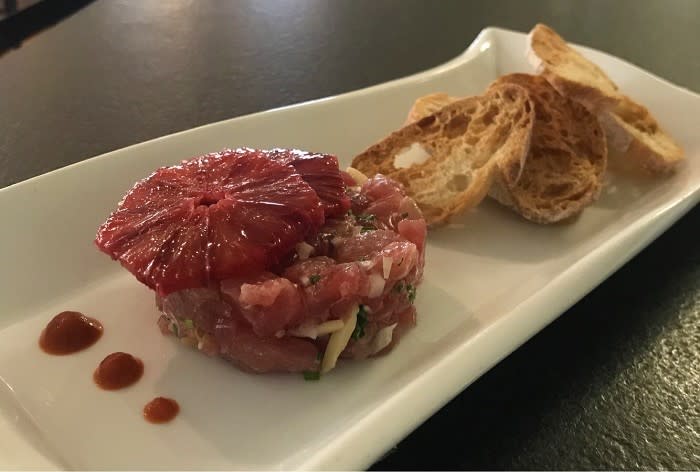 Blood Orange Tuna Tartar: Atlantic tuna, Sriracha aioli, blood orange, and almonds
They offer several other creative seafood plates this winter, as well: Steamed Little Neck Clams, Crawfish Risotto, Sriracha Shrimp and Carrot, and Squid Ink Pasta and Uni. But don't worry—there are plenty of tasty options for the red meat lover…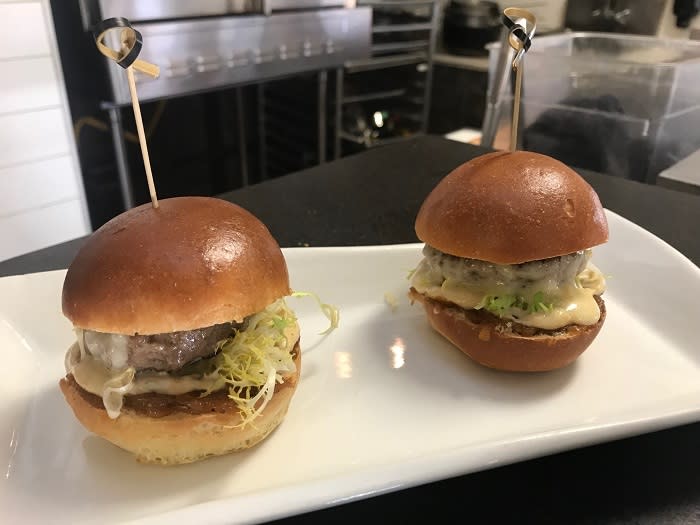 Truffle Sliders: Roseda farm angus beef, truffle brie gruyere sauce, caramelized onion, and frisee
…and for the vegetarian!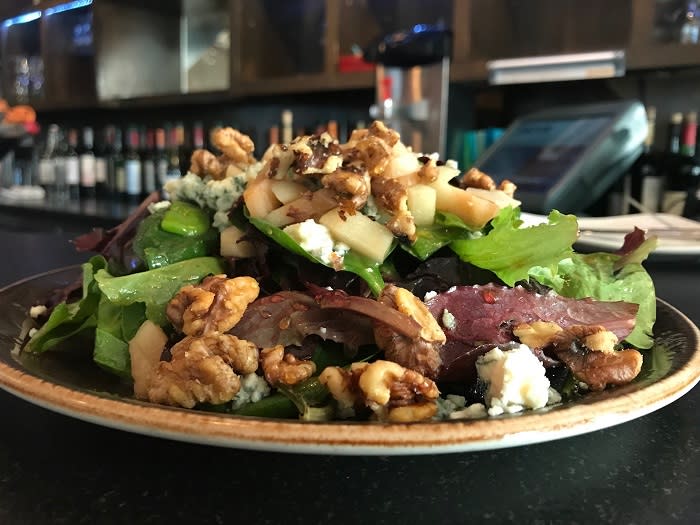 Greens Apple Salad: spring mix, cinnamon white wine poached apple,
Maytag blue cheese, walnuts, local honey, and Gravenstein apple vinaigrette
I like to end the dinner portion of my meal with one of Vin's rustic brick-oven pizzas, so that I can bring some home for leftovers. They keep a few staple pizzas fixed in the menu (the "No-Skimp Basil Margherita" pizza is a favorite, no matter the season), but there are always seasonal options to choose from, too. The wait staff willingly offers their opinions on which you should try.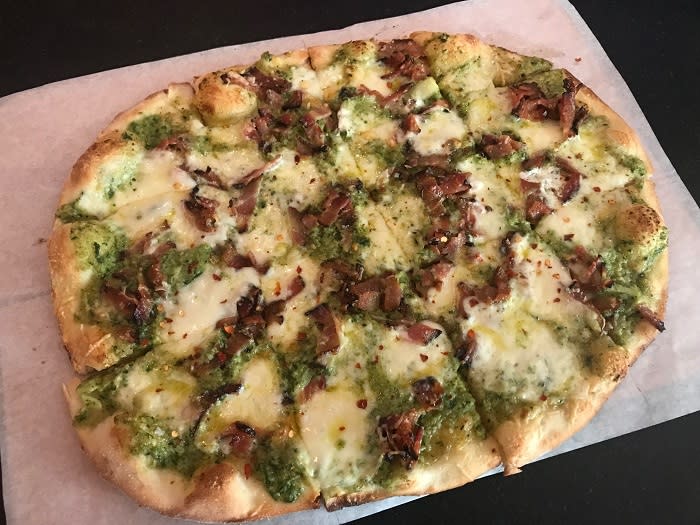 The Broc Street Pizza: broccoli roasted garlic sauce, applewood smoked bacon, fontina, parmesan, pistachio oil, and red pepper flakes
Although you may be full from the dinner and flushed from the wine, don't pass up the Butterscotch Pudding. It's the sweetest way to punctuate such a refreshing experience as dining at Vin 909.
Vin 909's winter lunch hours are Wednesday-Saturday, 12:00-3:00pm. Their dinner hours are Tuesday, 5:30-9:00pm; Wednesday & Thursday, 5:30-10:00pm; Friday, 5:30-11:00pm; Saturday, 5:00-9:00pm; and Sunday, 5:00-9:00pm. They are closed on Mondays.
The Winter 2018 menu will be available until late March.
Photos courtesy of Vin 909