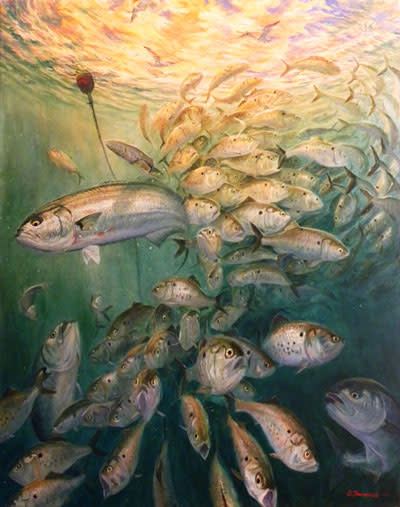 We've all stared into the blank abyss. Whether it be a sheet of paper, a computer screen, or a canvas staring back at you, we've all had our share of creative blocks from time to time. My new favorite solution? Break for fresh air and head to the water with my SUP (stand-up paddle) board! Whenever I need a little sunshine and want to see the local scenery at its best, there is no better place to clear my head and find peace than on a calm, quiet creek. Wildlife, lush flora and fauna, and breathtaking land and seascapes are all you need to gain a fresh outlook.
Many local artists turn to the Chesapeake Bay for inspiration, or bring part of the Bay back to the studio with them. Fine artist and fisherman Charles Lawrance begins his workday in his kayak in the Severn River to catch the best subject matter the Chesapeake has to offer. What he returns with is inked up, pressed with rice paper, and mounted on wood, employing the traditional Japanese process called gyotaku to craft his notable "Fish Printz". With electric colors and a wide variety of fish to choose from, you'll feel as though you've stepped under water (in technicolor) upon visiting his studio at 214 West Street in the Arts District.
When Charles is not fishing or printing, he also employs the sea for subject matter in his large oil canvases and public murals throughout Annapolis and Baltimore. They are sometimes realistic, sometimes surreal, but always highly rendered and beautifully executed.
See his works on the facade of Naval Bagels, a collaborative mural at the courtyard of Park Place, and check out Charles's process in action here.
While Charles so exquisitely captures the water through realism and surrealism, artists such as Kim Hovell express the essence of a day by the Bay with her dreamy impressionistic paintings of colorful shorelines and endless rhythmic patterns of oysters, one of the water's most prized local treasures.
When I asked Kim to elaborate on her muse the Chesapeake Bay, she shared: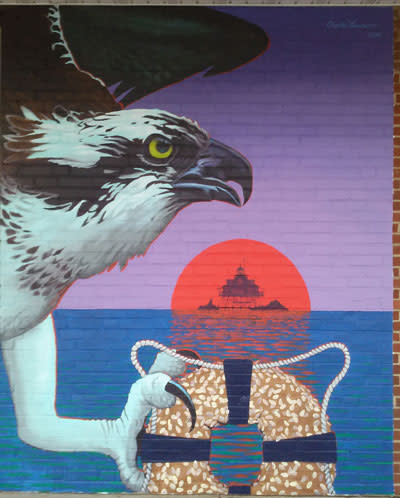 "My relationship with the water inspires much of my painting. Oyster shells are a favorite subject because of their rugged beauty. Each one captures so much color and texture, they're like the Chesapeake's precious gem stones. I also love catching the beauty of our creeks and marshes with my paintings. The water is the perfect subject. Each day shines a new light and each season brings new color and change. I feel very lucky to have access to such beauty for my inspiration."
Kim finds life by the water to be not only a source of inspiration for work, but a magnetism for relaxation and play.
"I love being an Annapolitan because we're spoiled by our access to the water. It's the backdrop of so many aspects of our lives, it's where we meet, socialize, and have fun. I love being on water, either behind a ski boat on Whitehall Creek or cruising down Spa Creek with a cool drink in hand. My new favorite way to enjoy the water is taking my ten-month-old English Labrador swimming. With his boundless energy I get to spend an hour tossing a stick and enjoying being up close with the water. It's fun for him and relaxing for me."
Whether you are inspired to create or simply wish to take a piece of the Bay home with you from one of Naptown's local artists, the undeniable beauty of the majestic Chesapeake surely stirs something in all of us. Annapolis offers so many vessels from which to explore the water, from SUP & kayak rentals to chartered boat rides. If you are planning a visit to Annapolis, make a trip on the Chesapeake Bay priority number one. Take an original interpretation of it home by viewing the work of Charles, Kim, or any number of the local talented artists inspired by the Bay.