Can it be that the first in-water boat show debuted in 1970 at the Annapolis City Dock?  This annual harbinger of spring marks its 49th birthday of the Annapolis Spring Sailboat Show on the weekend of April 26-28. Having grown from a few boats moored beside Ego Alley to hundreds of craft connected with wooden runways that allow up-close-and-personal inspections by both browsers and buyers.  New and brokered boats will be clustered in the water while merchants selling everything nautical will staff tents set up on the adjacent parking lot.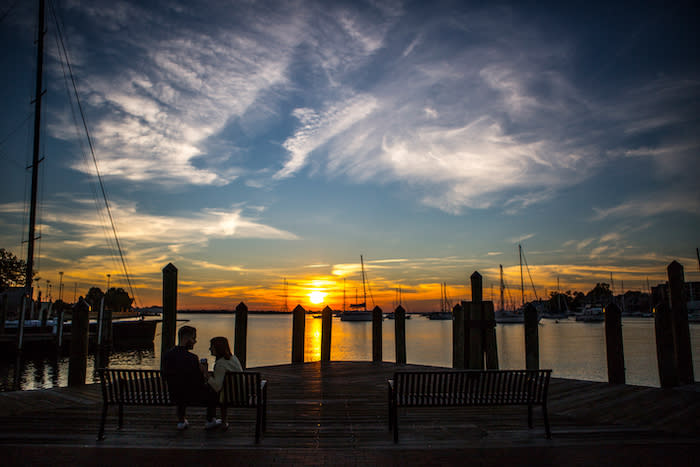 Image courtesy of VisitAnnapolis.org
Annapolis restaurants are gearing up for the occasion.  Eateries of all kinds surround the harbor, offering a variety of options for breakfast, lunch, dinner, happy hours, or late-night noshing.  The latest addition to this line-up is Latitude 38, prime dock real estate.  Serving as a temporary home for the Annapolis Yacht Club while its fire-ravaged premises were being rebuilt, Latitude 38 has a cozy ground-level bar and a second story food service area upstairs.  The iconic Eastport Oyster Boys are booked for a performance at 6 pm Friday eve to mark the beginning of Boat Maryland Week and officially kick off the opening day of Annapolis Spring Sailboat Show. Sounds like fun.
Looking for some hearty fare?  Visit another relative newbie to the dock area restaurant roster, a branch of the popular Mission BBQ franchise. Housed in a former hardware store on the corner of Dock and Randall streets, and decorated with memorabilia honoring soldiers and first responders, its menu is simple, straightforward and geared to please diehard fans of all-American barbecue.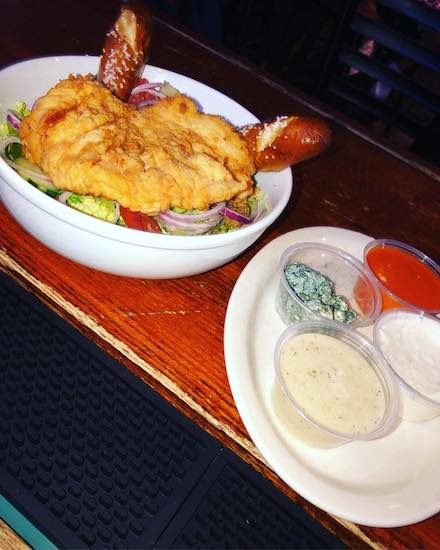 Image courtesy of Armadillo's
Armadillo's (gotta love the name) has been around for years, noted for its crab cakes, generous cocktails, and friendly atmosphere.  Take a break from the hustle-and-bustle and grab an orange crush at the bar during the Annapolis Spring Sailboat Show, or wait until later and climb the stairs to a secluded second story dining room serving dinner at moderate prices.  Open late.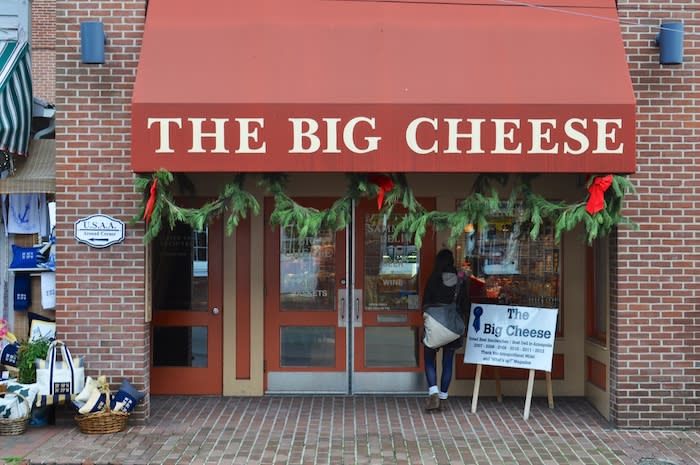 Image courtesy of Everplace
Judy and Bob Schwartzberg, longtime proprietors of The Big Cheese at 47 Randall St., are happy to make sandwiches (70 wonderful hot or cold combos) for your picnic or group gathering.  Gourmet cheeses and domestic or imported beers available for takeout. Perfect for a quick pit-stop either before, during, or after the Annapolis Spring Sailboat Show.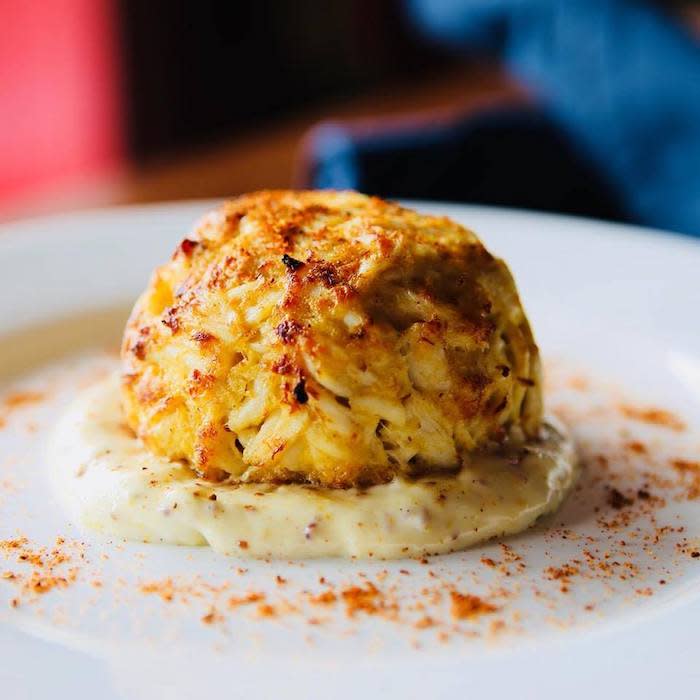 Image courtesy of Dockstreet
Dock Street Bar & Grill, the former site of a historical prison, has no visible ghosts.  They do have 8-ounce burgers ($14) cooked to the customer's taste, hearty homemade onion soup and one of the most flavorful crabcakes.  Some locals are loyal to this place, which is one of the oldest in the harbor area.
Harvest Wood Grill & Taproom, has its share of fans who crave the special flavor of burgers broiled over an open flame, house-made Belgian waffles, grilled oysters and Saturday Karaoke Nights. Lunch, dinner, weekend brunch.
Federal House Bar & Grill, is the only place I know of with a special printed Doggie Menu, featuring $4.50 Bow Wow Burgers as well as other canine treats provided by Paws Pet Boutique on Church Circle.  As you would expect, the vibe is clubby, with brick walls and archways adding to the ambiance.
When Iron Rooster opened several years ago, it was the talk of the town – and the buzz continues.  Locally owned and using local ingredients when available, this is a breakfast-all-day as well as lunch and dinner destination.  Communal tables encourage the conviviality for which Iron Rooster's servers are known.  Portions are generous and there are delicious variations on classic recipes from the talented kitchen staff.  An egg-cellent way to get your morning started before heading over to the Annapolis Spring Sailboat Show!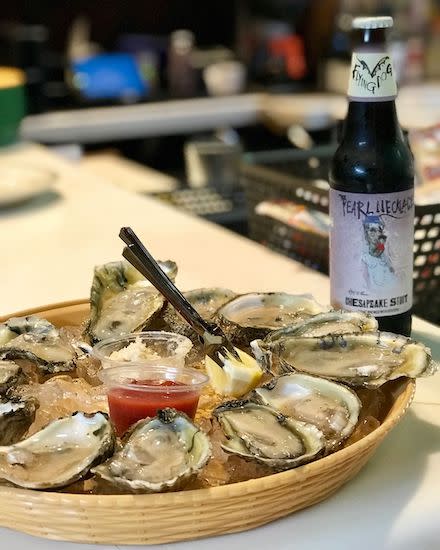 Image courtesy of McGarvey's
McGarvey's Saloon and Oyster Bar is the place my brother wants to hit when he visits from California.  "It's the real deal," he says simply while feasting from the always-fresh oyster bar. Retired Air Force Captain, and popular Annapolitan Mike Ashford, retired after more than 40 years at the helm, turning it over to three USNA grads who vowed "not to change a thing" – and they haven't.  Daily specials, including Friday's popular prime rib sandwich ($14). Open daily for lunch, dinner and Sunday brunch.  Mezzanine reservable for private parties.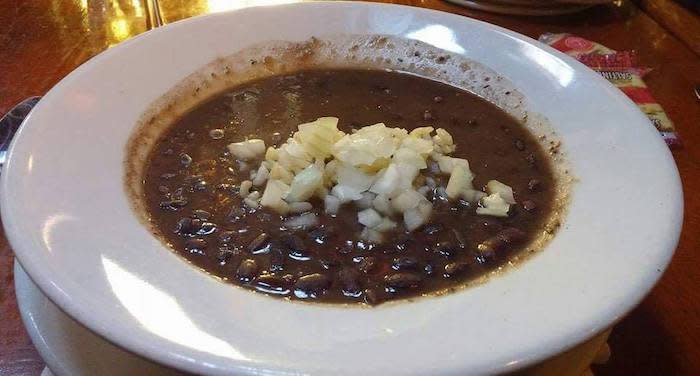 Image courtesy of Middleton Tavern
Middleton Tavern is the oldest and most well-known downtown dining establishment, creating a stir when it started serving Sunday brunch back in the 1970s.  Steak and Eggs, with a complimentary Bloody Mary, attracted the after-church crowd, an audience that grew to include many more.  Awnings shelter outdoor diners, a perfect place for people-watching, and the first-floor bar famous for its oyster shooters.  Black bean soup made from a onetime cook's secret recipe, a classic Caesar salad, crab-stuffed sole are among the favorites.  Strollers and well-behaved dogs welcome.
City Dock Café, opposite the Market House, starts its day at 7 am, catering to the city's many runners who like the coffee and homemade muffins as well as the convenience.  It's a good place for coffee and wi-fi.