It's the eighth year for the Annapolis Spring Boat Show, a popular in-water extravaganza that attracts sailors and their families to our picturesque harbor in the heart of downtown.  The April 20-22 event occupies every inch of the parking lot as well as Ego Alley, so named because on weekends fancy boats share the water with bikini-clad recreational paddlers and clean-lined kayaks.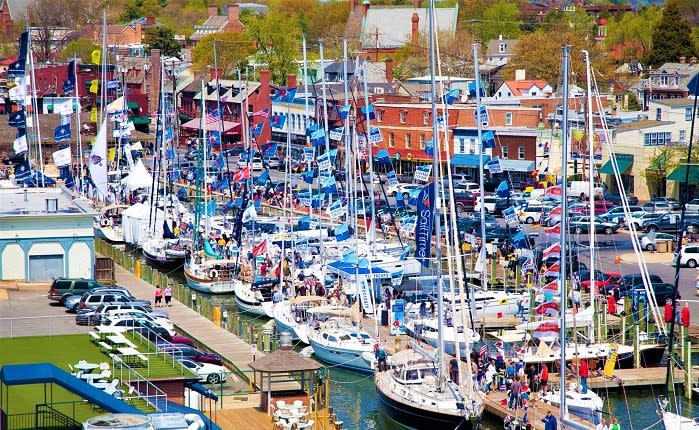 Spring Sailboat Show
There's a lot to do during show hours (10 am- 6 pm Friday and Saturday; 'til 5 pm Sunday) and finding a place for snacks and meals is part of the fun.  While there are free wine and spirit tastings available to show ticket holders, you will have to look elsewhere for breakfast, lunch, snacks and dinner. The area is awash with options, a few of which are:
Downtown Breakfast, Lunch, and Dinner
Iron Rooster
Iron Rooster (12 Market Space, open 7 am-10 pm.) serves breakfast all day, lunch and dinner options; huge portions, friendly service, family owned, communal tables. Very popular with locals. Comfort food, for sure. Next door on Market Space, you'll find City Dock Coffee, another favorite for its good coffee and breakfast pastries; runners love to make a quick stop here; ditto for dog walkers.  Sofi's Crepes (1 Craig St., open 8 am-9 pm, 6 pm on Sundays) offering savory and sweet crepes made to order by sunny servers. Take away or perch at few sidewalk tables.  This wee eatery sits just outside the gate to the United States Naval Academy visitors center.  Present your ID and walk to the center nearby for exhibits and souvenir shopping.  For a formal breakfast, consider the street level Treaty of Paris restaurant in the Maryland Inn, an historic setting where traditional breakfast is served starting at 7 am.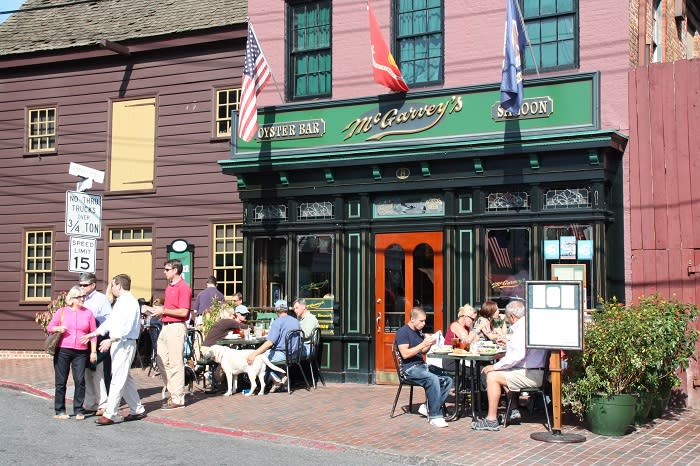 McGarvey's Saloon and Oyster Bar
Pip's Dock Street Dogs (118 Dock St., open 11 am-4 pm), used to be a "best kept secret" but that was before it was discovered by the hungry public looking for a good place for quarter-pound burgers, all-beef Sabrett frankfurters and Philly cheesesteaks. Take-out or squeeze in.  Big Cheese (47 Randall St.), has what it takes to provision your boat or feed a family. Order ahead by calling 410-263-6915. Middleton Tavern (2 Market Space), and its next-door neighbor McGarvey's Saloon and Oyster Bar (a favorite of the sailing set and recently sold by iconic Annapolitan Mike McGarvey to several Naval Academy graduates) are both known for their food, spirits and general karma.  Mission Barbecue, a national chain with a patriotic theme celebrating our service members past and present, is a newcomer to the space occupied for years by Stevens Hardware.  That name remains on the building where you will find authentic barbecue and a casual vibe.
Osteria 177
Joss Café & Sushi Bar (195 Main St., open for lunch and dinner), is first-rate, with skilled chefs performing in the main room and a quiet outdoor terrace for table service. Just up the street at 165 Main, is the famous Chick and Ruth's Delly, which has recently changed ownership but stays the same, i.e. friendly servers, giant sandwiches named after local politicians, big breakfasts and the daily recital of the Pledge of Allegiance at about 9 in the morning.  Be prepared to be patient.  In the next block of Main at the corner of Conduit, is the widely-acclaimed Osteria 177, an authentic Italian trattoria with excellent food and wine served in an elegant setting.  Lively bar scene included.  Make a lunch or dinner reservation at 410-267-7700.  For breakfast, lunch or dinner at one of our most charming restaurants, make reservations at Café Normandie, (185 Main St.). Chef-owner Jean Louis celebrates 31 years in business this year. French country fare, sweet and savory crepes, and regional seafood specialties are on the menu. Reservations suggested: 410-263-3382.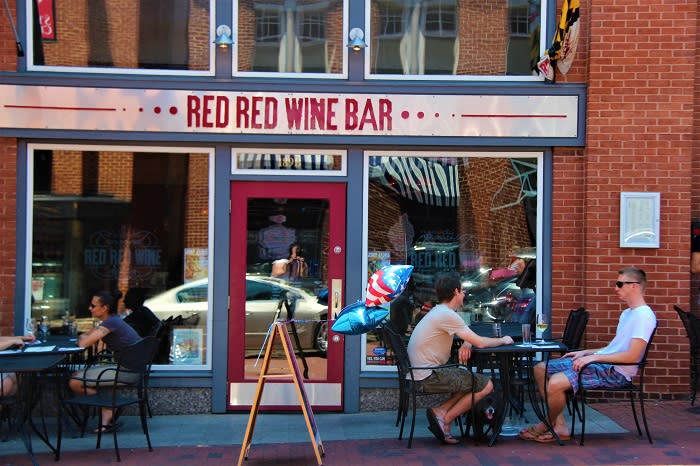 Red Red Wine Bar
Preserve, a practicing farm-to-table operation at 164 Main, has a vegetarian-friendly bill of fare that appeals to purists.  The owners, a millennial couple who migrated from Eve's in Alexandria to Annapolis, are inventive and involved in their unique establishment.  Mason's Famous Lobster Rolls (188 Main St.) receives mixed reviews for its made-in-Maine specialty that gives Maryland crabs a run for the money. Red Red Wine Bar (189 Main St.) is fun and quirky, the brain child of TV news anchor Brian Bolter and his wife Lisa.  They share their love of wine (35 varieties) by the glass and a cellar of 120-plus bottles.  The ever-changing menu pairs food and wine, the vibes are right and the servers themselves are folks you'd like to know.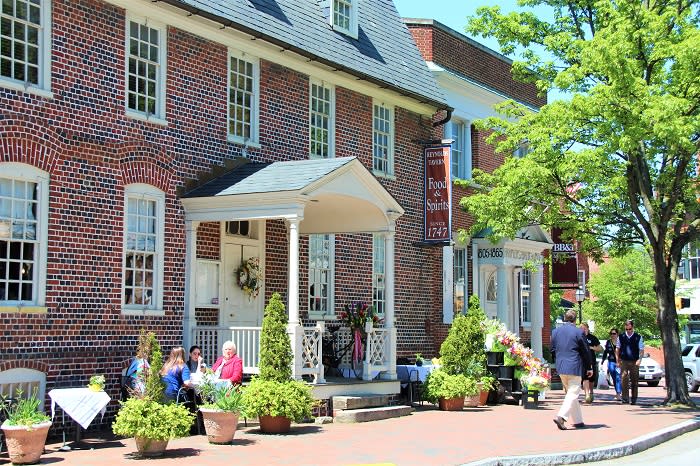 Reynolds Tavern
We conclude this foodie-favorite tour of Main Street with a recommendation of the authentic tea service as well as lunch and dinner that has made Reynolds Tavern (7 Church Circle) among Annapolis' special attractions for those who cherish tradition over innovation.  Reservations recommended: 410-295-9555.  Oh...one more thing: the pub food in the Fox's Den is stellar and the brews are delicious.
With so many options for visitors to enjoy during the Spring Sailboat Show, it's no wonder why the event has been drawing thousands each year from around the world.
Photos courtesy of VisitAnnapolis.org