When Margaret Davis accepted the position of CEO at Maryland Hall for the Creative Arts last year, the Baltimore Sun highlighted her as one of the 25 women to watch in 2017, and It doesn't take long to figure out why.  I first met her at one of our Open Studios, and it was instantly apparent that she was delighted to be at Maryland Hall, surrounded by what she loves – the arts and artists.  Friendly, upbeat and knowledgeable, she had a genuine interest in me and in my story, and that is true with everyone she meets. I love her enthusiasm, and I learn something every time we chat.  Couple that with her impressive background and credentials, it is clear she was the right choice to usher in the next phase for Maryland Hall.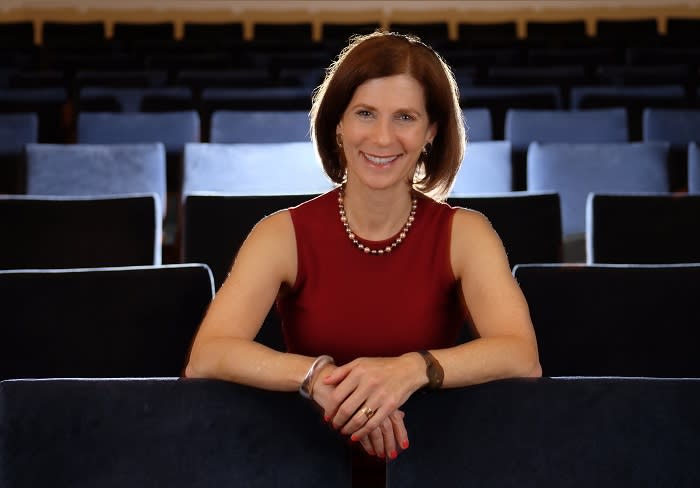 Margaret Davis, Courtesy of MD Hall
Coming up on its 40th anniversary as a full-spectrum arts center, this historic building continues to undergo facility renovations that honor the historic elements while focusing on a new contemporary guest experience.  And with their new CEO at the helm, the brand and offerings are also undergoing a revision to create a bigger and broader community presence that is all-inclusive, while continuing to build on the strength of the successful programs, residencies, and classes the community has come to rely on for enrichment.
In her own words, Margaret Davis is "hardwired to love the arts," and her passion is evident in every conversation.  She was raised in the arts.  "It is who I am at the core. I thank my parents for raising me in such a dynamic art center in downtown Chicago.  They recognized that cultural, political, economic, and community movements happen through the arts."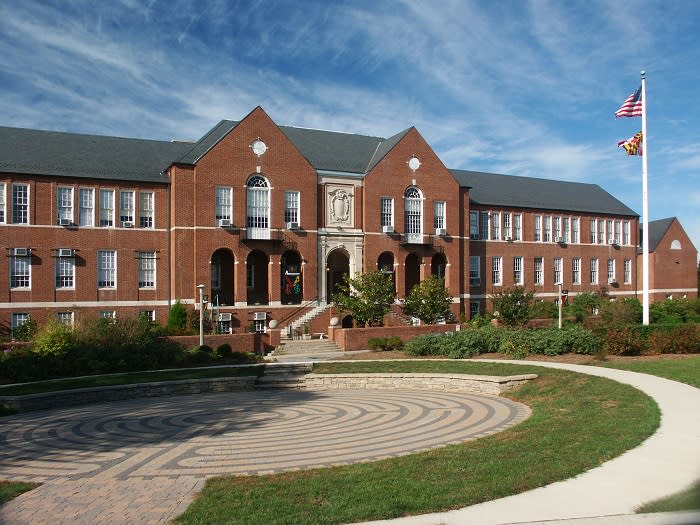 MD Hall with Labyrinth
It was their way of life.  Immersing themselves and Margaret in the symphony, opera, ballet, visual arts – everything that was available and accessible – helped her fully appreciate the value of the '3D experience'.
"Art changes lives, and people in the arts are bridge builders. There is a magic and a strength that occurs through the arts that doesn't happen any other way.  Live art experiences inspire people; you need to see it, touch it, feel it to understand the difference between what you might see in an online gallery or streaming a performance.  And when people have the opportunity to talk to the artist, it is a whole difference experience that can enrich the soul."
Describing herself as an urban animal, Margaret shares that her mother was involved in minority and immigrant issues, and she has vivid memories of her mom putting her in the car and touring the West Side of Chicago after the burning from the April 4 riots that followed Martin Luther King's assassination to fully understand the impact it had on the city.
This shaped her personal mission; she is passionate about community engagement that ensures people have inspiring art experiences and outreach in a truly "Art for All" way.  What drives her is constantly thinking about how to provide access, how to engage equally with populations that have not been enabled or included.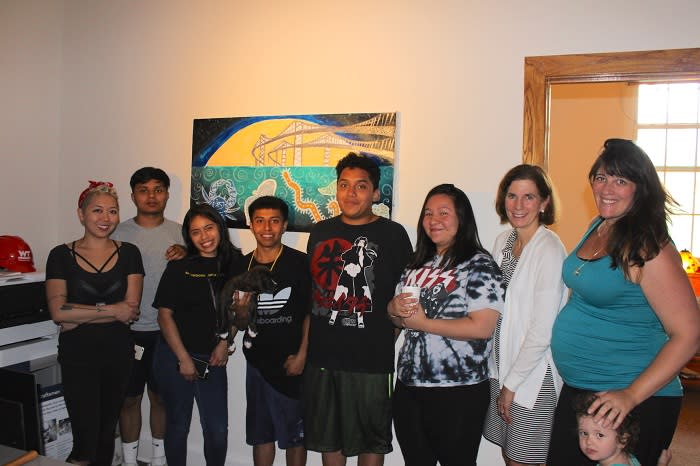 Margaret Davis with Jovenes Aristes and commissioned painting, photo courtesy of MD Hall
After graduating from Mt. Holyoke College and interning at the Art Institute of Chicago, she went on to a development position at Northwestern University, to understand the revenue aspect of a great arts program.  She has spent her entire working life in nonprofit leadership in the arts or education or both, including positions such as the Community Director of Development and Outreach Ravinia Music Festival for eight years; Associate Dean at Washington National Cathedral; a seat on the Arts and Business council in NYC; and the Center for Public Leadership at Harvard's Kennedy School of Government.
"I had no intention of leaving the great job I had as CEO of Marine Corps Scholarship Foundation."  It is the oldest and largest need-based scholarship provider to military children, and in nine years she led them to record-setting success, doubling the scholarships to $8 million.  She felt fortunate to have the opportunity to work with a great team, with whom she shares the credit.  "The magic of this (MD Hall) position coming available spoke to me.  I chose to do it."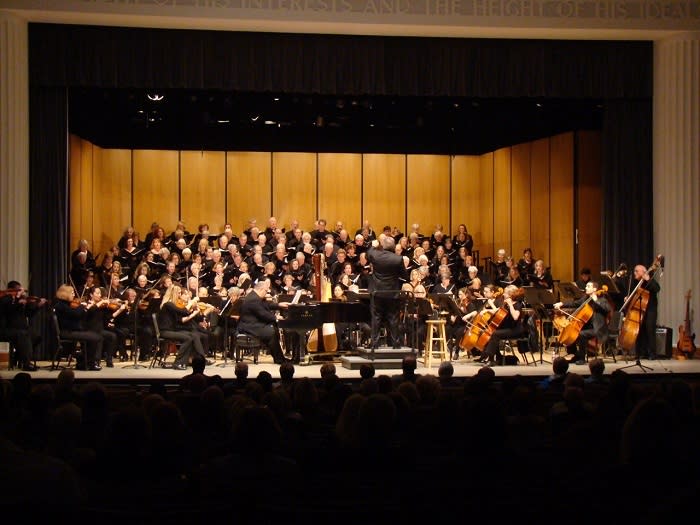 Annapolis Chorale at MD Hall, 2016, photo courtesy of MD Hall
Margaret says, "The CEO title is not a reward; it is a challenge and a responsibility to live into every day. I feel I have to earn it. I start my day saying how am I going to make a difference in my region today?"
She is continuously looking for that which the community is craving, that is appropriate and out of the ordinary.  It's about creating safe, healthy and inspiring experiences where people can feel better when they leave.
I asked her how she is progressing, and what is her approach. "It takes listening, collaboration, management of resources and staying focused on the mission – pull it all together and you have this magic brew. It's about getting the right people, the right process, and not getting bogged down so you can see progress."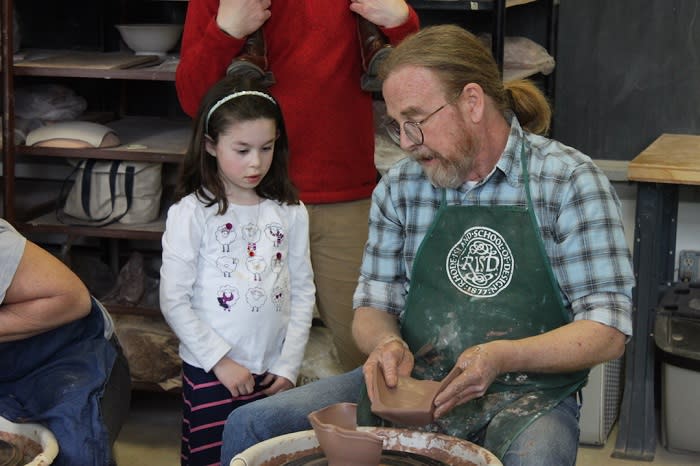 ArtFest Demonstration 2018, photo courtesy of MD Hall
The impact of her leadership and revised vision over the last year is evident with an expanded program of performances and joint community endeavors.  There is a renewed commitment to move into the Maryland Hall tag line "Art for All" more than ever; to spring forward and show the community that the tag line is true.  A few weeks ago, Maryland Hall provided a venue for "Prayze in the City 2", a gospel festival after it was displaced from its original location.  Helping facilitate another organization's program lends strength to their vision and begins to build a bridge, showing a willingness to help further the common mission of creating unity within the community.
"We want families and students to know they are welcome.  We have great outreach programs with Jovenas Artistes and ArtReach, and a new outreach to the caucus of African American leaders of the boys and girls clubs."  Margaret interacts personally with these groups and it makes a difference.  She commissioned a painting from Jovenas Artistes for her outer office, and without any direction or mention of it, they painted a bridge, which is Margaret's – and Maryland Hall's - number one mission – to create a bridge to collaborations and populations that spans the divides between the community and arts.
Maryland Hall has a lot to offer and it is growing: free events, free parking, amazing exhibits, and performance tickets available at a very reasonable price, as well as pop-up one-day workshops and an entire curriculum of full semester instruction.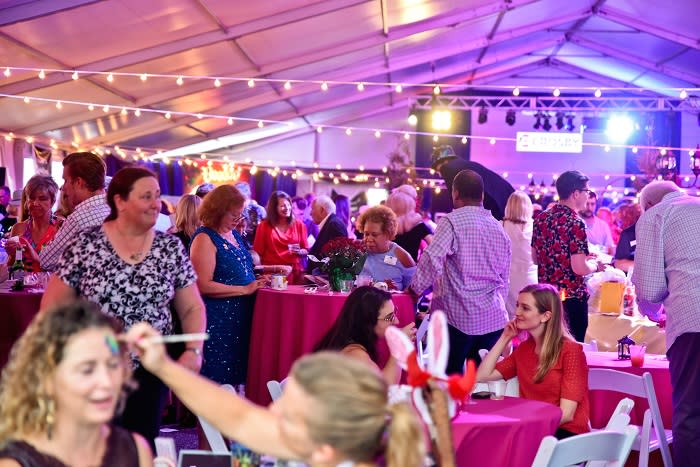 MD Hall's Arts Alive Fundraiser 2018, photo courtesy Pure Light Images
"We are about being connected to visitors and residents. We are a joy-filled business, and this is a destination.  Soon we will have public art out in the front of the building, picnic tables around the labyrinth with Wi-Fi access, and we will participate in Bikeshare. I'd like everyone coming through the doors to understand that this is about art for all in the community and making a difference together."
She gets animated when talking about the upcoming range of performances from resident groups and collaborations with others, such as the "Catapult: The Amazing Magic of Shadow Dance" that just occurred.  This month's surprising variety:  A performance by The Alexandria Folk Dance Troupe of Egypt, a John Lang concert, a political debate, Portland Cello Project Performing Radiohead's OK Computer, and what looks like a very fun Opera Insight series into one of opera's most outrageous characters, Figaro, the Barber of Seville.  That's just the short list.  A note from me:  If you are a visitor, I have to say the caliber of the art and performances is more than what you might expect from a "local art scene".
As a mother of two grown children, she is excited to bring her five-year-old grandchildren to the Annapolis Opera's "Billy Goat's Gruff" coming up in January, and the many other child and family-friendly performances.
So I had to ask, "Are you an artist?"
"I wish I was more creative personally – our business lives can take over.  I do love photography, and I used to love working with mosaics and glass fusing.  I am drawn to the art of ancient Greece and Turkey.  Actively creating uses a different element of your brain and feeds your soul; there is no substitute."
She does have an excellent partner in crime; her husband is a retired Marine Major General, and he loves the arts as well.  She told me "marines are multi-dimensional people open to new experiences."  Of course that makes sense, because it is clear she lives each day from her core.  She doesn't just work at a job, she embodies the spirit of what it takes to do that job, living and breathing it.  They discovered Annapolis 25 years ago by boat, and knew it was a place they had to live; that is perfect for who they are.
We are lucky that Margaret Davis chose Annapolis and the position at Maryland Hall… though with her belief in magic, I suspect a little of that was at play.  She's a great fit, and I am excited about what the future holds for Maryland Hall!
Images courtesy of Patrice Drago and Maryland Hall for the Creative Arts