Farmers Markets
Buy local. Eat healthy farm-to-table food. Get to know your farmer. Support the grassroots economy. And—while you're at it—sustain the planet and reduce your carbon footprint. It's super easy to do all this and more at one of the hometown farmer's markets in Annapolis and Anne Arundel County. At least eight well-organized markets take place around the city and county weekly, each market spilling over with abundance.
Most are open May through October, and a few are open during the winter months. The Anne Arundel County designated farmer's markets are "producer-only," meaning that vendors can sell only goods they've grown, harvested, or produced themselves.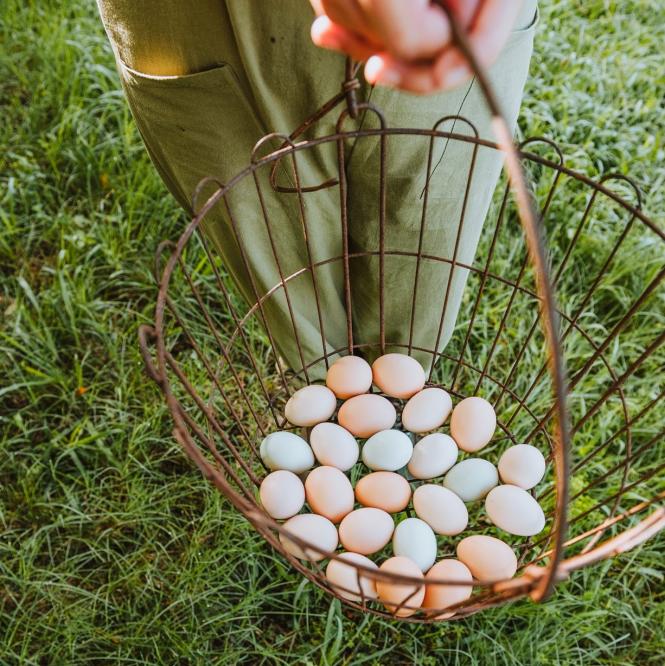 A basket of rainbow-colored eggs from Wildberry Farm & Market. Image courtesy of Wildberry Farm & Market.

 

The lively outdoor markets offer locally produced agricultural products, seasonal vegetables and fruits, herbs, milk, yogurt, cheese, meats, eggs, baked goods, pickles, jams, honey, candies, soaps, and jewelry. At the markets, you can even find your lunch or breakfast, prepared just for you. Going to a farmer's market can become part of your weekly routine, something you'll look forward to as one of life's great pleasures. The vibrant, colorful markets are community hubs, social events, and great resources for the home cook!
Pennsylvania Dutch cooking: cakes, meats, cheeses, candy, fresh produce, handmade soft pretzels and baked goods. Thurs. 10 am-6pm, Fri 9 am-6pm, Sat. 8:30 am-3pm. Annapolis Harbour Center.