Sweet and salty, with a high umami appeal, Maryland blue crabs are in a class by themselves.  Their season begins in April and runs through November, with their weight and breadth increasing the longer they stay in the Chesapeake Bay and its tributaries.  June is when the season gets up and running, welcome news for locals as well as travelers to Annapolis, Maryland's historic capital city and home to the U.S. Naval Academy.  After "taking the temperatures" of our best crab houses, I learned in conversations that earlier predictions may have been overly rosy but everyone from watermen to consumers are hoping that warmer temperatures will soon bring more crabs local tables.  Current market pricing at this time averages per dozen rates starting at $45-$115.
Starting with the most authentic waterfront crab houses in the area, this list is meant to be a guide in your search for local crabs as well as clams, scallops, and fin fish.  And, as a reminder of your days on the Bay, we suggest bringing home a few containers of Maryland-made Old Bay Seafood Seasoning, stocked at Graul's Market. While you're there, pick up a complimentary copy of their June magazine for a wealth of summer recipes.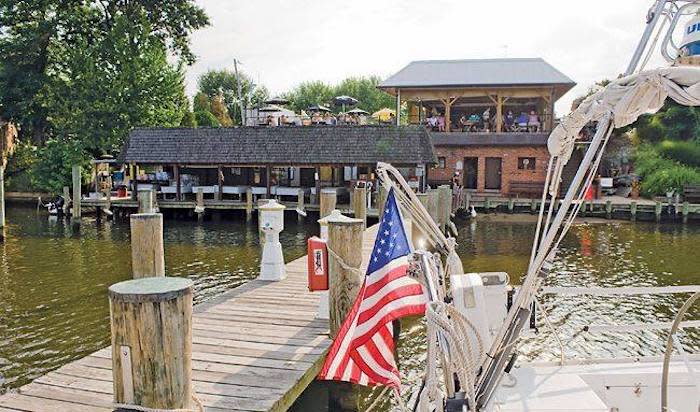 Image courtesy of Cantler's Riverside
Cantler's Riverside Inn
Our most venerable place to enjoy the sport of crab picking is Cantler's, our original "seafood shack" on Mill Creek where watermen, boaters and visitors gather for good times – either at sheltered outdoor tables or in the cozy (if dated) pine-paneled interior.  Five generations of the Cantler family have been feeding a growing clientele with locally-caught crabs, steamers (with stomachs), in-season oysters and steamed corn – together with a wide selection of other treats, including steaks for the unconverted.  A staff of eager young waiters make crab feasts fun for all, though one would wish for the availability of beer in pitchers.  Come as you are, count all the out-of-state car plates, and check out the "crab condos" down by the water where you can watch your soft-crab dinners shedding their shells.  Open Mon-Thurs 11 am-10 pm; Fri-Sat 'till 11 pm.  Reservations by phone for groups of 10 or more.  Complimentary boat slips as available.  Call ahead. Hint:  Use your cell phone GPR to guide you there.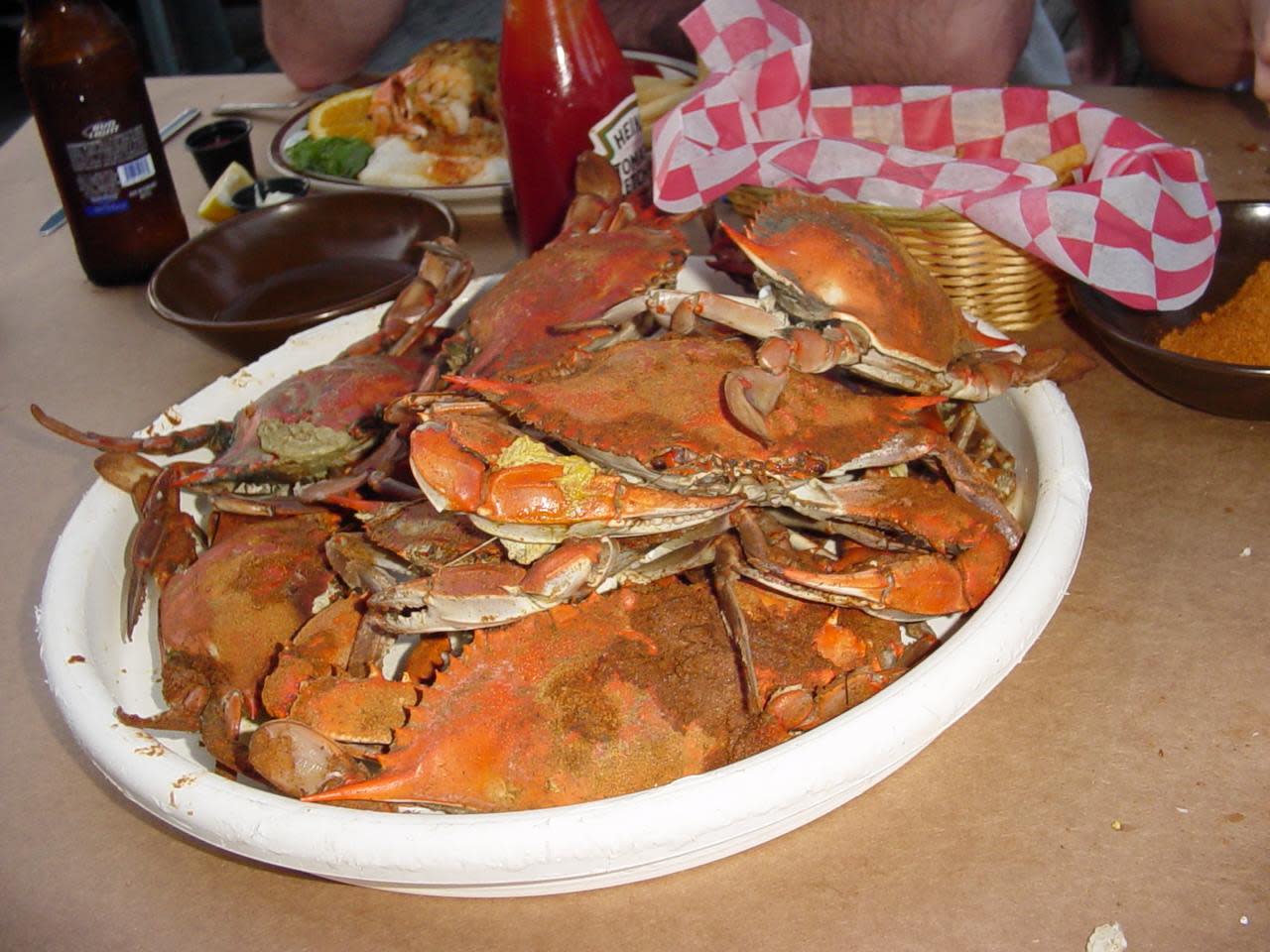 Image courtesy of MIke's Crab House.
Mike's Crab House
Open since 1958, this family-owned landmark on the South River is kept lively by second and third generations of founding father Mike Piera.  The current version features a tiki bar, 20 big-screen TVs in the sports bar and live music on weekends.  Cooks use the restaurant's special seasoning for the steamed crab cooked to order and served at tables covered with brown wrapping paper.  Best seating in good weather is on decks overlooking the marina, where customers may park their boats in available slips.  Mike's has a second location called Mike's Crab House North just outside Annapolis in the White Rocks Marina on Rock Creek.  Both locations open April through November (except Mondays) 11 am-close and weekends 11 am-close.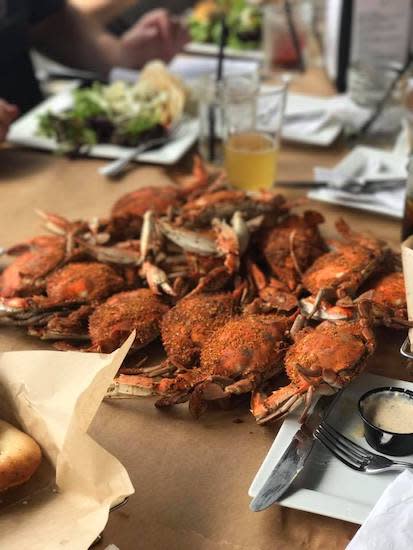 Image courtesy of The Point Crabhouse and Grill.
The Point Crab House and Grill
This relative "newbie" to our surprisingly lean list of dedicated crab houses has been a hit since its 2012 debut in a residential area just outside of Annapolis.  The Point is perched on the scenic Mill River, and utilizes every inch of space to accommodate diners at outdoor tables or inside a glass-walled structure that converts to open air when weather permits.  Popular with a younger crowd, including young families who live in the neighborhood and boaters who like the convenience of dockside parking, it is usually bustling.  Chef-owner Bobby Jones and his wife Julie keep a close eye on this efficient and slightly homespun operation, incorporating family recipes like Jones' "Mom-Mom's Maryland Crab Soup" and "Nanny's Deviled Eggs" into his seafood-centric menu.  Come casual to the party and prepare to be charmed and forgive the wait.  No reservations/first come, first served.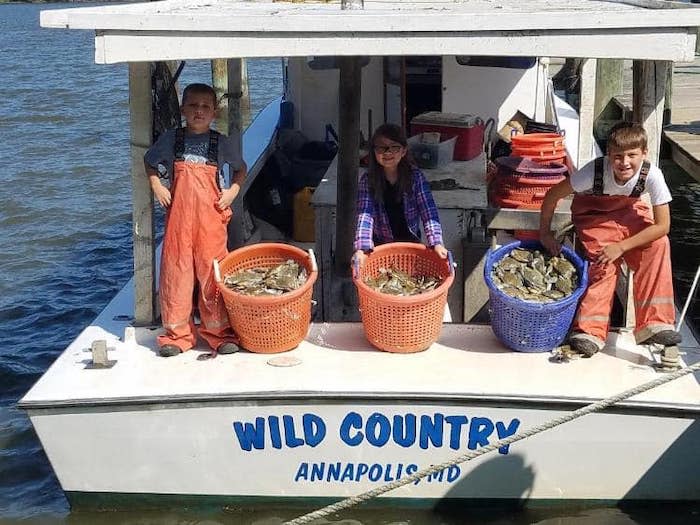 Image courtesy of Wild Country.
Wild Country Seafood
This tiny retail outlet for the Mahoney & Son team who captain their individual fishing boats, leave early most mornings and putting their catch up for sale in the afternoons.  Housed in a sparkling clean Shoplet at 124 Bay Shore Drive next to the Annapolis Maritime Museum in Eastport, this seafood destination has five small outdoor umbrella tables where patrons wait for their crabs to be steamed or fish to be fried.  Hours are weather-dependent and a call to 410 267-6771 is suggested to confirm the usual openings of 3-7 pm Wed, Thurs; 11 am-7 pm Fri-Sat, 11 am-5 pm, Sun.  Closed Mon-Tues. Picnic spots adjacent to Museum.  A good place to take well-behaved dogs.