A December cold snap hits and there's a hint of snow in the chilly air. On the streets of Annapolis, happy shoppers and revelers bustle along crowded sidewalks alongside bundled-up employees making their way homeward.
Above them, canopies of sparkling lights crisscross overhead, and the bare branches of street trees twinkle with spirals of white lights. Against this cheery backdrop, evergreen branches and magnolia leaves pop green and bright on nearly every lamp post, door, and window.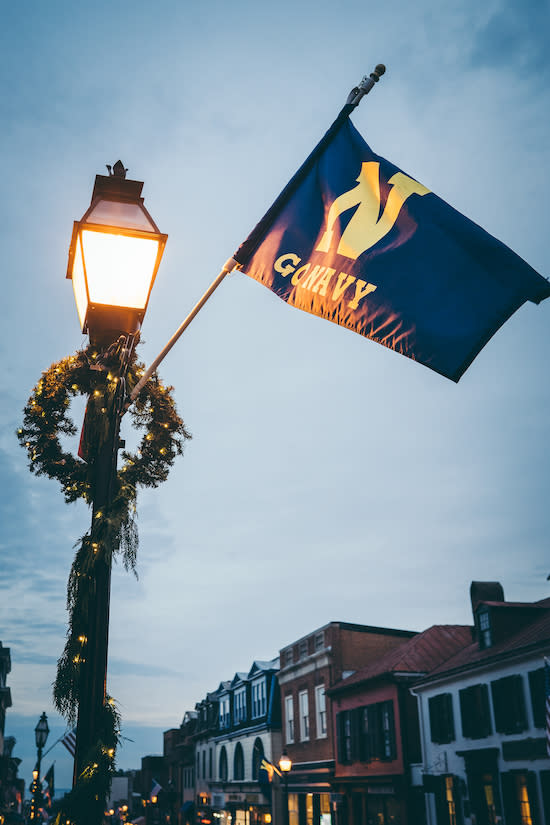 There is something primordial in our desire to gather green branches and sprigs of red berries for our front doors and tables as soon as there's a nip in the air. Here in Annapolis, the month of December always brings glistening displays of fresh-cut greenery from the surrounding countryside and gardens. Pines, cedars, hollies, junipers, and magnolias all contribute their branches to be adorned with red ribbons and glittery bows.
The original source of the impulse to decorate with greens is lost to history. Maybe the inclination arose from a pagan ritual or a primitive celebration of the winter solstice, but whatever its origins, the delight we take in holiday branches and boughs is irresistible.
Holiday Greenery on Display
Annapolis is decked out in early December each year, thanks in large part to the Annapolis Jaycees, a volunteer service organization that raises funds by hanging garlands, swags, and lights for downtown businesses and institutions. The Downtown Annapolis Partnership works with the Jaycees as they ring in the holiday season throughout the town. 
Local businesses are especially inviting this time of year, with garlands, wreaths, and swags garnished with red ribbons and lights invigorating their storefronts. You can't help getting in the holiday spirit with a walk up Main Street, along West Street, through Snowflake Alley, or around State Circle to Maryland Avenue. The glimmering greens and sparkling lights will surely draw you in for a little shopping or a hot beverage or meal to warm you up inside.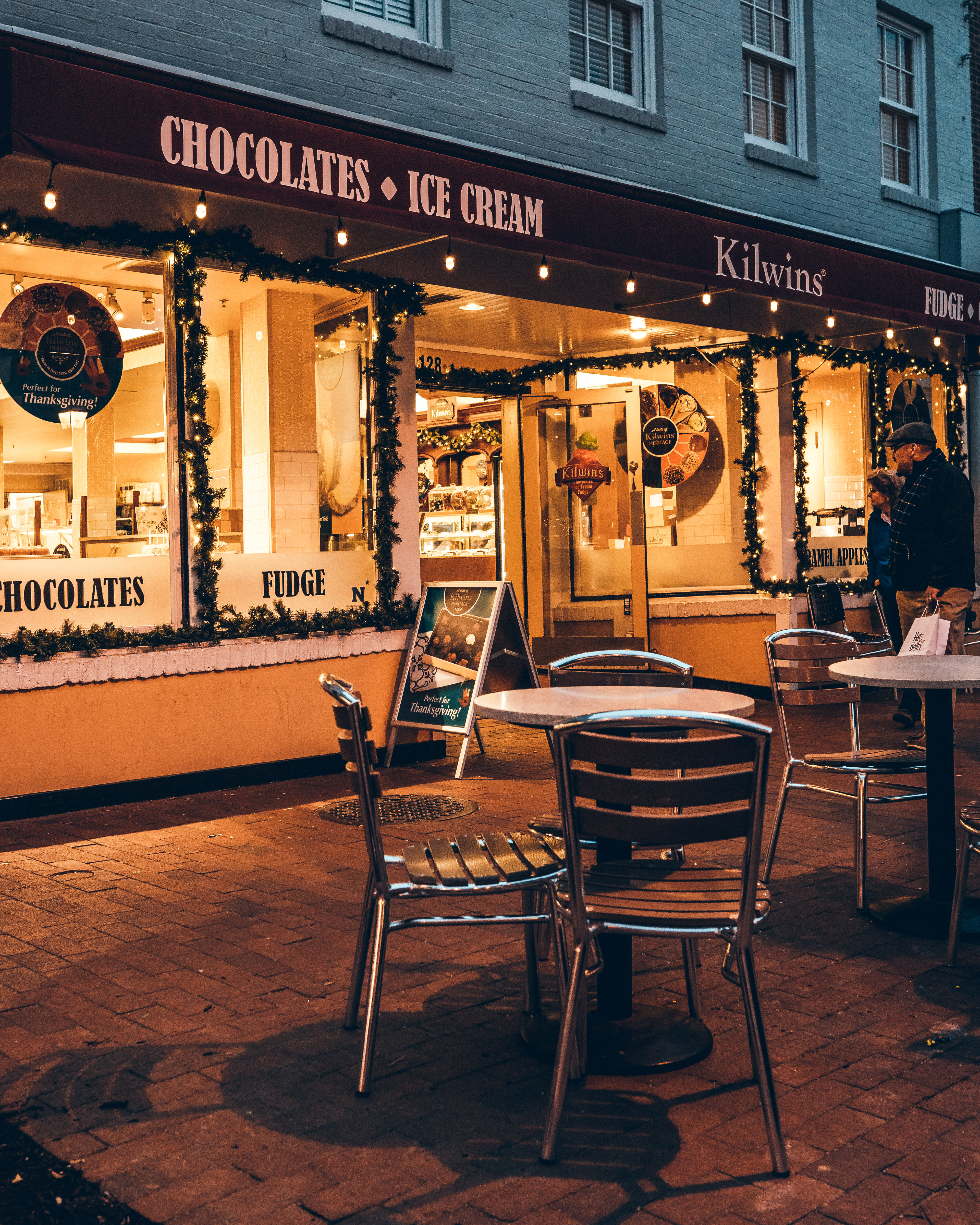 Be sure to see the beautiful lighted tree near the Market House at the foot of Main Street. The tree lights up every evening through the season, beginning each year with Santa's arrival at the Grand Illumination on the Sunday after Thanksgiving.
Historic Sites are Decked Out for the Holidays
Elsewhere in town, our historic homes display beautiful greenery in period style. At the Hammond Harwood House (HHH) museum on lovely Maryland Avenue, classic holiday decorating has been a tradition for centuries. HHH hosts an annual holiday greens open house in early December, where you can choose a fresh handmade boxwood wreath or centerpiece. And there is still time to see the floral designs created by local garden clubs in each of the museum's period rooms.
On Prince George Street, the Historic Annapolis William Paca House is decorated for the holidays in traditional style, with tours available through December 31st. Stop by the Historic Annapolis Museum Store at 77 Main Street during Midnight Madness, Eleventh Hour, or any shopping day for gift ideas that support historic preservation.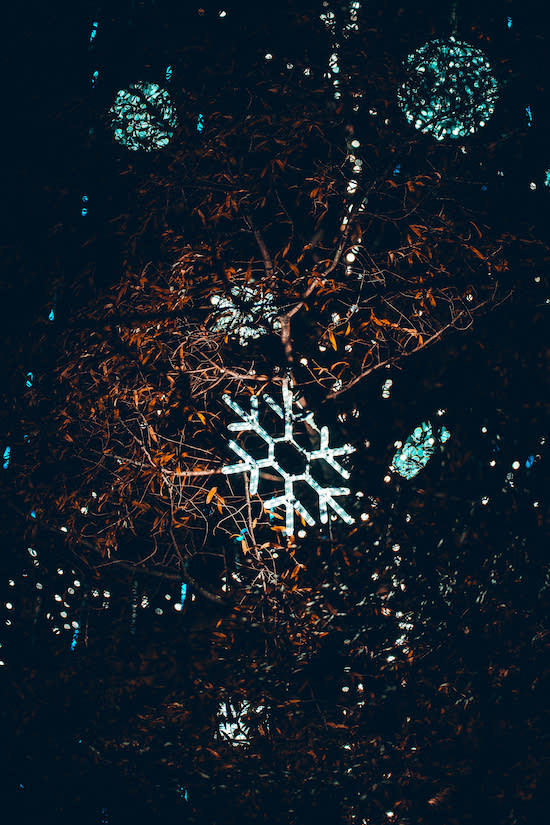 State Circle and the Maryland State House glow with holiday decorations. State Circle's lamp posts are adorned with fresh boxwood wreaths, handcrafted by garden clubs each year. Visit the State House interior to view 24 Christmas trees adorned in unique and unconventional ways by garden clubs representing each Maryland jurisdiction. The Governor and First Lady of Maryland have revived this holiday tradition.
Tour the Festive Streets of Annapolis
To view the greenery downtown, try a Holiday Candlelight Stroll with Annapolis Tours by Watermark, a private tour provider. Stroll the streets with a knowledgeable tour guide in period dress to learn about Christmas past and the history of holiday customs, concluding with a tour of the Hammond Harwood House.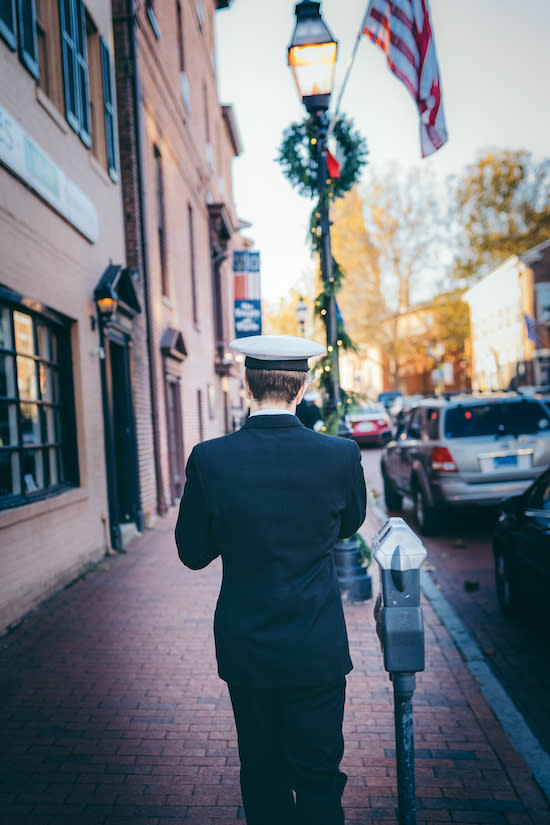 And in nearby West Annapolis, a European Christmas Market will host a small village of forty lighted booths alongside warm fire pits, hot beverages and food, gift and art vendors, and live entertainment for young and old. Here you'll find the Homestead Gardens Christmas tree and wreath lot complete with live alpacas, baby goats, and piglets. The event returns for a second weekend on December 14-15. Also in West Annapolis, you can take in the scenery and festivities at A Miracle on Annapolis Street on December 26th, featuring the Budweiser Clydesdale horses, food and vendors, and activities for children and adults.
Don't miss out on seeing our beautiful Annapolis all dressed up in greenery for the holidays.