Robert Clark has been a "glass-half-full" type of leader ever since he took over the reins in 2012 of Historic Annapolis, Inc. (HA). After double-timing its resources—namely, staff, volunteers, members, donors, and corporate partners and sponsors—the organization is now officially implementing its "Short-Term Strategic Plan" to take on the challenges posed by the COVID-19 pandemic. The goal is clearly to be proactive and prepared for any changes that may arise as the crisis runs its course—assuming it ever does, completely. The three-pronged strategy details "immediate actions the organization must take," a "'safe and comfortable' public re-opening plan," and "procedures for assessing and adjusting financial and operational aspects of the organization as needed."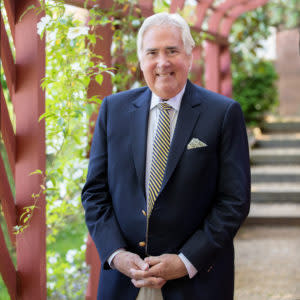 Robert Clark. Photo courtesy of Heather Crowder.
President and CEO Clark, along with Senior Vice President Carrie Kiewitt, stepped up recently to address specifics for us on how the plan will work and to focus on the status of ongoing projects that appear not to be missing a beat during the uproar caused by the insidious viral foe. "As this whole thing was breaking," Clark began, "we were having a conversation, and we were halfway through our 10-year plan. . . . For the most part, the author of the short-term strategic plan is Ariane Hofstedt, a senior consulting advisor on our staff. . . . There was never any doubt that we wanted to be resilient, but we also wanted to stay relevant."
According to Clark, local businesses and residents are the plan's target audience, but, he stresses, "our ambitions are broader than that." Still very much alive, for example, is the development of "an exhibit that is going to take visitors on a journey through 400 years of the city's history, and it's going to be displayed in chronological order." The organization's focal point, or "epicenter," as Clark calls it, is a museum still under renovation at 99 Main Street. HA is an affiliate of the Smithsonian Institution, one of only 200 so designated in the nation. "The attraction there is, if you're an affiliate, you've undergone intensive due diligence on their part to be approved to be a borrower from among the 75 million objects in storage," Clark relates. "We would like to borrow a number of things, but we have to have [such components as] heat, light, and humidity up to Smithsonian specifications. Once it's finished, it will be the orientation for the entire ten-site exhibit."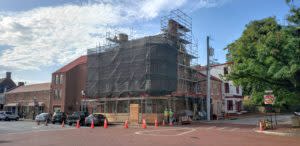 99 Main Street. Photo courtesy of Historic Annapolis, Inc.
The collective exhibit, Clark says, "will include four or five sites on historic Annapolis soil, but also will include five other museums. Our target audience for that is anyone who's a four-hour drive from here. That takes in five states—potentially 17 million people."
If it's done as planned, Clark anticipates, "we'll attract at least 10 percent of the two million visitors who are coming here now. That's going to be an enormous revenue source for us in the future. The target opening date was Christmas. Right now, there's no way to know if Governor [Larry] Hogan is going to have restrictions lifted by then. We can't spend a lot of money on the exhibit when there are no visitors."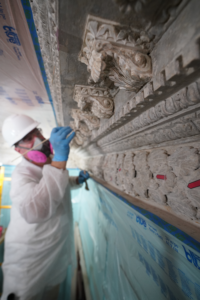 Brice House. Photo courtesy of Chris Mills.
Amid all the current turmoil and uncertainty, Clark assures that the restoration of the James Brice House on East Street "is full-speed ahead. . . . So far, we're right on target and right on budget." HA also has what Clark considers "a very exciting capital project under way at Number One Martin Street. . . . It's still being designed and developed, and we're still 18 months away from having the champagne."
At the Paca House and Gardens, the future, Clark says, is "really hard to forecast. Under Carrie's leadership, we have shifted our major event from spring to September-October and have moved a large number of weddings where the ceremony was scheduled to be in the gardens. We didn't lose a one."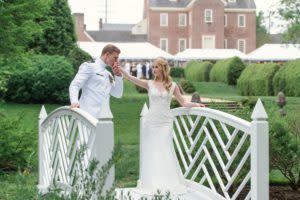 William Paca House & Garden Wedding. Photo courtesy of Hamilton Photography.
According to Kiewitt, "one of things you're going to see change will be cleaning, disinfecting, hand sanitizing—that's now going to be a way of life and will be an important addendum to our plan. We'll have protocols for how often we clean and what we clean, just to make everybody comfortable—not just our visitors, but also our staff and volunteers."
When the city opens for business in earnest, no matter how different that may look, Clark still touts "the History Walk," which has been evolving as time passes. "We have mobile apps as well as maps," he points out, "so if you're going to go from the James Brice House to the State House, for example, we send you up Cornhill Street and have you stop at Number 10, where John Chalmers was raising his family before the Revolutionary War." Chalmers was the silversmith hired by the colony of Maryland to create colonial silver coins. "We have some of those in the exhibit," Clark said, adding that "those are the kind of experiences that we try to tie into the overall exhibit."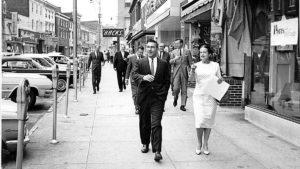 3 St Clair Wright. Photo courtesy of Historic Annapolis, Inc.
One other immediate goal, Clark emphasizes, "is to have a series of town-hall meetings. People can display their Annapolis pride to the visitors. If you're a bartender, a server, or a manager, a hotel concierge, or an owner, you need to be fluent in this exhibit. The current working title is 'Annapolis: An American Story.'" In the meantime, Clark's team has also energized the HA blog so that it has more of a virtual—and relevant—presence. In fact, the latest entry as of this writing is the May 4 appreciation of "Women in Preservation," featuring HA founder Anne St. Clair Wright, in honor of the Year of the Woman.
One critical action that Clark and his team have taken recently as a direct result of the pandemic involves caring for the organization's staff. "We recently took advantage of the Federal Cares Act, the payroll protection plan, so we got about eight weeks' worth of paychecks coming," Clark stresses. "We're also partnering with a number of other organizations. . . . The National Park Service has been generous with its Chesapeake Region to continue to highlight Annapolis as their hub. The federal Institute of Museum and Library Services as well as the National Trust for Historic Preservation have also been helpful."
In closing, President and CEO Clark gave his take on the current situation and his confidence in the strategic plan:
I don't mean to be flip, but we're not all in the same boat. We might all be in the same storm, but I like to think the Historic Annapolis boat is in better ship-shape than many others. I couldn't be more proud of my staff and my board. They've all stepped up without a whimper. It's a joy to watch. Clearly, Annapolitans are passionate about their cultural institutions.