If I had to wager a bet, I'd guess ice cream is the second most popular reason people are drawn to downtown Annapolis (the first being the water!). It's almost a requirement to stroll the streets with a cone in hand. On Main Street, Annapolis Ice Cream Company has taken this sweet treat and paired it with another thing Annapolitans love: local. Home of the only ice cream made on-site in Annapolis, the shop is now forming partnerships with local foodie favorites for the best local mix!
 
The 'Icy Wichz'
Mark Cohen of Annapolis Ice Cream Company draws inspiration from the West Coast and other popular tourist destinations. "I'm big on social media and I saw there are a lot of ice cream shops in California and the Jersey Shore that partner with local restaurants and local tourist destinations. We sat down and the first thing that came to mind was ice cream sandwiches." Since the shop doesn't bake cookies, Annapolis Ice Cream was drawn to partnership. "We had a good connection with Double T Diner so we reached out to them to talk about the bakery side of things and they gave us the perfect chocolate chip cookies to use. They're the perfect size for ice cream," says Cohen. In the shop, they're known as 'Icy Wichz.'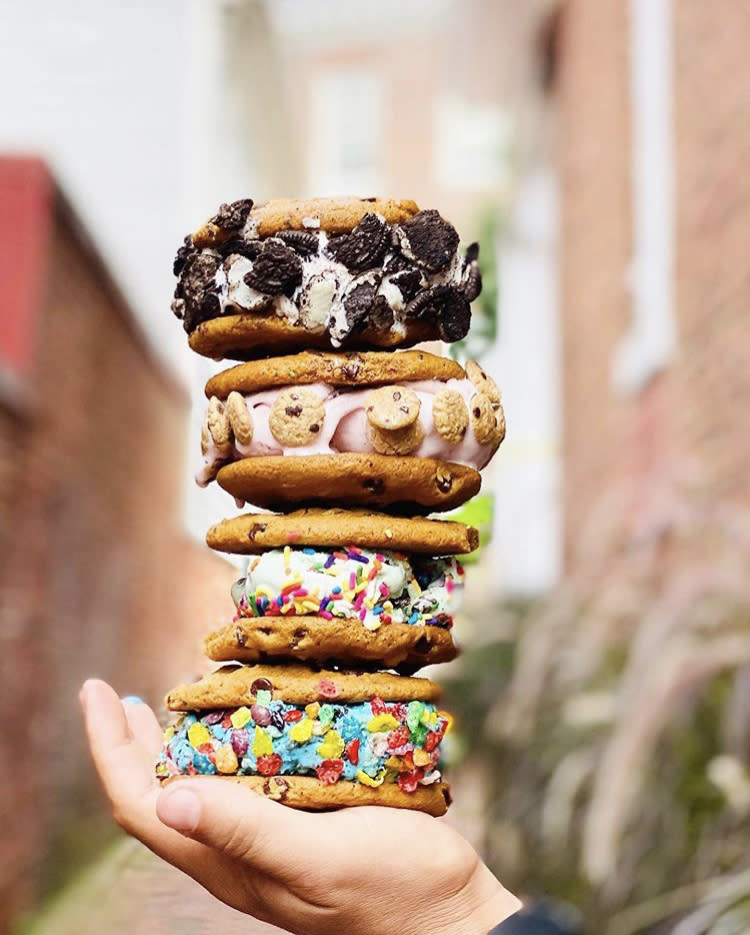 Ice Cream Sandwiches made with local Double T Diner cookies is a match made in heaven! Image courtesy of Annapolis Ice Cream Company.
 
The 'Icy Bunz'
If cookies aren't your sweet of choice, the shop's 'Icy Bunz' might be a better mix for you. Ice cream nestled inside a Carlson's glazed donut, this sandwich might be the sweetest partnership in the area. "If you're from Annapolis, you know Carlson's Donuts," Cohen says. "We asked them to make us a jelly donut without the jelly in the middle and they really stepped up and got us what we needed. We slice that big doughy donut halfway through and put ice cream in the middle." For an even more decadent treat, the 'Bunz' can be rolled in extra toppings like sugary cereals, tiny chocolate chip cookies or sprinkles.
Your eyes do not deceive you, that is an ice cream sandwich made with fresh homemade donuts. Image courtesy of Annapolis Ice Cream Company.
 
Coffee Ice Cream
In keeping with the local vibe, Annapolis Ice Cream also found a local brew. As of this Fall, all of their coffee ice cream is made with Rise Up Coffee, the newest resident of the historic Market House. "We reached out to Rise Up to buy their bags commercially and had a fun day talking coffee. When we found out they were moving into the Market House, it was an easy switch. We freshly brew the coffee in the shop and mix it with our ice cream." They recently concocted a limited flavor release by combining Carlson's Donuts with their Rise Up Coffee ice cream. Coffee and Donuts, why didn't we think of that!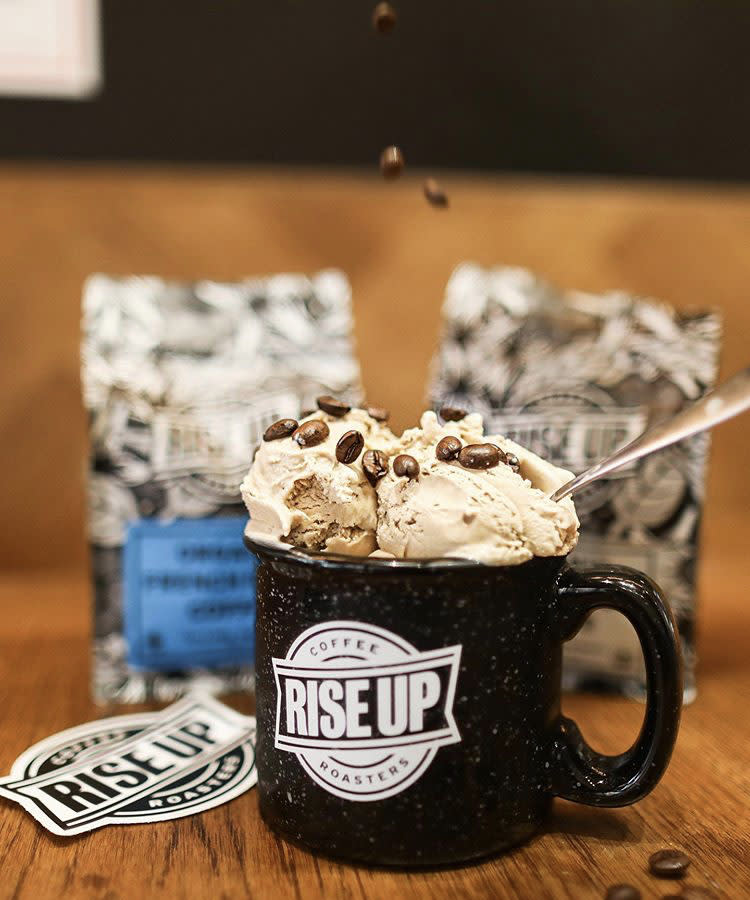 Rise Up Coffee is the only coffee used by Annapolis Ice Cream for their coffee flavored ice cream. Image courtesy of Annapolis Ice Cream Company.
 
Irish Eggnog Ice Cream
Eggnog lovers 21 & older will want to journey to Galway Bay on Maryland Avenue, Killarney House in Davidsonville or Brian Boru in Severna Park to enjoy Annapolis Ice Cream's most unexpected partnership: eggnog ice cream made with real Irish eggnog, imported by Galway Bay from Ireland. "They were one of the first restaurants to buy our ice cream. We make our ice cream in our shop and the restaurants can make their own creations. In this case, they gave us some of their eggnog and we made the ice cream for them to serve in the restaurant and sell as to-go pints. "The non-alcoholic eggnog flavor is available at the shop along with several rotating holiday flavors. Not only do they offer ice cream staples, but you must try seasonal favorites such as, pumpkin pie ice cream made with real pumpkin pie, sweet potato pie and a play on peppermint. Now, you can also find vegan and gluten free flavors on the menu. "During these times, local supports everybody. We sell ice cream in restaurants, we're putting it on our Instagram, we're cross marketing everyone. It's beneficial to all of us.," says Cohen. "We do this because we love it."