Visitors to Annapolis like to take home memories of time spent in this boat-centric city on the Chesapeake Bay, often opting for arts and crafts inspired by the area itself. There are a lot of choices. Annapolis is a breeding ground for artists in all mediums, among them Annapolis native Liz Lind. Her colors are vivid, her style is distinctive and her subjects are sunshine, sand and sailboats. This was a winning combination when it came time to choose a poster for the 2020 Annapolis Spring Sailboat Shows.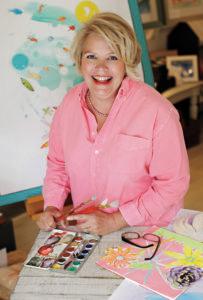 Lind says she was delighted to be the chosen artist…until the show, like countless other large and small events worldwide, fell victim to the restrictions imposed as a result of the Corona-19 pandemic. But she is characteristically optimistic about the future of her special poster, having been assured by the show's management team that it will be the official poster of the 2021 Annapolis Boat Show.
"Cancellation of the 2020 spring boat show was a great disappointment in many ways," said Lind. "My husband Gordon and I were planning to meet some of our new clients at the House of Representatives gift shop and the Capital gift shop." Now based in Florida, she and Gordon planned on seeing old friends as well as their two sons, one graduate of Salisbury University who lives in Ocean City and the other who lives at home. Lia and her family have deep roots in the Annapolis community, where her mother had a successful shop in West Annapolis and where she and her husband owned several shops showcasing the work of local artists. Gordon specialized in custom framing of everything from fine art to colleges diplomas.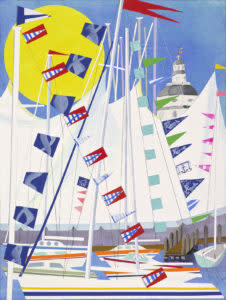 Lind's art is highly stylized, reflecting the artist's breezy personality and childhood summers spent barefoot at the beach. A collection of her work is an eye-catching feature of the décor at Carrol's Creek Café and Navy Bagels and her signed originals are also displayed at medical and professional offices around town. While waiting for official prints of the 2021 spring boat show poster, high quality giclee limited editions of the boat show art are now available on her website. Plans call for the poster art to be used on giftware for sale at the Historic Annapolis Gift Shop and the Anne Arundel Medical Center gift shops.
Lind considers herself a reluctant refugee from her home state. "As most of our customers know, we left Maryland abruptly four years ago to care for my mother in Florida. But Annapolis is my hometown and where my heart is," she says. "I hope to always be known as 'Annapolis Artist Liz Lund' and I dream of returning to live there someday."
Note: Giclee is a term for a high quality fine art reproduction process using a special large capacity inkjet printer. The inks are permanent and the prints are on 100 percent cotton paper similar to a good watercolor paper. A limited edition 100 of giclee prints of Lind's boat show art are available online, in two sizes of fifty each: 12x16 or 18x24