It's not too late to sign up for what promises to be a novel virtual program hosted by the Michael E. Busch Center for the Arts at Maryland Hall, online in Annapolis on Wednesday night, January 27, at 7:00 p.m. Not coincidentally, the center is named after the late Maryland Speaker of the House, a former Temple University running back who, over his political career, became a strong advocate for Maryland Hall. The title of the affair is "Athletes for the Arts," and it promises to be an exciting, singular, uplifting event.
Video courtesy of Maryland Hall.
A Broken Stereotype
We're way beyond the days of the antiquated stereotype many of us may have held of athletes over the years. 'Once a jock, always a jock'. However; many athletes often discovered—usually too late—that their physical talent payoff in professional sports was merely temporary, even fleeting. The former athletes featured here Wednesday night have decidedly broken that mold. Is there life after football? The answer is an emphatic, 'Yes!'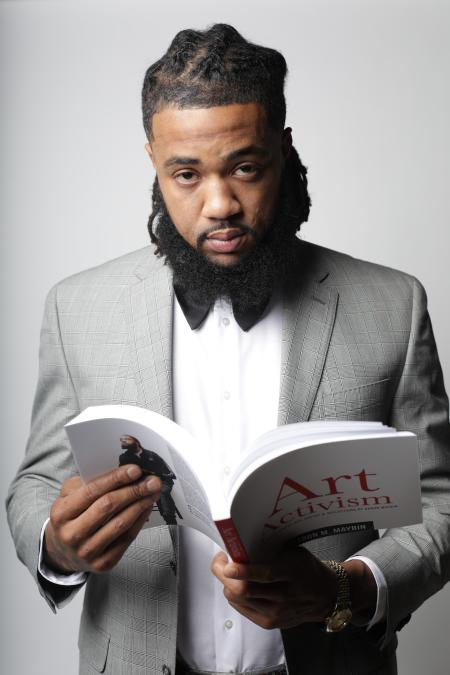 Aaron Maybin, a former NFL Linebacker, is a featured artist in the Athletes for the Arts virtual fundraiser. Image courtesy of Maryland Hall.  
The Team
The lineup for the Maryland Hall event will be hosted by Julie Donaldson, the new Senior Vice President of Media & Content for the NFL's Washington Football Team. Julie is well-known in these parts for her previous work as a reporter, anchor, and host for NBC Sports Washington.
The lineup for the Maryland Hall event will be hosted by Julie Donaldson, the new SVP of Media & Content for the NFL's Washington Football Team. Image courtesy of Maryland Hall.
Slated to Join Donaldson as Special Guests are former NFL linebacker Andre Collins, the current NFL Players' Association's Executive Director of the Professional Athletes Association, and Malcolm Blacken, Senior Director of the Washington Football Team. According to Blacken's official bio, and especially germane to the theme of the Athletes for the Arts program, in his current role he "guides the development and education of players as it pertains to both their personal and professional lives."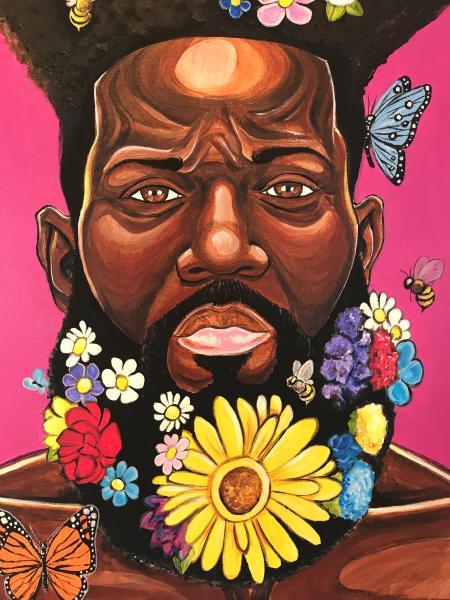 A featured portrait from Aaron Maybin, Athlete turned Artist. Image courtesy of Maryland Hall.
His focus is on "total wellness and mental health . . .  and the expectations of being a player in the National Football League." As for his art, Blacken says he uses it with the players "because I'm always telling [them] it's okay to do something else rather than run, catch, and tackle. It's okay to do something off the field that you love to do." Both featured guests will be joined by students who have benefitted from the outreach work of Maryland Hall.
The Stars of the Show
Nnenna Freelon—known most recently for her role last year as Sally Hemings, an enslaved woman said to have been the mother of several children by her owner Thomas Jefferson—will appear here as an advocate for educating young people, both musicians and non-musicians, and students of all ages. An accomplished recording artist, Freelon has been nominated for six Grammy awards. She has performed tributes to the legendary Lena Horne and Ray Charles, as well as performed at the White House, the Kennedy Center, and Harlem's famed Apollo Theater in New York City.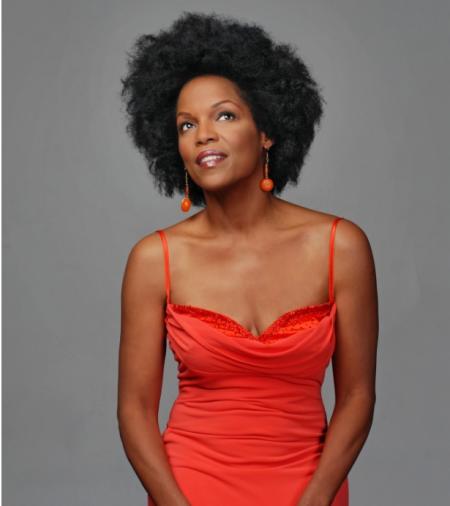 Nnenna Frelon will perform at the Maryland Hall Athletes for the Arts Gala.  Image courtesy of Maryland Hall.
For sports fans and art aficionados from this region, two former pro football players are decidedly the main draw. A native of Baltimore city, Aaron Maybin is a professional artist, art-activist, author, educator, and community organizer who happens to have been an athlete. An All-American defensive end at Penn State before being drafted 11th overall in 2009 by the Buffalo Bills, Maybin played short stints with the New York Jets and Cincinnati Bengals before walking away from it all. "The goal wasn't just to get to the NFL," says Maybin, "it was to be an example like those that I idolized when I was younger . . . people that were transcendent not just in their sport but in culture because they used their platform and their opportunity to be a voice for the voiceless."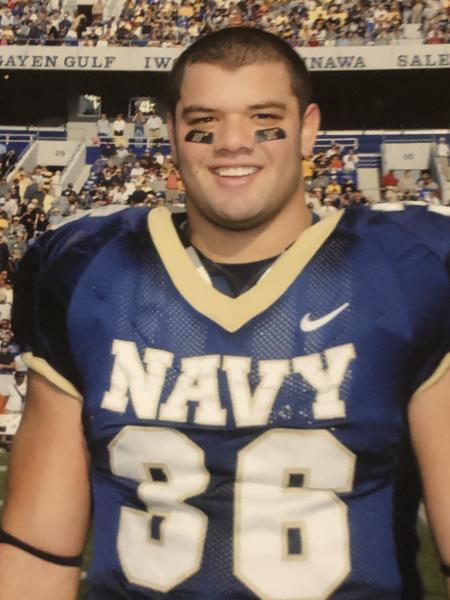 Eric Kettani, Navy Football player turned Artist. Image courtesy of Maryland Hall.
Joining Maybin will be someone especially familiar to any Annapolitans who happen to be Navy football fans. Eric Ketanni never lost to Army or Air Force over his service-academy career and was named Most Valuable Player for Navy's 2007 first win (in triple overtime!) against Notre Dame in 43 years. And his story was the principal inspiration for the Athletes for the Arts event.
Lieutenant Kettani played five seasons in the NFL with stints in New England and Washington, and left pro football to pursue his talents as a self-taught artist. He contends that "it decompresses you, it pulls that stress away. . . . For the kids who are part of Athletes for the Arts, they pry those couple of hours away from their environment, for a canvas, singing, music or dance, just to step away and be themselves and who they are."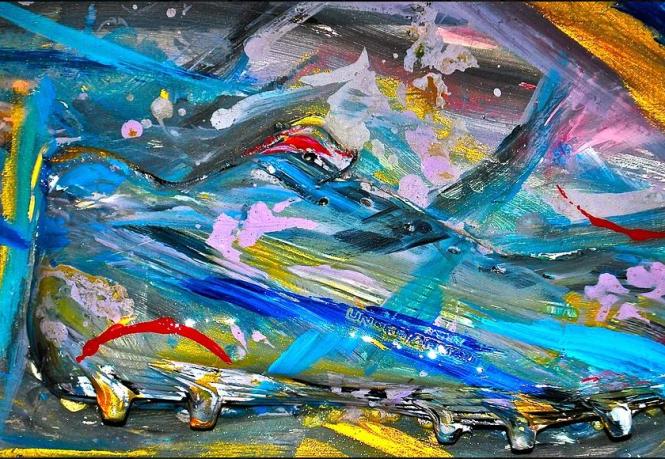 Eric Kettani's Art will be featured in the Athletes for the Arts Virtual Gala. Image courtesy of Maryland Hall.
Maryland Hall Outreach Coordinator Laura Brino adds that the access it offers "goes beyond developing a skill. We have seen first-hand, through our arts-outreach programs the powerful effect having access can have in changing the trajectory of a young child's life." She adds that the Athletes for the Arts program goes far "to inspire continued dedication to connecting youth in our community to artistic experiences."
For more information on Athletes for the Arts and how to access the program on Wednesday night, click here!